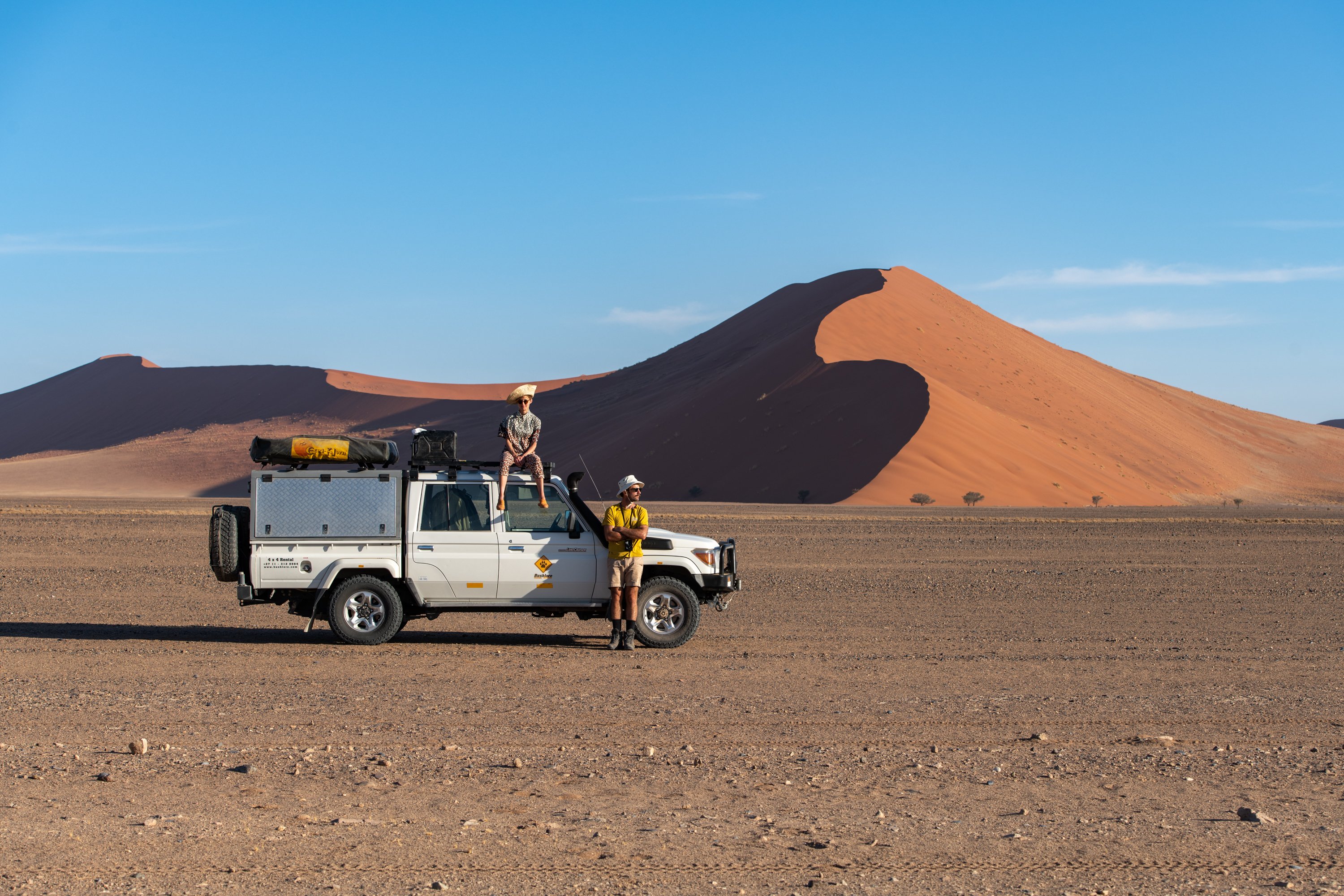 Our friends Sarah and Stefaan of Miles & Miles are back from their most ambitious adventure yet, having traversed 5 countries and 4 continents to collect amazing photography and stories that we are so pleased to share with you. Namibia was the third stop on their itinerary and they've put together some highlights of their time spent there, places they recommend visiting, and why diving into the unknown can be the most rewarding way to travel.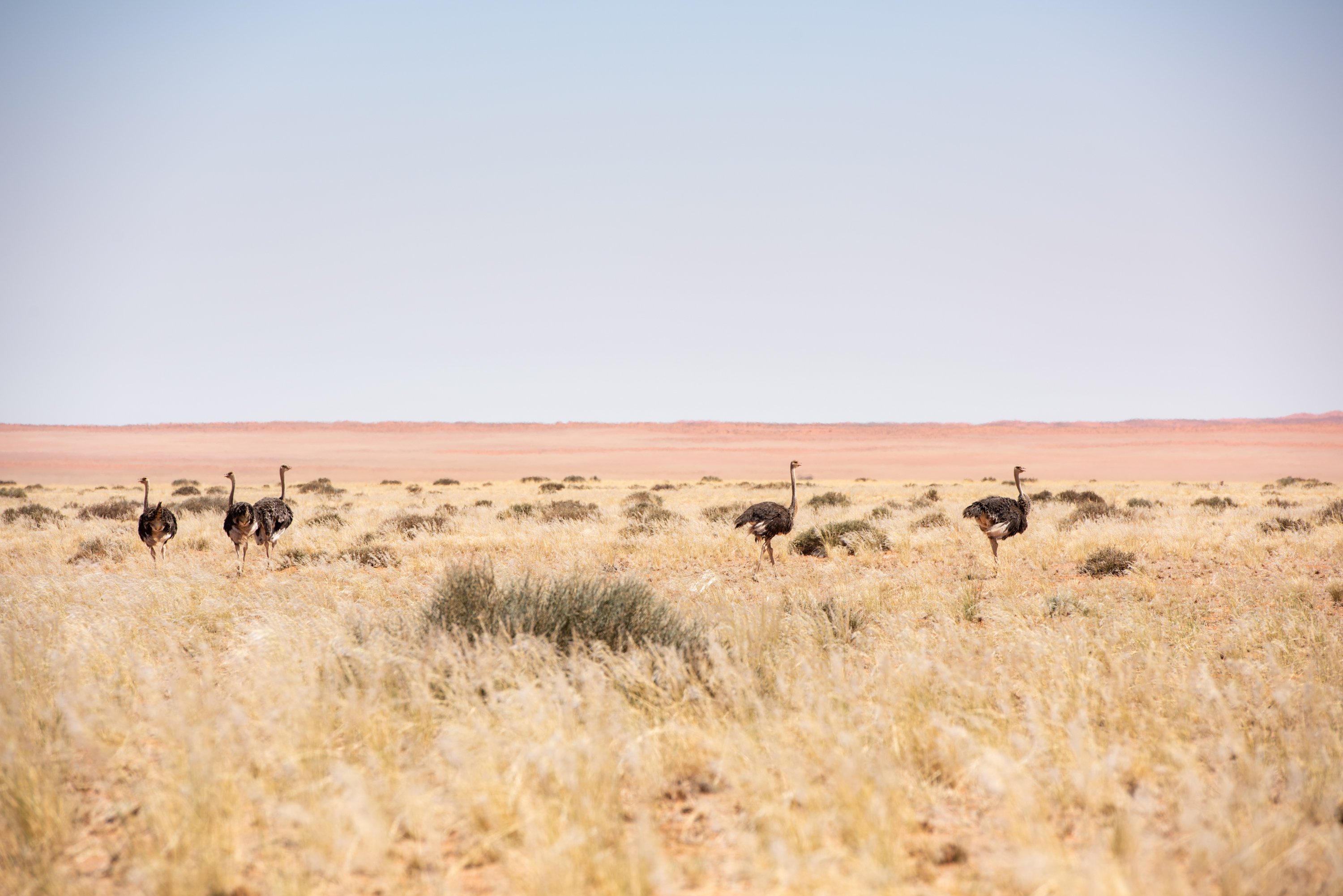 Overlanding, living out of a well-prepared vehicle that you are traveling in, is one of our favorite ways to experience a new place. It's how we originally started back in 2012 when we left our jobs in New York City and drove our truck across the country for 4 months. For us, the freedom to explore at our own pace while maintaining some basic comforts, such as cooking for ourselves or sleeping in the same bed each night, can intensify the beauty of being in a foreign place.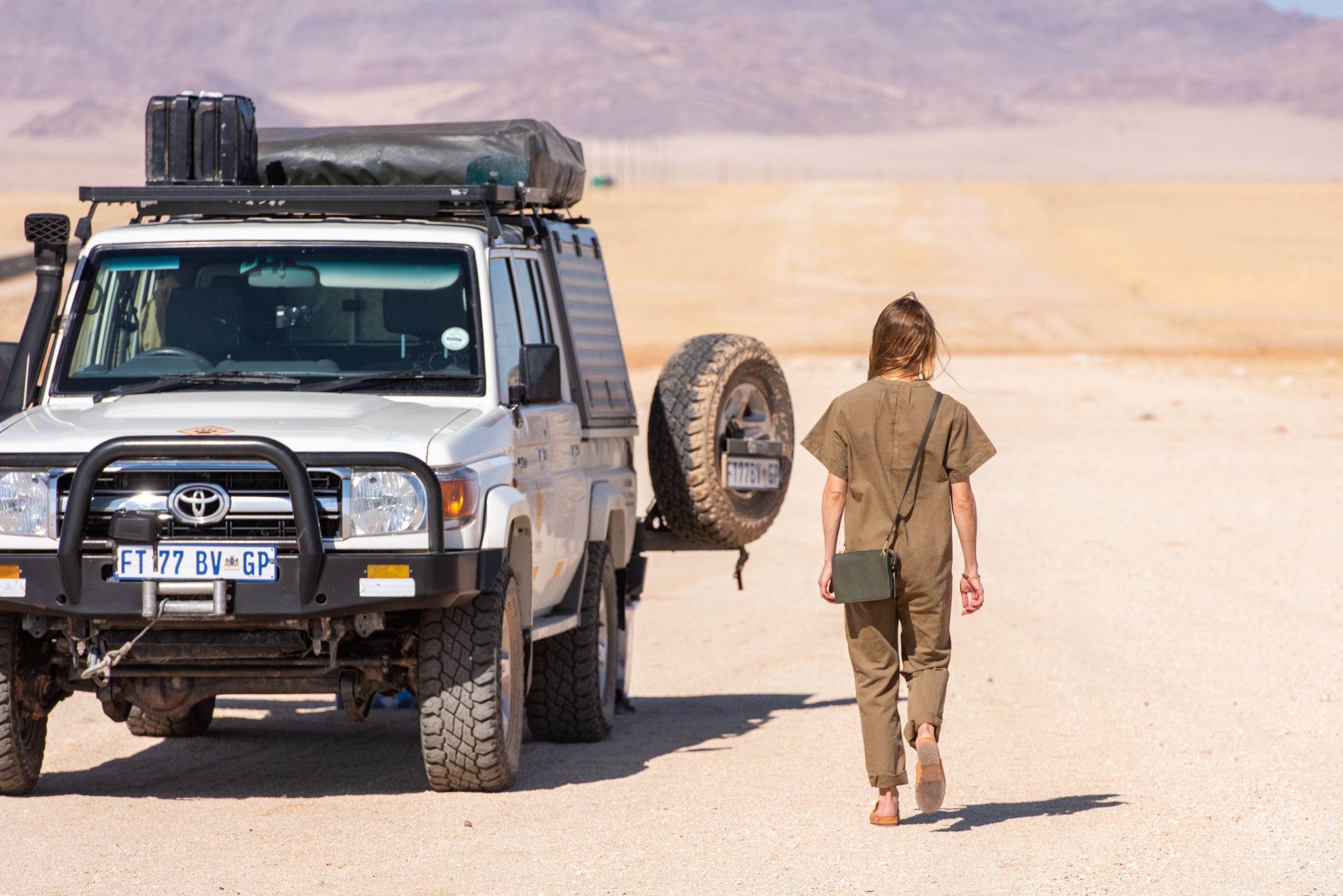 When we started researching locations for the 5 countries 5 days campaign we immediately thought of Africa because it's known for its operative overlanding. Despite being one of the largest countries in the entire world (number 34 to be exact), Namibia is one of the least densely populated. As a result, you can plan to drive 4-5 hours between locations, most often on dirt roads and without cell phone reception. It is an extremely safe country and with the Namib Desert, Atlantic Coast, and incredible wildlife, tourism is quite popular. Being prepared is an absolute necessity; fortunately, there are several outfitters in the city of Windhoek that can set you up with everything you need.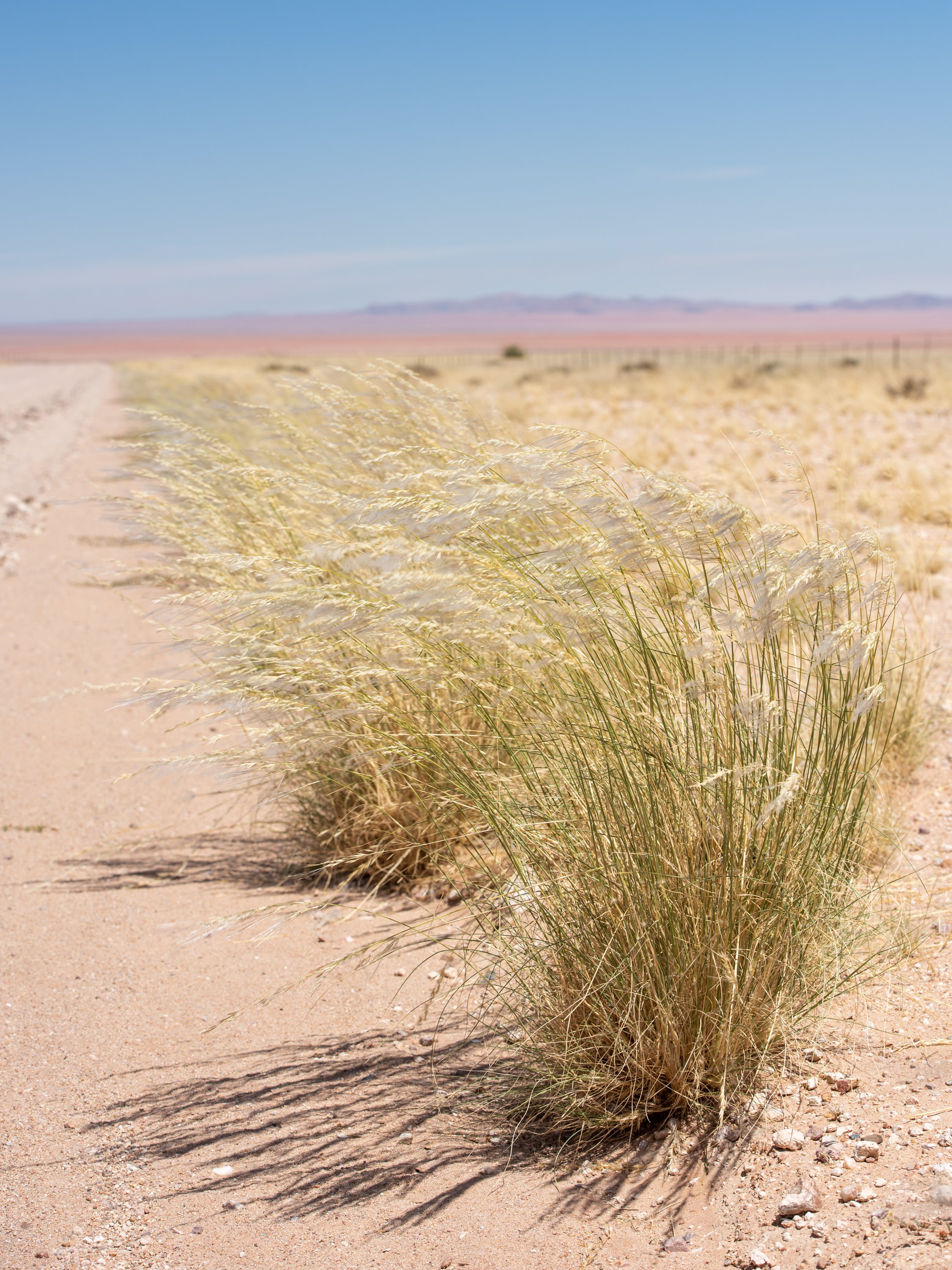 We opted for a company called Bushlore based out of South Africa and Windhoek. They have a fleet of highly modified Toyota Land Cruiser FJ79's, which despite being newly produced is based on the legendary 70 series chassis originally produced in the mid-80's. In Africa, these trucks are widely known as the most capable and dependable vehicles as they do not depend on the modern computers and electronics of newer vehicles. Our particular Landcruiser was prepared with a rooftop tent, freshwater tanks, two full-sized spare tires, extra gas tanks, a winch, a refrigerator, gas stove, an air compressor and much more. All we had to do was get fuel and groceries every couple of days and we could be completely off the grid and self-sufficient.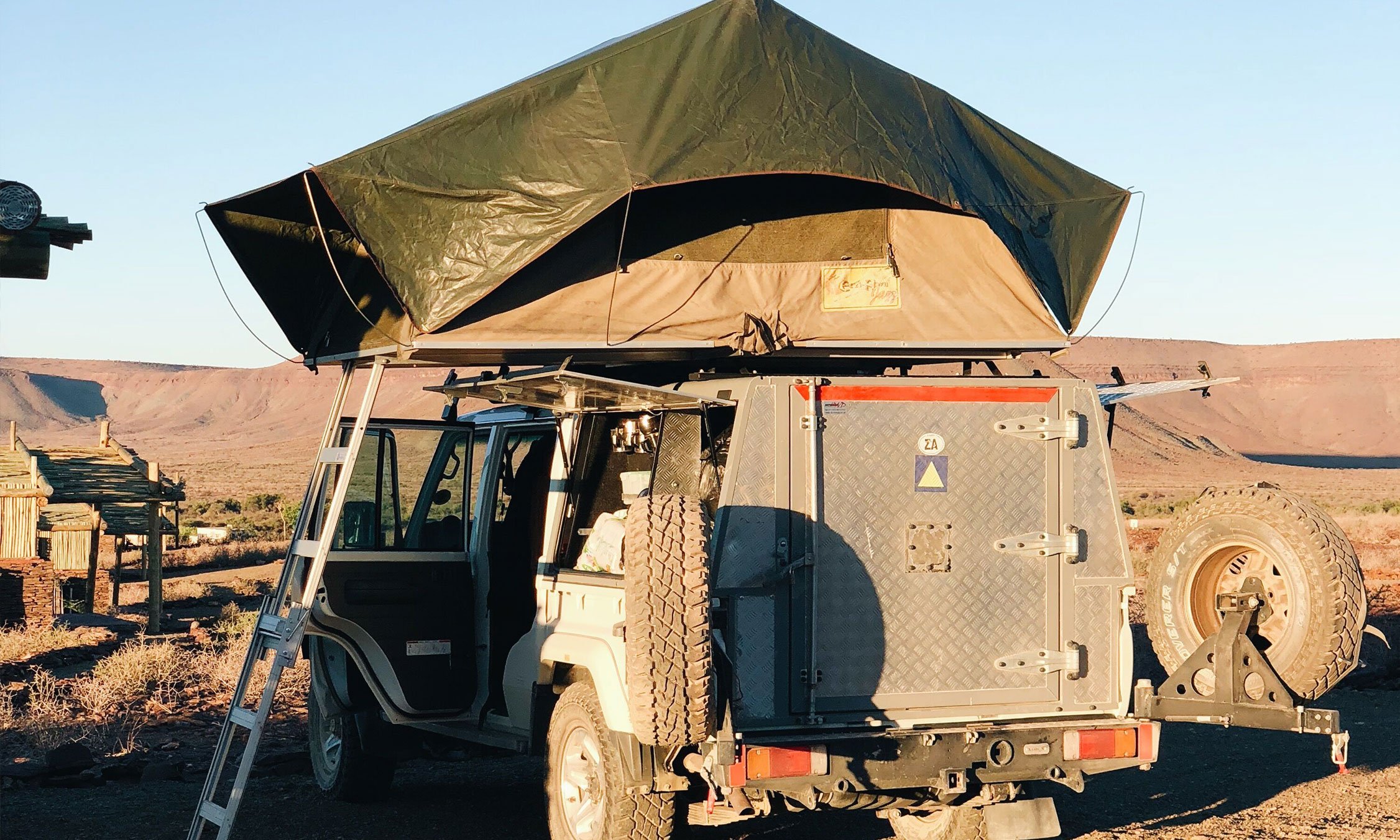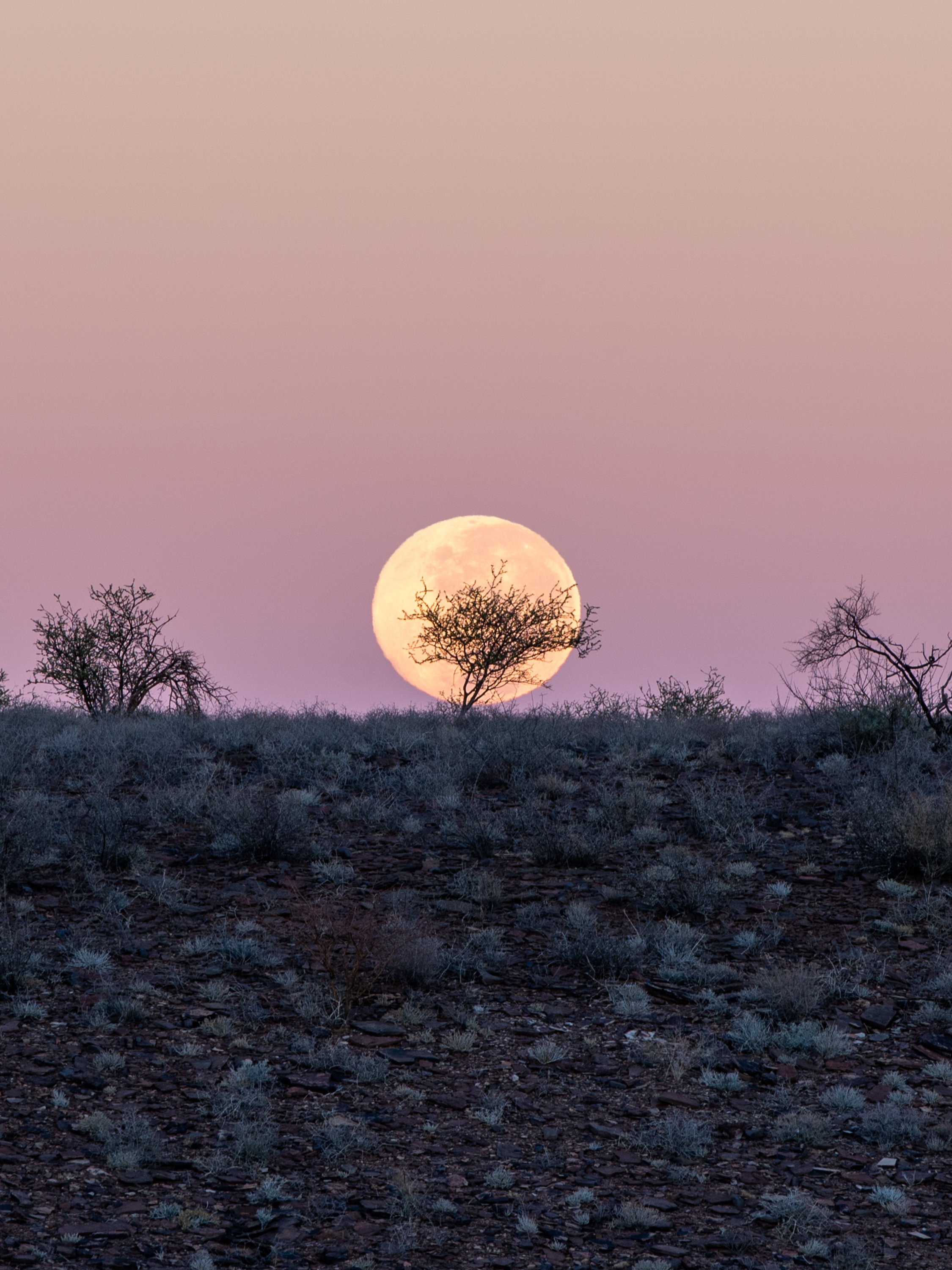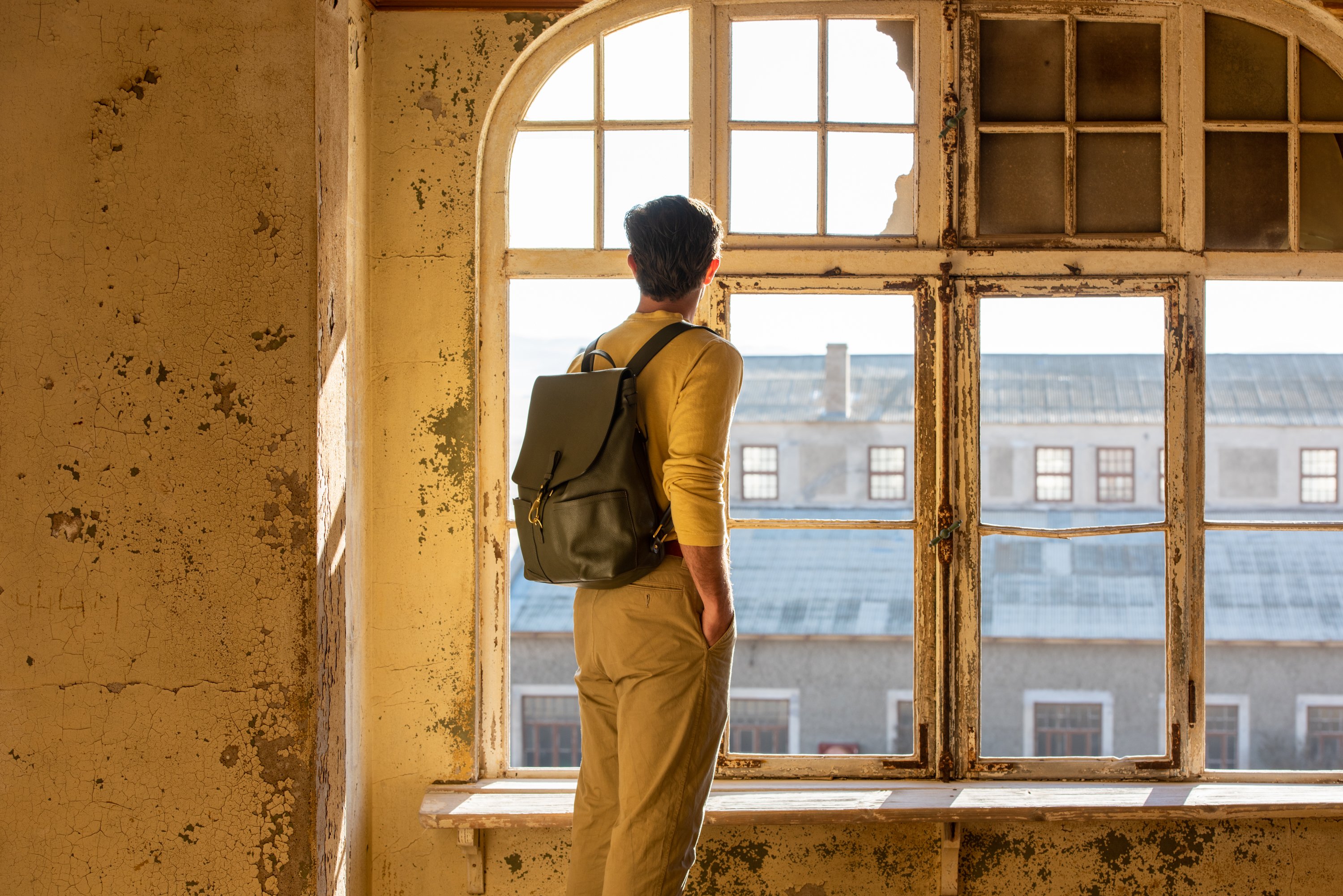 We departed Windhoek with our Land Cruiser fully loaded and set the GPS for Kolmanskop, a ghost town in southern Namibia. It's a reasonable distance, just under eight hours total, on mostly dirt roads. We took our time and enjoyed being on our own, journeying through the middle of the desert. We decided to stay the night at a campsite about two-thirds of the way to our destination of Kolmanskop. We were lucky to stumble upon Mount D'Urban Campsite, just past Helmeringhausen. Greeted by the enthusiastic groundskeeper, Bennett, we discovered a pristine campsite with so many amenities—and even a hiking spot called Lindy's trail! That night over a campfire, we stayed up chatting with Bennett about what it was like to grow up in a tribe in northern Namibia. We watched the sun set and the moon rise over the mountains, and were up early the next morning to continue the first leg of our trip.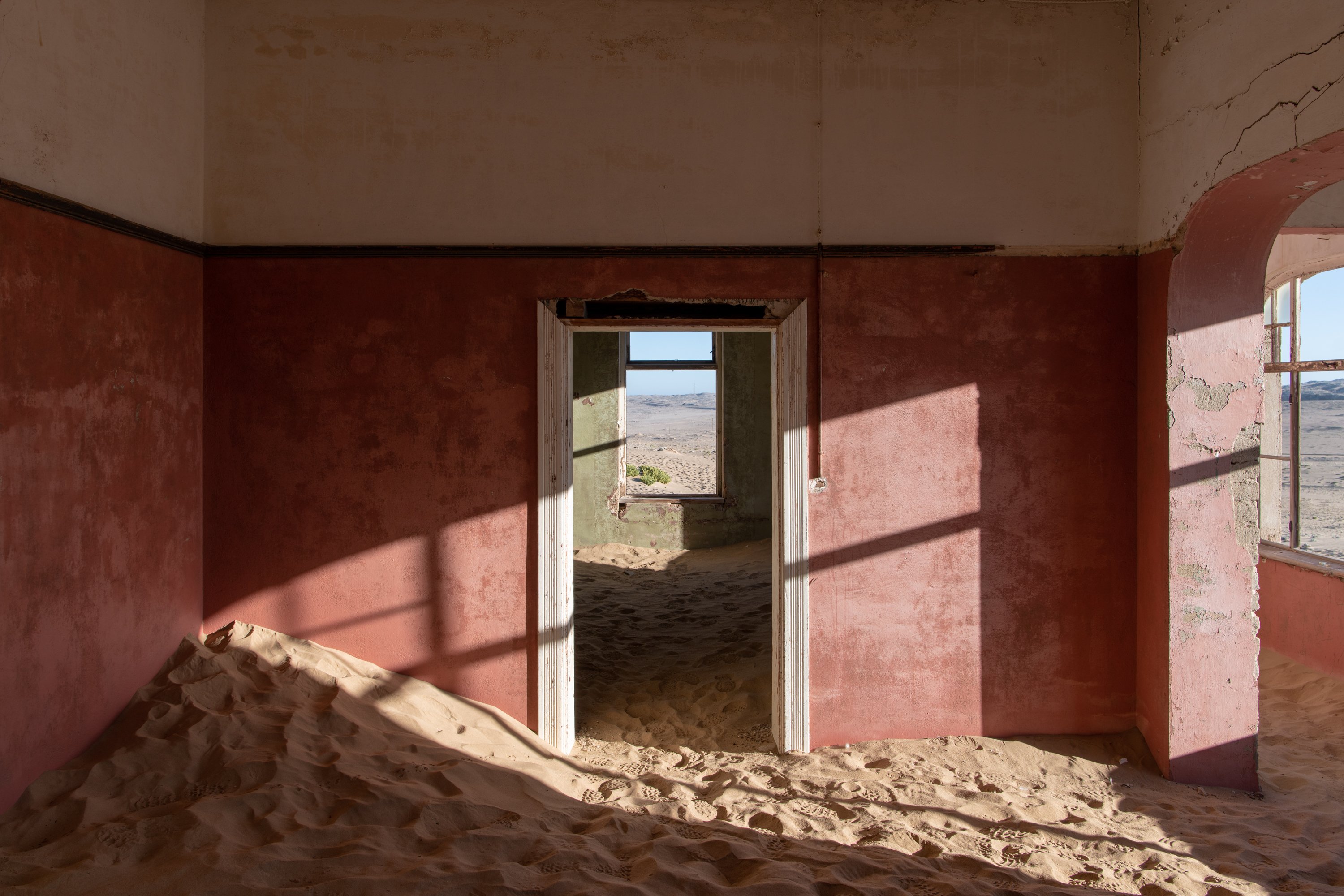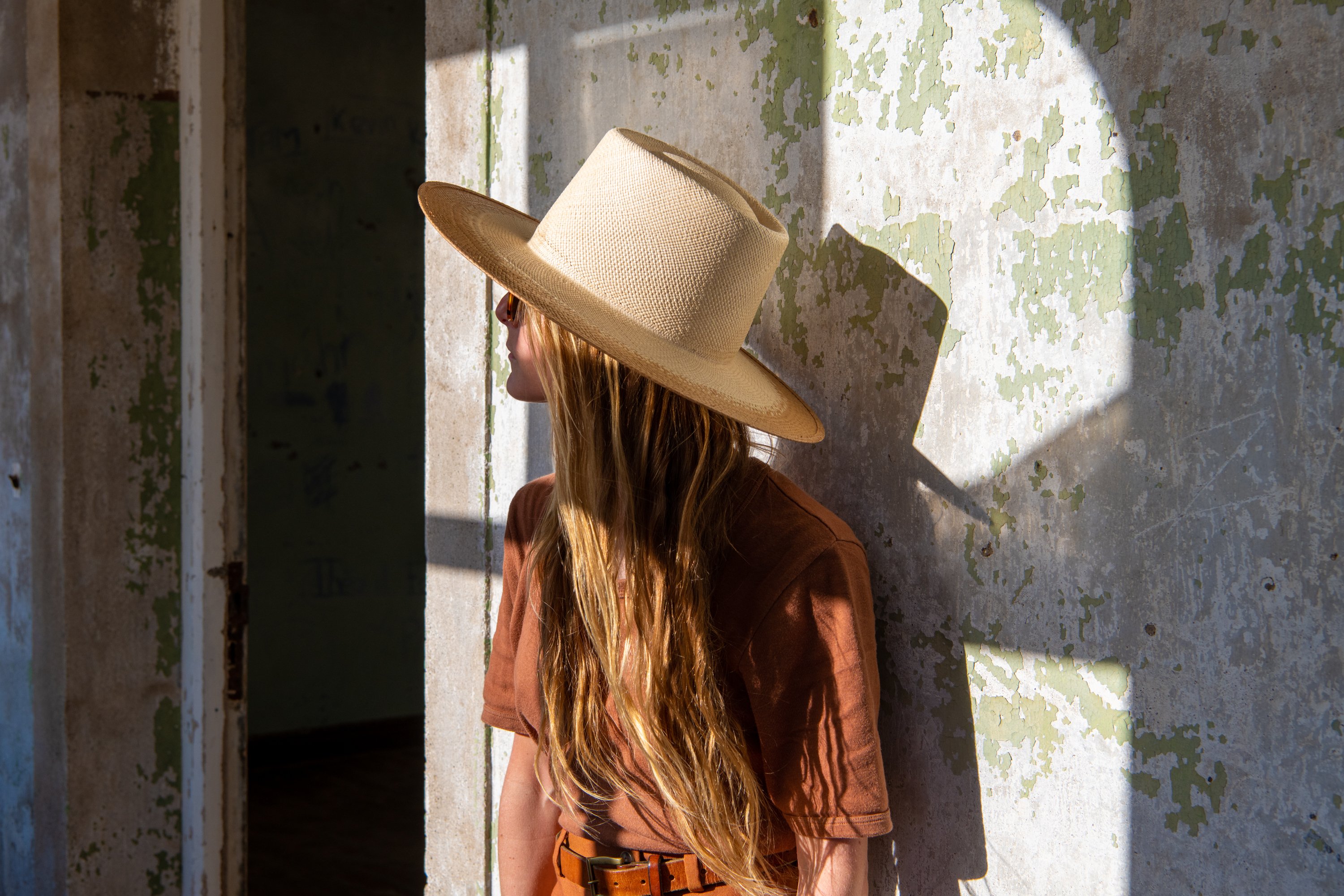 With a few detours along the way, we reached the port town of Lüderitz by sunset just in time to set up camp. The salt-water air was refreshing at first, but as we began to cook our dinner the coastal winds picked up and temperatures dropped. With whipping winds and the anticipation of waking up early to photograph Kolmanskop, we didn't sleep much that night. Soon enough it was daybreak and we rushed to catch the early hours of magical light, exploring the abandoned diamond-mining village without a soul in sight. Following World War II, the mine was abandoned after the diamond field had been depleted. We have seen many images of the decaying buildings filling with sand from the cross-winds and were thrilled to experience it for ourselves. In some areas the sand filled the spaces almost up the top of the door frames. We were in awe of this eerie yet colorful atmosphere that has been taken over by the wild Namib desert.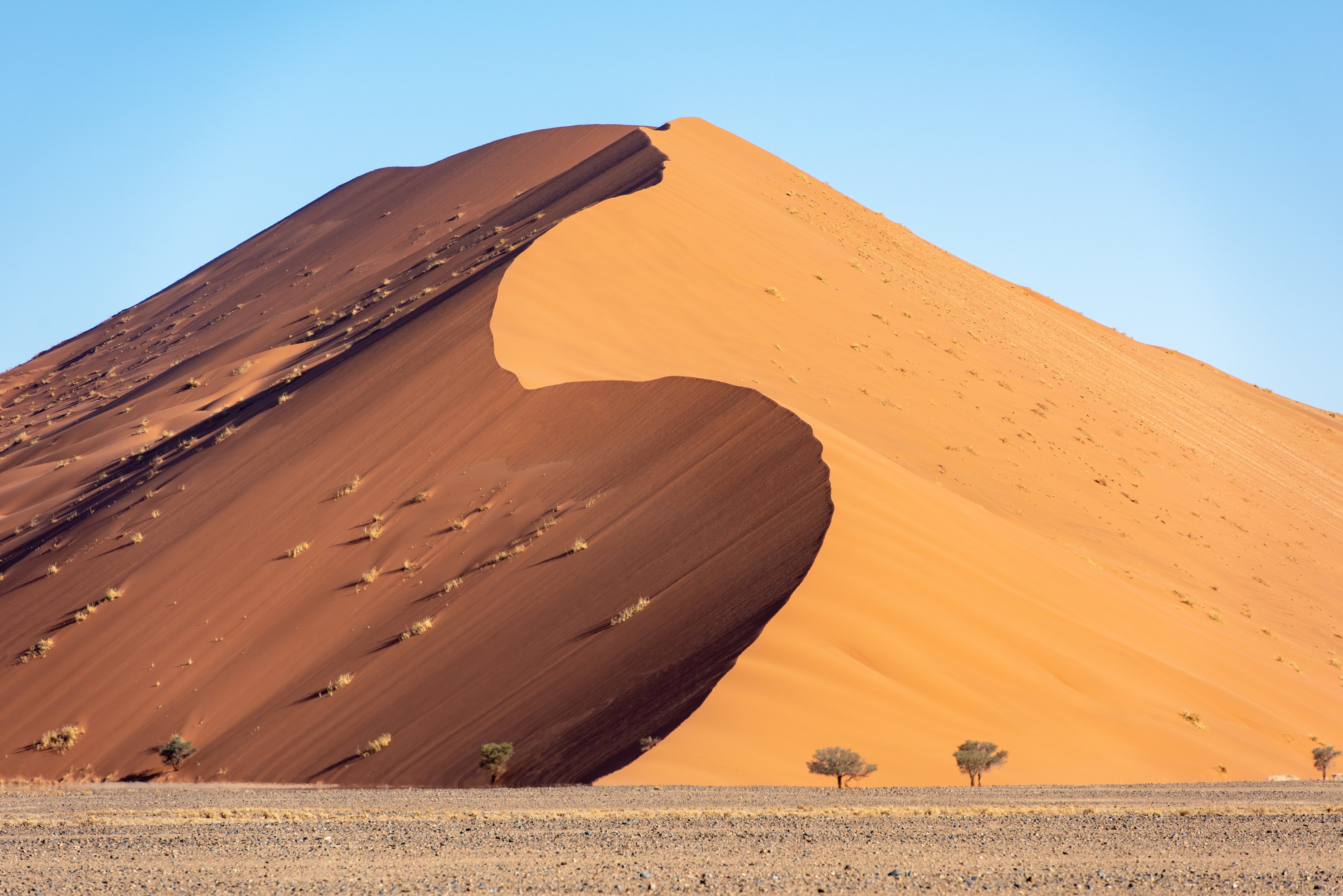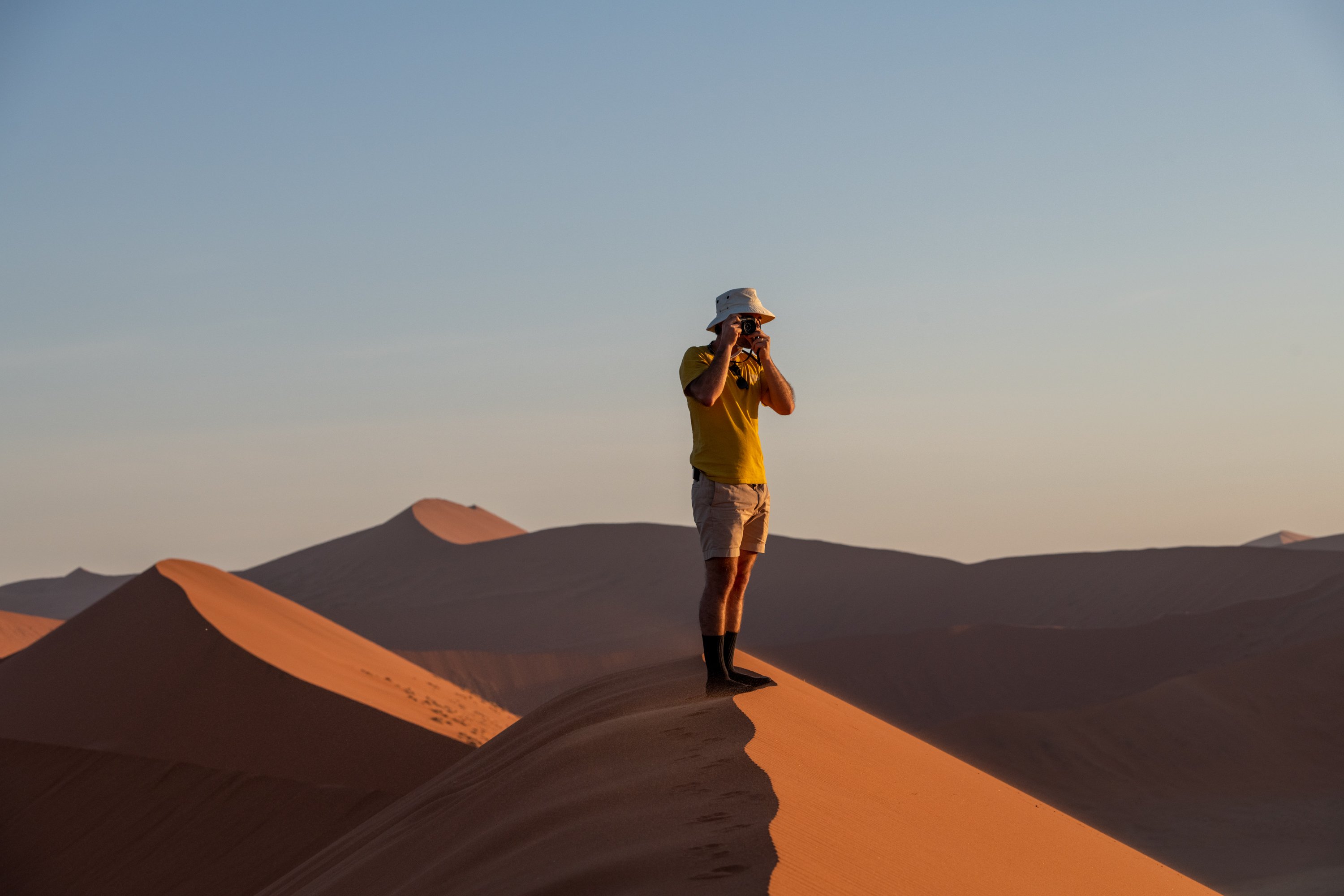 As the Namibian sun began to heat up the buildings we departed for our next destination, Sossusvlei. Situated in the largest conservation area in Africa (the Namib-Naukluft National Park), Sossusvlei is one of Namibia's most spectacular landscapes. We booked a campsite inside the park for two nights so that we could climb the dunes at sunset and visit Deadvlei at sunrise. Translating to "dead-end marsh" Sossusvlei is the place where the dunes come together, preventing the Tsauchab River to flow any further. With towering red dunes overlooking a salt and clay pan, there's an otherworldly contrast of light, landscapes, and textures. We wandered from the dried-up trees in the white clay pan of Deadvlei, to the top of one of the largest dunes in the world aptly named Big Daddy. Looking down at the ant-like visitors below we also felt our insignificant size atop this giant natural landmark.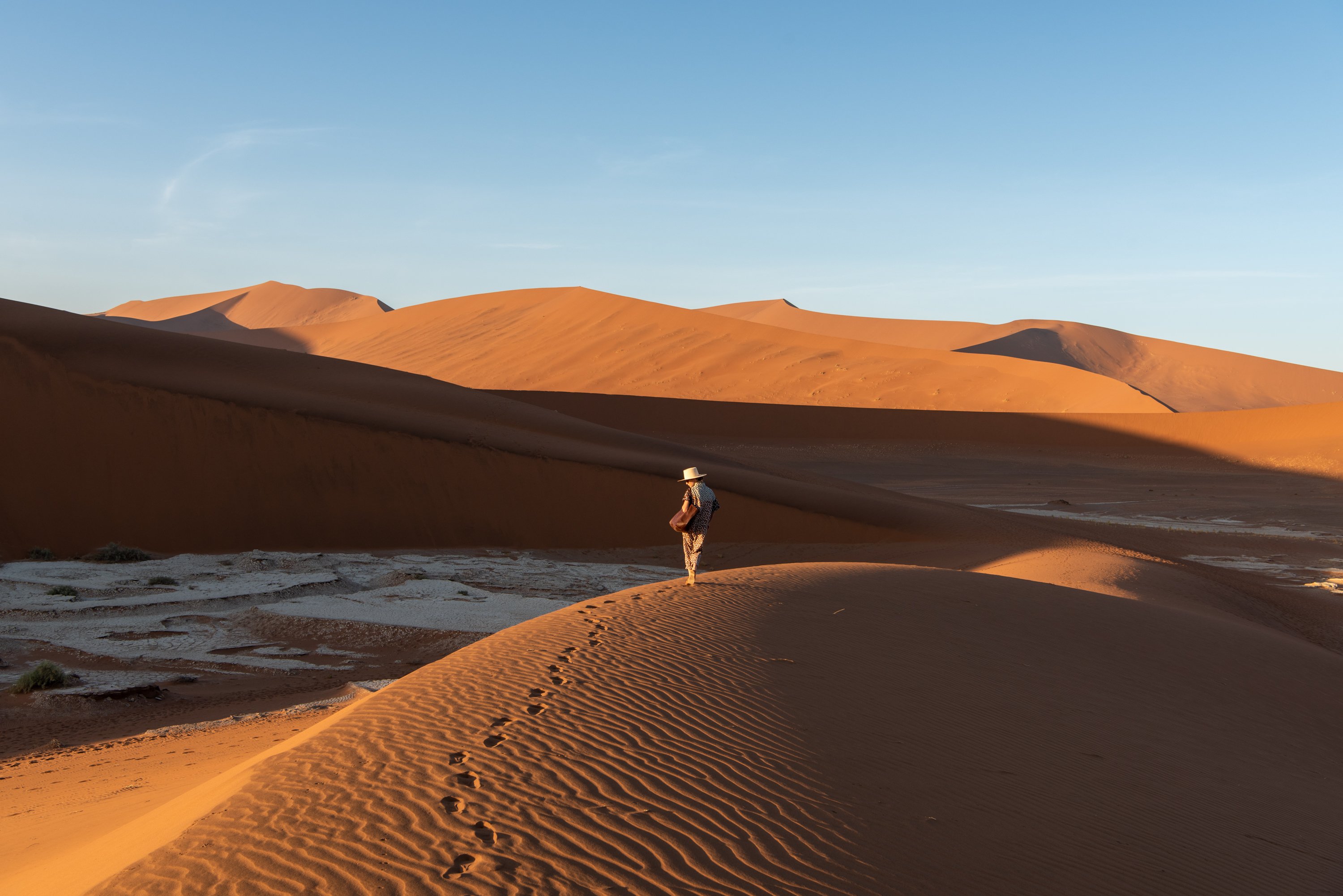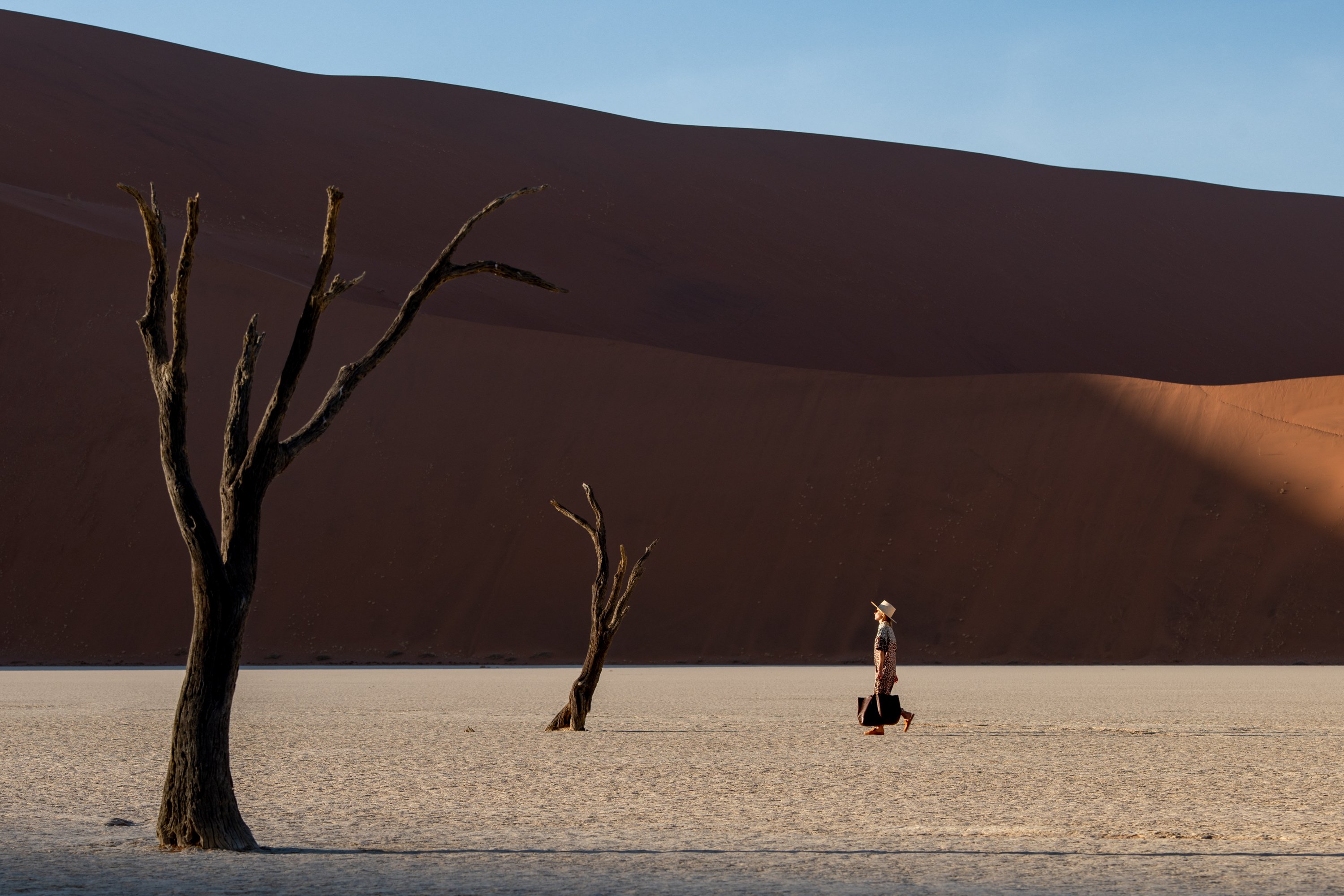 With just a few days left, we had to choose between driving up the desolate Skeleton Coast or setting out on a self-drive safari in Etosha National Park. It was a tough decision, but we vowed to return for the Skeleton Coast another time and made our way towards the animals. With a quick overnight in Swakopmund to stock up on groceries and rest from the lengthy drives, we were on our way toward Etosha the following day. We booked a campsite inside the park (which we recommend doing in advance) and arrived just in time to set up camp and cook dinner as the hyenas began to cackle. After another somewhat restless night being woken by a wide range of animal sounds, we were up early and packed into our Landcruiser to start our safari. It wasn't long before we stumbled upon zebra and ostrich grazing along the salt pan. From there we drove from one water hole to another until we got incredibly lucky. Elephants, giraffes, lions, antelope, and an array of birds crowded the only water source for miles. We watched them bathe and interact with the other species, drink nervously and eventually retreat to the protection of the surrounding brush.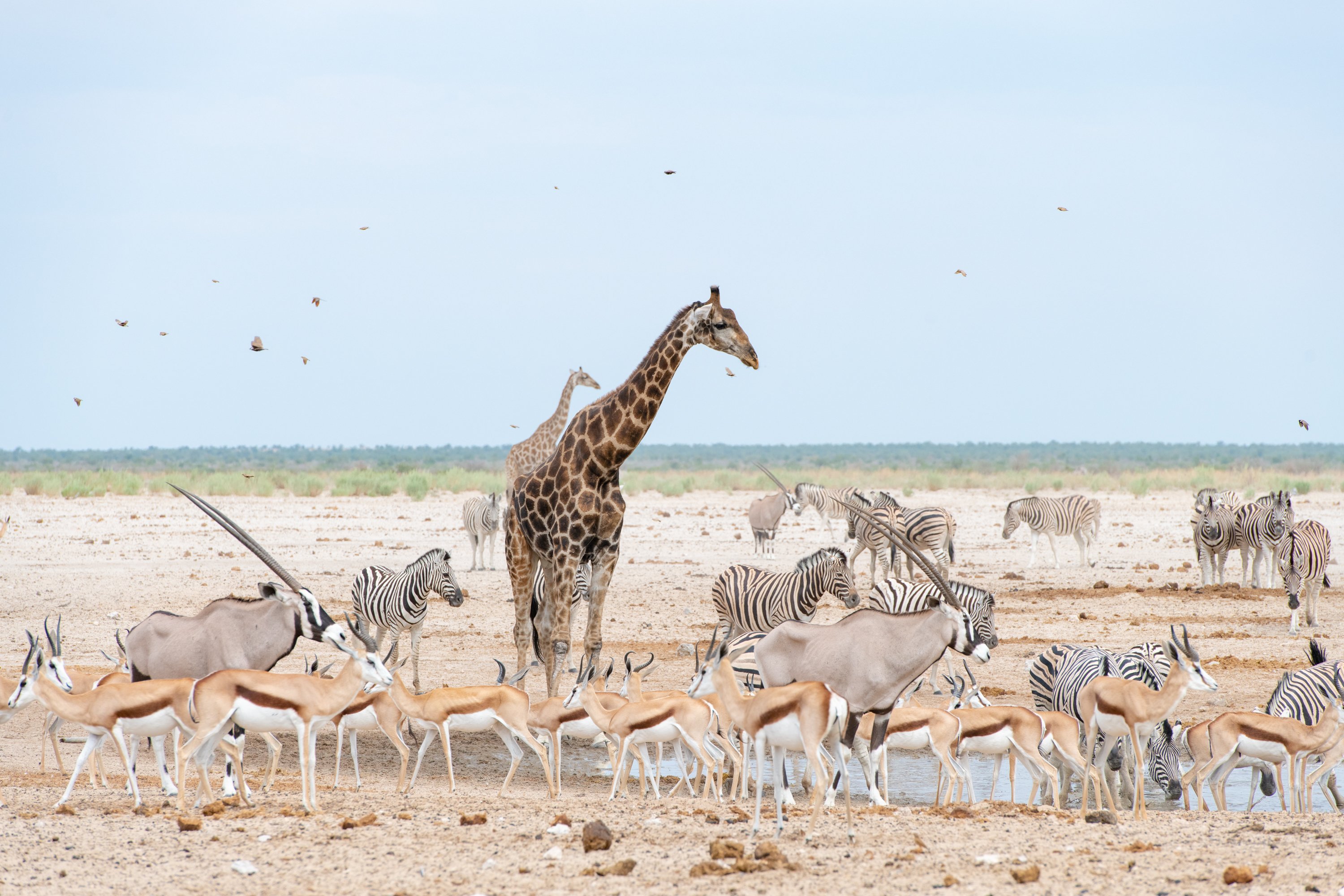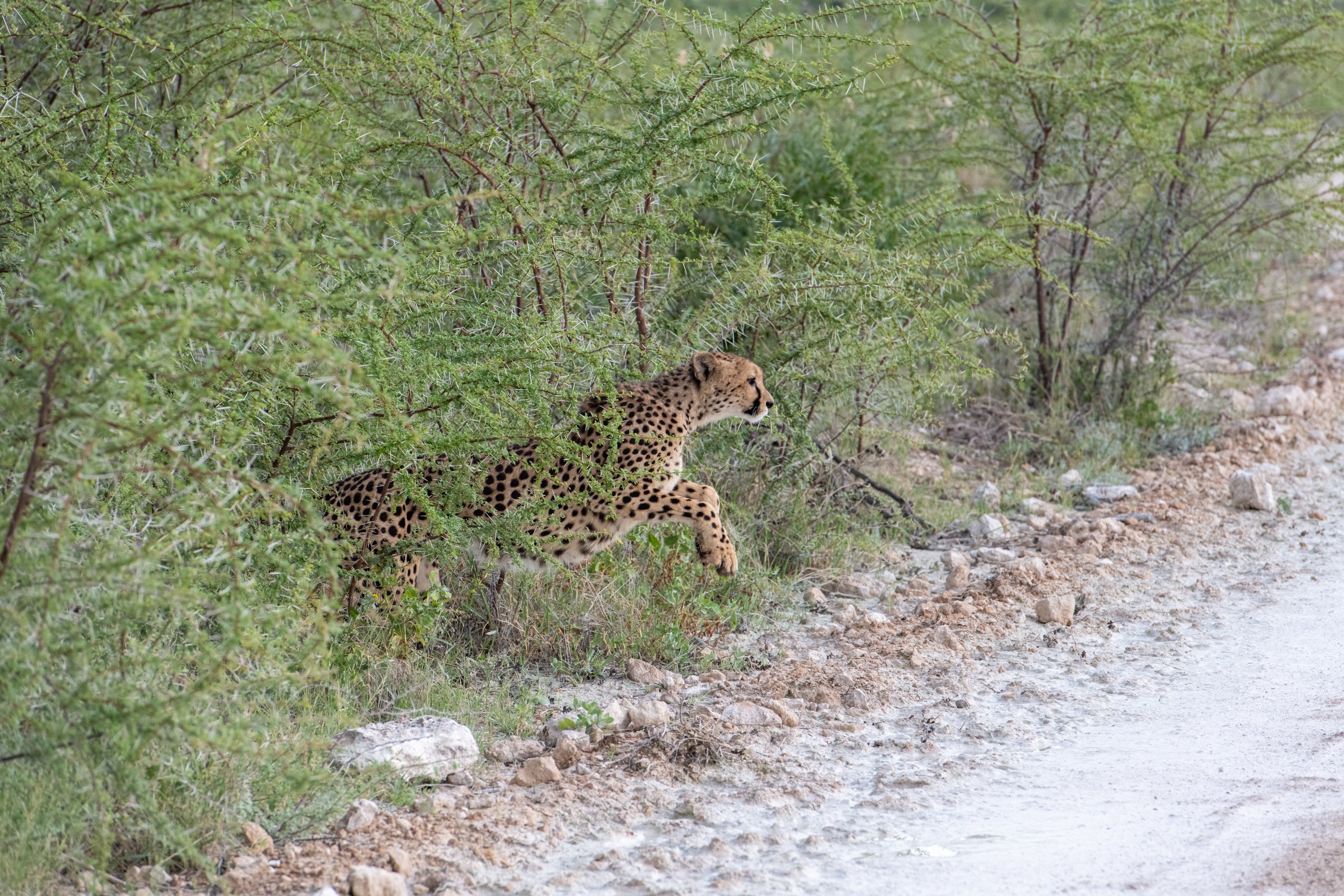 After two weeks of overlanding in Namibia we returned to Windhoek, dusty and feeling more alive than ever. Our time in Namibia will be something we'll remember fondly as we move through life. The people, wildlife, and landscapes are nothing short of miraculous. To say we were humbled by this beautiful country would be an understatement.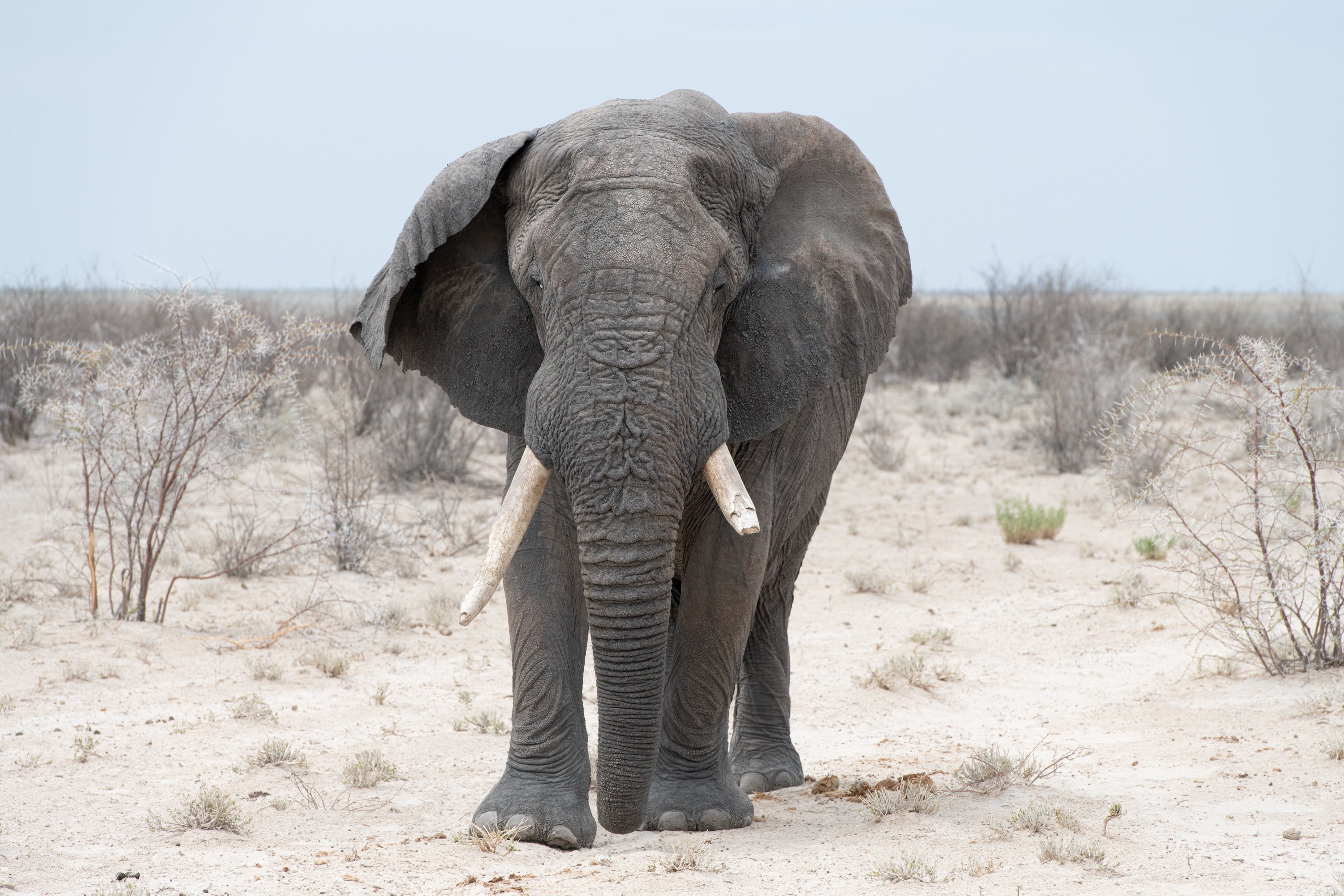 Go Here
Windhoek A great small city, the capital of Namibia, and where you will fly into. Use your time here to rest up, stock up on groceries and travel essentials, pick up your outfitted 4x4, and hit the road.
Kolmanskop A windswept ghost town on the southwest corner of Namibia, just 10 km from the coast.
Sossusvlei Vast and wild. Take at least two days here to climb the soaring dunes, and walk through the eerie dried up clay plan also known as Deadvlei. Make sure you get up to watch the sunrise from the top of "Big Daddy", one of the worlds largest dunes, reaching 350m.
Swakopmund Known as the adrenaline capital of Namibia, this is a place for lots of adventures and outdoor activities. We didn't have time to stay, but it's a great place to spend the night and stock up on groceries before heading out on the road again.
Skeleton Coast
We had to skip this due to timing, but if you have a few days to travel up the Skeleton Coast, we hear it's incredible!
Etosha National Park If you want to see wildlife, this is the place you will find it. Book a campsite or lodge in advance (things get reserved quickly) and spend 2-3 nights here. Rise early to set out on your self-drive safari. Getting out of the car is not permitted except in designated areas, so be sure to pack everything you will need for the day: food, water, cameras and binoculars!
Stay Here
Mount d'urban Campsite
Kosos Farm no.11, Helmeringhausen, Namibia