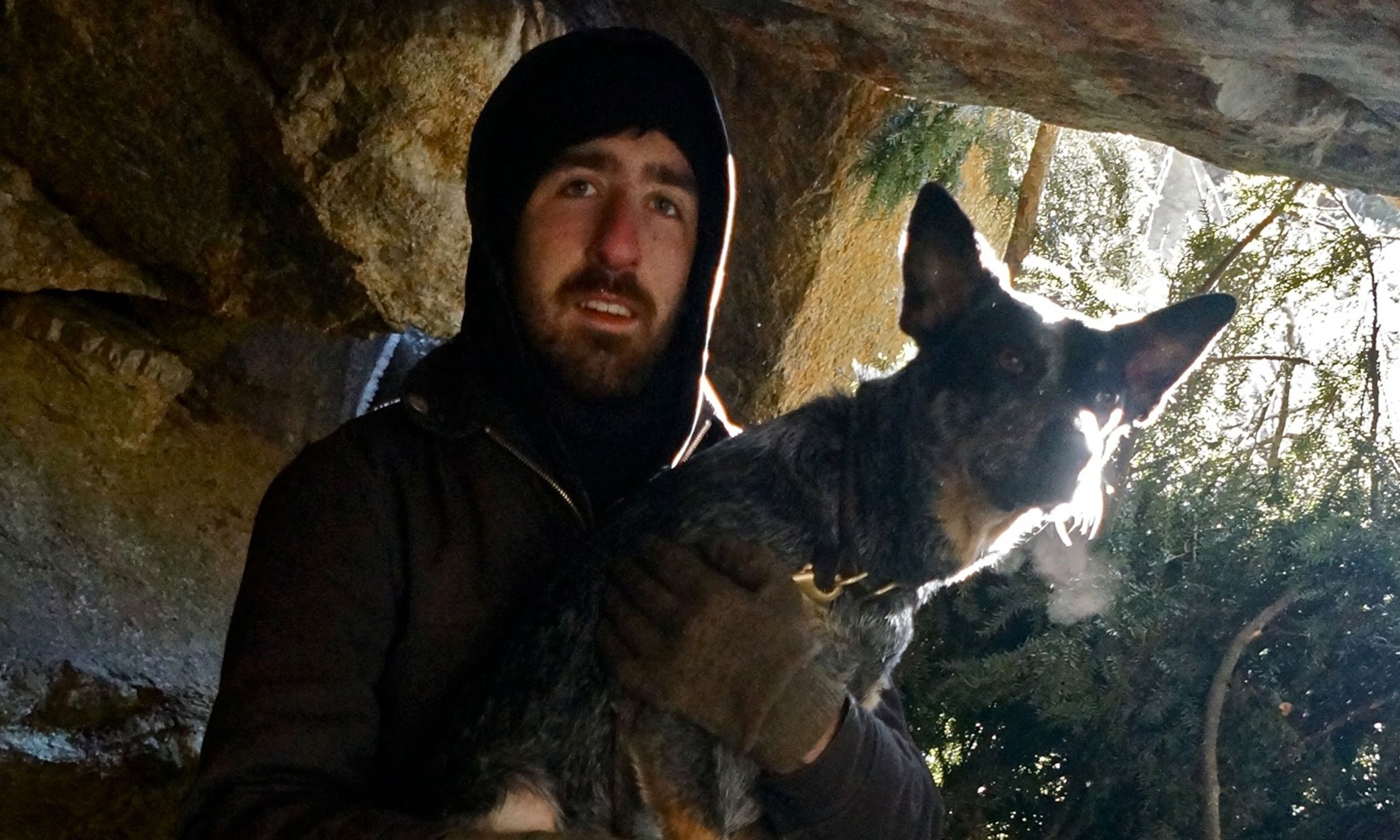 Jon is one of Lotuff's newest workers, but his prior artisanal experience has quickly allowed him to become an essential presence in the studio. Here, Liz interviews him on making music and traveling the country.
Since you're the guitarist of a Providence-based band, can you tell me a bit about that band and what you think is unique about the music scene here?
We're a punk band called CLEAN. It started two years ago by just getting a few of our friends together, and it ended up working out, so the band has been active since then. We released a few tapes at the start, and now we have a record coming out soon.
Providence has a really small music community, but it's pretty diverse. A lot of shows will have acts from multiple genres, which I really enjoy. It's always a good mix and a good way to motivate people to come to shows. I think the main thing is that I play in a punk band, but then I also play with more ambient or experimental acts, and nobody sees that as a strange thing to do. The crowd will just be into it all. We mostly play in bars or older warehouse venues, but there's always AS220, too.
Have you been involved in music for a long time, or is this something that's fairly new in your life?
When I was about fourteen years old, I started booking small concerts for some of my friends' punk bands at my mom's house in New Jersey. I was definitely influenced to start playing guitar by seeing them perform. But I was actually a spectator for a while, and didn't start playing guitar until I was probably about sixteen. From then on, if I wasn't in bands, I was doing solo work. My brother was also a big influence—he's not much of a musician, but one year he and my sisters all pitched their money together and got me a bass for my birthday. That's how I officially started. Now, I play mostly guitar; usually electric, but sometimes acoustic, too. Both are fun.
For years, when I wasn't playing in bands and with guitars, I had a more experimental approach to music. I would collect sound and audio from all around the country and would compose them into sound collages. Through doing that, I met a lot of people, which led to me making connections and playing in bands. With my current band, there's a pretty strong noise element when we're recording. There's a lot added to our songs from some fairly unconventional sound sources. I've even done things where it's just manipulative white noise—like an absence of noise, taking pretty much nothing and making something out of it. When you come across locations with natural reverberation, you can really play with that.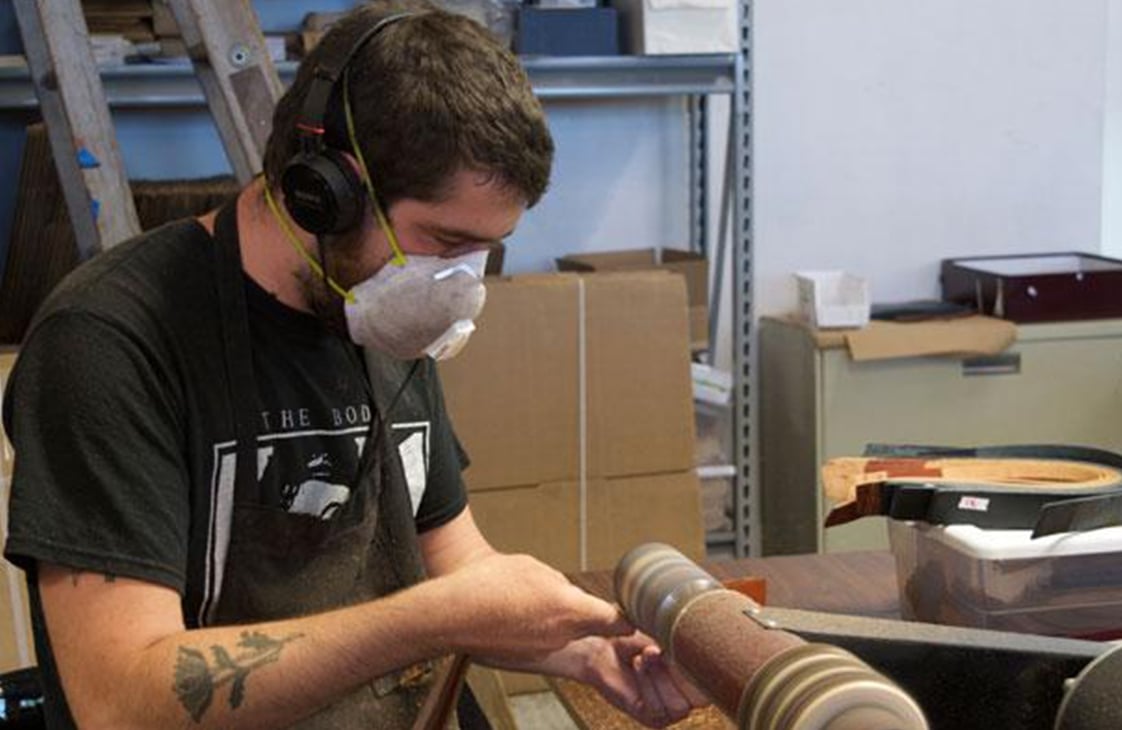 You went to school for film and printmaking, and now you work with leather goods- how did that transition happen for you?
I did a year of classes through the School of the Museum of Fine Arts in Boston. They don't have any majors, which means you can do nearly any combination of things you're interested in. Before that I went to a public high school that had a really good film program and that in turn got me really into film, so I studied film, printmaking, and photography at SMFA. I've been drawing for my whole life, and so out of those three, printmaking was probably the easiest to jump into and stick with. It's also a lot cheaper compared to developing photo or 16mm film. Because a lot of plants have shut down, it can be really hard to find a place that still even does developing.
In 2007, I moved to Providence for about six months but then pretty much just traveled the country for a few years. I was trying to find different places, just seeing what I enjoyed and where I wanted to be. For those years I was traveling, I would pick up odd jobs: I worked as a screenprinter, a bookbinder, and I was building portable AC units for a while. I did woodworking, too. That was my most recent job. I've always enjoyed hands-on work, and since leather working is a skill that's not commonly taught, when I found friends that were working at Lotuff I decided to try and get in as well. Especially with the bookbinding, I already had experience with sewing, so I wanted to expand on that. Working at Lotuff is really a combination of all my previous jobs.
But what really drove me to pursue trying to get a job here is that I've always been fascinated with utilitarian objects that are made to last. It's great being involved in that kind of production. Especially when traveling, I realized that it's hard to find a good backpack that will last a few years, and it's nice being able to actually make backpacks and other pieces that I know will stand the test of time.
In the Lotuff studio, you do mostly grinding, buffing, and assembly- things you've picked up very quickly, having only been here for a few months. Why do you think you're especially good at those tasks?
With regards to my previous jobs, my skills and my job here converge the most when compared to woodworking and bookbinding. Bookbinding in particular was very similar to the assembly process, especially putting the covers on and essentially sculpting the book with your hands. I was honestly pretty surprised how familiar a lot of things already were to me when I first started here. Turning and burning is one that was definitely intimidating at first—especially with the lighter colors—but now even that just feels like second nature. Kate's a good teacher.
Although I haven't done it here yet, the sewing aspect is definitely familiar, too. My sisters taught me to sew when I was really young, so I've been altering clothing and doing upholstery work on my own for a while. I started out sewing patches on things, just a young kid trying to look punk (laughs). Then it all turned to taking in shirts or pants, and I've had friends ask me to alter their clothing.
What do you enjoy most about working in the studio, and what are you looking forward to doing here in the future?
Well, in all the other shops I've worked in, everything felt way more tense. The higher-ups wanted all the control, and I thought that that made for a really tense work environment. It was hard to concentrate on what you were doing when you were always stressed. Here, it's very relaxed and I feel like that makes it easier to actually focus on the product and achieve great quality. Something else I've really enjoyed is getting to know all the machines we have in the studio. Some of them are pretty rare, like the splitter—but it's such a powerful and effective machine.
Eventually, I would like to be able to do machine sewing. The one thing I'm just learning now, albeit slowly, is cutting. Learning how to choose the pieces to cut out is probably what I'll be doing next.