Who needs this?
The distinguished executive. Our Triumph Briefcase is truly just that to us--a triumph--with clean lines all around and exceptional artistry that together give it an unparalleled level of understated elegance. Its defining feature is a triple-gusset, accordion-style construction that permits it to neatly expand from two to eight inches in width depending on what needs transporting at a given time. Just a notebook today, a dozen documents and a laptop tomorrow? The Triumph will carry it all for the busy exec without breaking a sweat or losing that characteristic streamlined shape thanks to its all-leather lining. It's the kind of bag that quietly catches your eye without being showy: the quality speaks for itself. And we've made a larger-than-usual batch of Triumphs in chestnut, its most popular color, to ensure no gift goes un-given this year.
To see how a Triumph is made, watch Bloomberg's video where they take you behind the scenes from start to finish, 61 pieces of leather and a whole lot of hard work later. As our creative director Lindy says in the accompanying article, "It's important that everything is made here...We can really say we look at every single piece and make sure that it is perfect before it goes out the door."

Don't take our word for it. Here's what our customers have to say about the Triumph Briefcase:
"I love this briefcase...simple and elegant design executed at the highest level of quality with the best materials and superior service. Well thought out interior with room for everything I need, it's just right for a small laptop or tablet and papers plus extras like cards, pens, passport, keys etc. I get joy from this bag every time I pick it up and it never fails to draw compliments and questions. Could not be happier with my choice." Customer review
"Wonderful material and workmanship. Simple (to my personal taste), and sized just right for a laptop, tablet, phone, a few papers, and some travel bits. Could not be more pleased with this piece. " Customer review
"This review reiterates what others have written: simple, functional, elegant, beautiful, high-quality and classy. The preservation of art our society so needs. Thank you." Customer review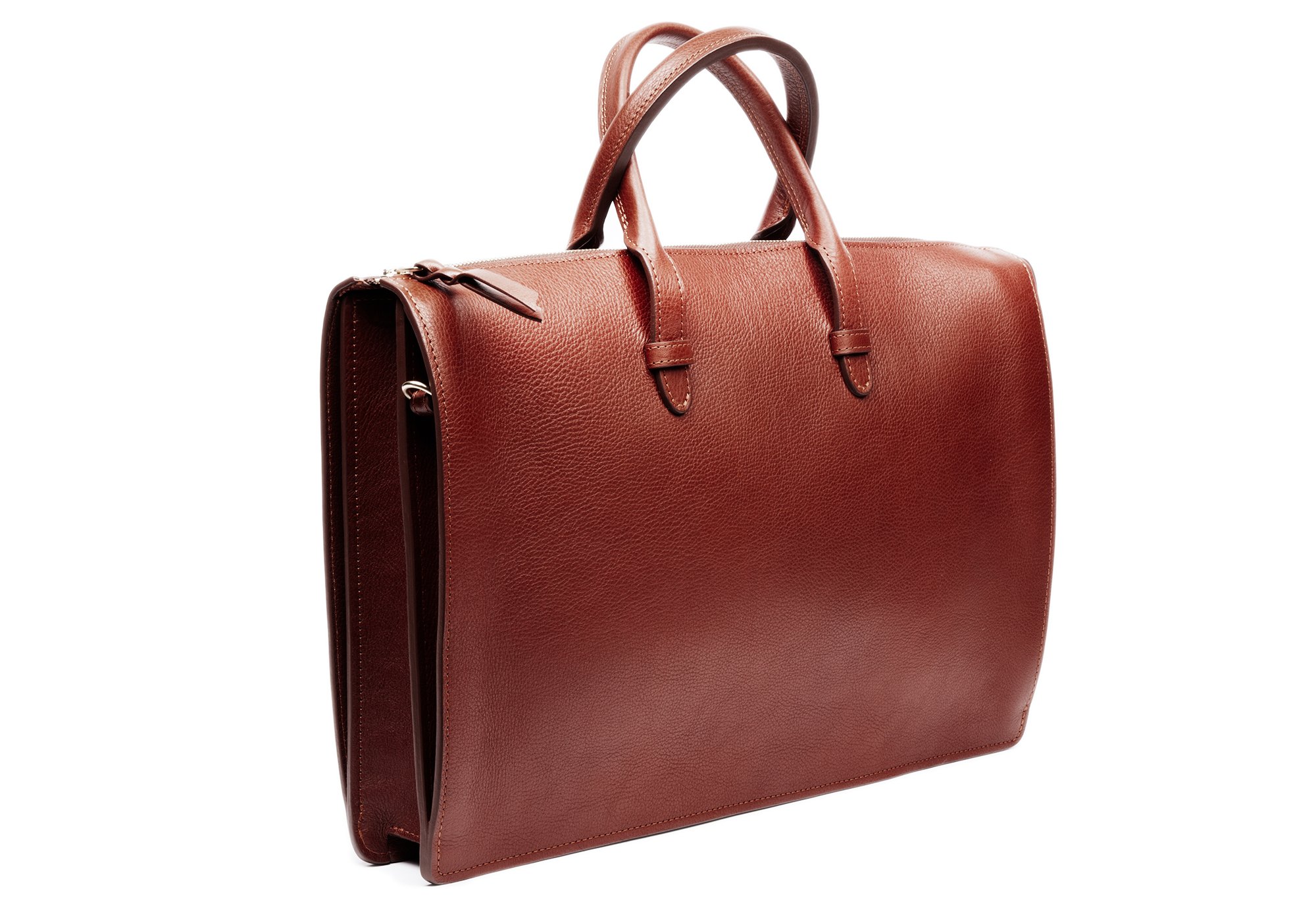 The Triumph Briefcase is available for holiday shipping in chestnut.