Who needs this?
The urban nomad. This backpack is everything a busy city-goer could want and more with a double-gusset construction to fit all they need and comfortably padded straps to get them through rush hour mayhem. There are separate interior compartments for a laptop, a phone, cards, and more, as well as a secret back zipper pocket to safeguard prized possessions. Those gorgeous buckle closure straps wrap all the way around the bag, which can come in handy for more reasons than security and aesthetics alone--some people like to use them to secure a yoga mat or bike helmet! If the elegance of a briefcase in functional backpack form is what that person on your list needs, the search stops here.
As Esquire puts it, the Leather Backpack has "style in spades" and is "refined, but still rugged; cool, but sophisticated." We couldn't agree more!

Don't take our word for it. Here's what our customers have to say about the Leather Backpack:
"Maiden voyage: This bad boy elevated my whole day. Really? Yes. Looks on BART from the East Bay to San Francisco, check. Looks as I went through the fare gates, check. Looks on my walk from Montgomery station to North Beach, check...The concept, artistry, integrity, and business model that is Lotuff is admirable and envious. Thank you to the minds and hands that have and continue to enrich my life-seriously." Customer review
"When thinking about a backpack, many women may turn the other way- opting for a more feminine piece. However, ever since I set my eyes on this backpack, I knew I was making the right decision! It is a magnificent piece and one that attracts positive reactions from both men and women. It is spacious enough to fit all of the daily essentials (for those commuting to and from work) while always being in style...It is comfortable and the leather is EXQUISITE." Customer review
"I never thought I'd wear a backpack after high school. But after setting my eyes on this one, I became a backpack convert. It is by far the most beautiful thing I own. I'm amazed by its versatility. I shamelessly wear it with a suit to meetings, easily beating out the more traditional and boring cases being carried by others. On the weekends, I bike around with it on my back, carrying with me anything I need for a day out.
It has become the best travel companion, too. My favorite feature is the security pocket that sits up against my back when I wear it. I keep all my valuables in there, so I know they are absolutely safe no matter where I am.
I can't count how many times I've been complimented on it." Customer review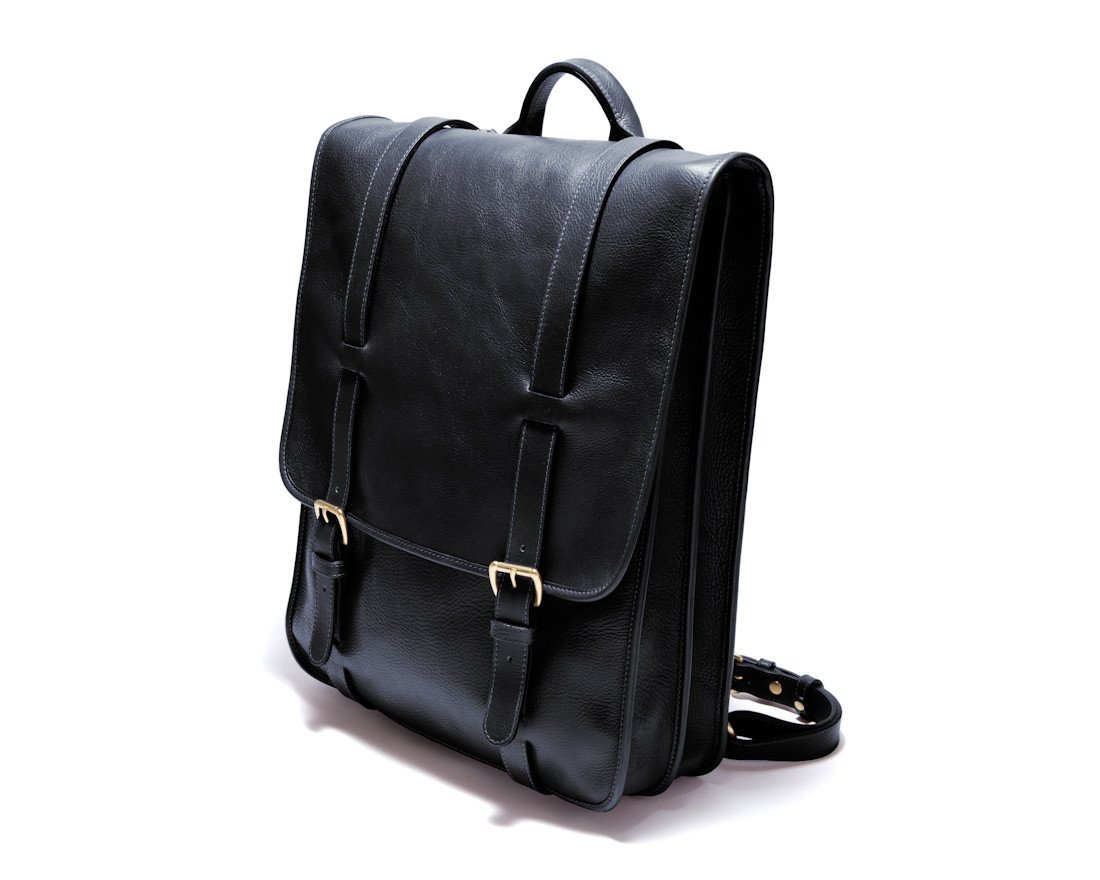 The Leather Backpack is available for holiday shipping in black, chocolate, and chestnut.