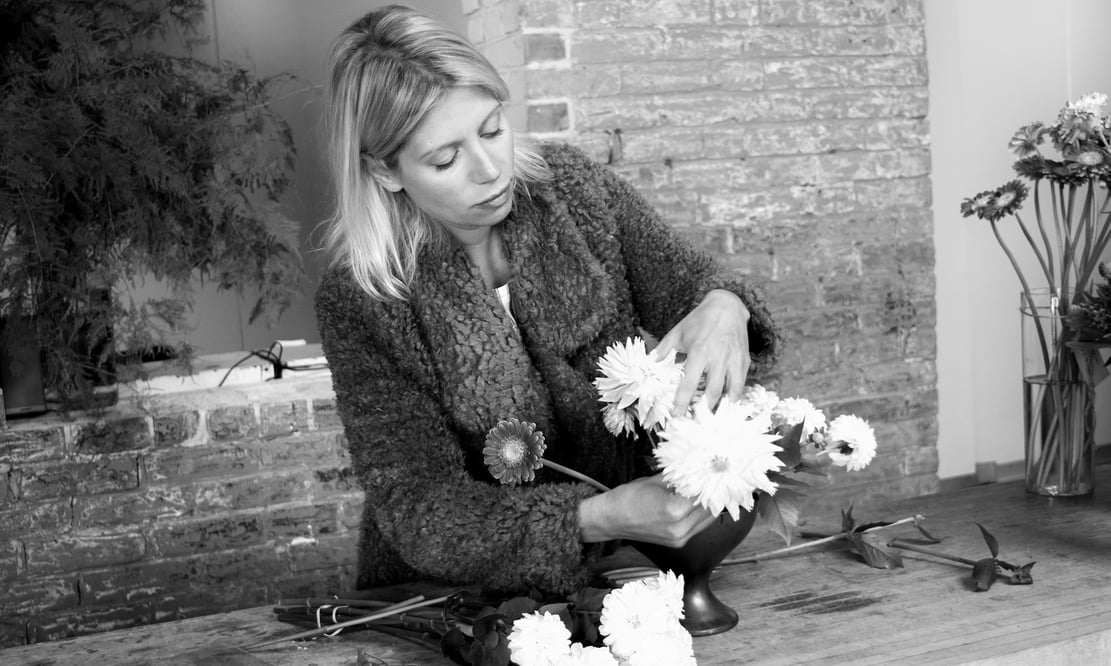 Now that we've covered everyone in the studio, we're turning our heads to the larger community at hand and getting acquainted with the people who embody our ethos of ingenuity, drive, and talent. This interview features Semia Dunne of Flowers by Semia, a gorgeous floral design studio just steps away from Lotuff's own. Her arrangements are incredibly beautiful—exquisite, even—and we couldn't be happier to work next door to her talented team. Keep reading for the details of Liz's conversation with Semia on how she got her start in florals, who inspires her work, and why she loves Providence's "family of creatives".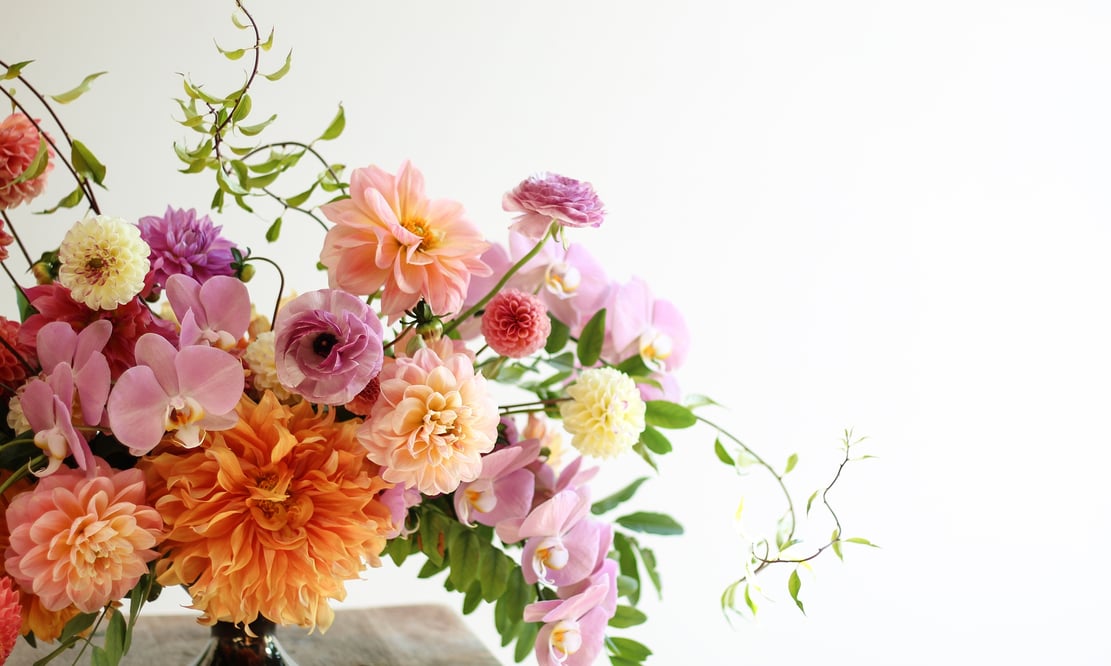 You've been working with flowers since a young age and have always loved doing so, but you initially started out on a totally different career path. Tell me about that! Did you see starting your own business as something of a pipe dream, or had the thought never even occurred to you until one particular moment?
In my teens and throughout my college years, I often gardened with my mother. It was something we always did together. Through that, I fell in love with flower farming and perennial gardens. Flowers were a hobby and a passion, but I never thought of it in terms of a career—I felt like it was something I would always do in my life, but on the side!
I ended up going to college at Holy Cross and graduated with a psychology degree and a concentration in biology. Once out of college, I was on the pre-med track and worked in an outpatient psychiatric practice. While applying to PhD programs, nothing quite felt right, though, so I started to get back to my roots. I gave some more thought to having a career in plants, and gave landscape architecture a go at URI. I got a part-time job at a flower shop while I was studying there, worked for this great family for two years, and just knew there was no turning back.
I was 24 when I realized—in the middle of that second degree—that I wanted to make floristry my career. I was always motivated from that point on. I'd always found business intriguing; my dad was self-employed. So it was ingrained in me that I could do this. At the ripe old age of 24 I bought a tiny flower shop in Johnston, changed the name, and watched the paint drip off the walls. It was only maybe two years into that when I realized in turn that my biggest passion was in the world of special events. I couldn't employ many people, but I started marketing myself in that way and began growing exponentially, doing bridal shows and things of that nature.
Outgrowing our first tiny studio— it was 500 square feet, if that—and moving to a second location in North Providence served us well. But we outgrew that too as we became more known for events. By that point I had been able to hire a team, and we found our current studio in 2013, where we now have room for a full-time team of six people with additional part-timers.
Prior to all this, I desperately wanted to be a neuropsychologist; I wanted to help people with brain damage and things of that nature. I've always found the brain intriguing and I still love to read about it. I find psychology so fascinating, and in some ways I use it every day. I'm just doing a different form of therapy than I thought I would be. We're reaching people through flowers instead of a traditional medical practice!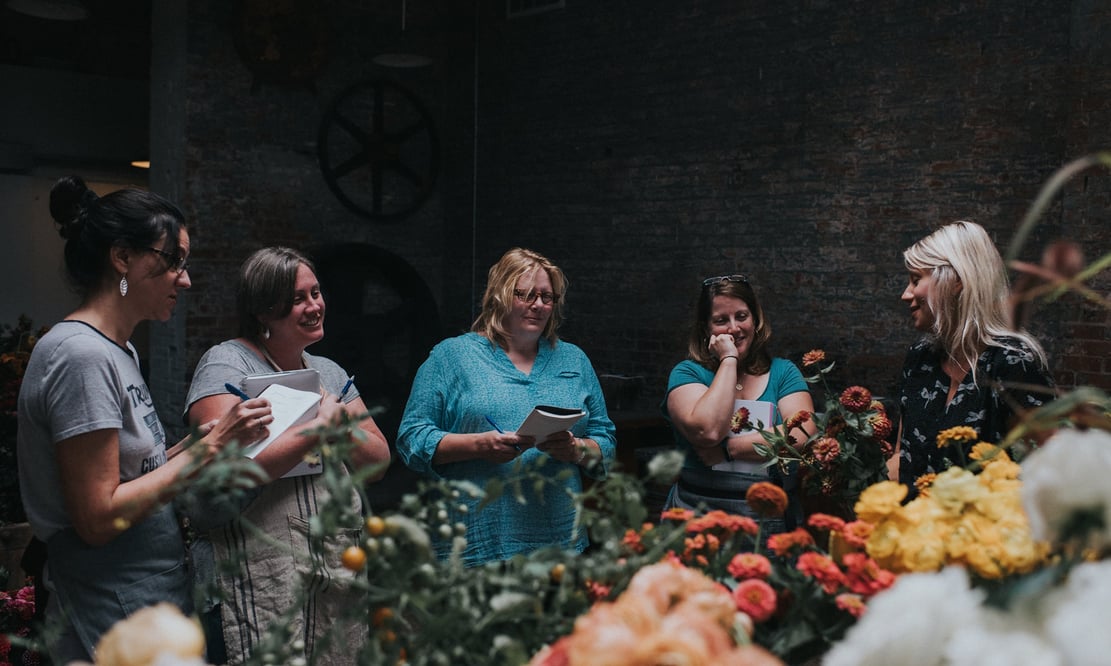 Photo by Allison Markova
Flowers by Semia has been in operation for 17 years. Over those years, you've added studio classes to your repertoire, have provided business for other local farmers, and are beginning to venture into wholesaling. How did you come to be so involved with the community, and how did that expansion happen?
Our community involvement really began with our move to the Steel Yard. The energy here is electric! We're around so many other creatives, learning more about what Lotuff does and what Tellart does and being neighbors with Ben and Aja Blanc. We all feed off each other and care about each other's well-being in both the business and personal spheres. Opening up this community has really turned us into a family of creatives doing business together.
Since moving to Providence and hosting events where other businesses can come and do pop-ups with us, I've been able to discover other people and products that I never would have otherwise found. I love that we have the capacity to do that in the form of a pop-up, a party for a property manager, or a floral arranging class. Connecting with as many people as possible, whether it be our client or our neighbor or our fellow Providence business owner, is what this move has been all about for me.
When we first considered moving to this space, one of the requirements was that it be big enough to bring the public in to teach and get messy, because we teach floral design classes to both the professional and the novice. We've curated different workshops throughout the years that cater to all different aspects of floral design, and in the meantime met some really great colleagues and really great young people getting into the industry. I think our workshops have allowed us a really nice position in the community to offer advice and learn from our peers. We've made a lot of friends through them.
As a company, we have a clear passion for floral design and a clear passion for flower farming. Those two loves bred a new business venture, which is being able to provide an inspiring market for local floral artists to shop at while allowing local flower farmers the farthest reach to sell their product. I have the utmost respect for these farmers; I think what they do is such hard work and they produce the most beautiful things. It's those things that give our designs a soul and uniqueness and life.
And as a designer, I want to walk into a place where there are tons of different farms represented, where I can see and touch the flowers and maybe even make a preorder there. So that's where the new venture became born. It was the thought, "I want to help these flower farmers get a bigger reach and help my flower colleagues do better events." I know what a difference starting with beautiful product makes, and those things need to be available to all of us.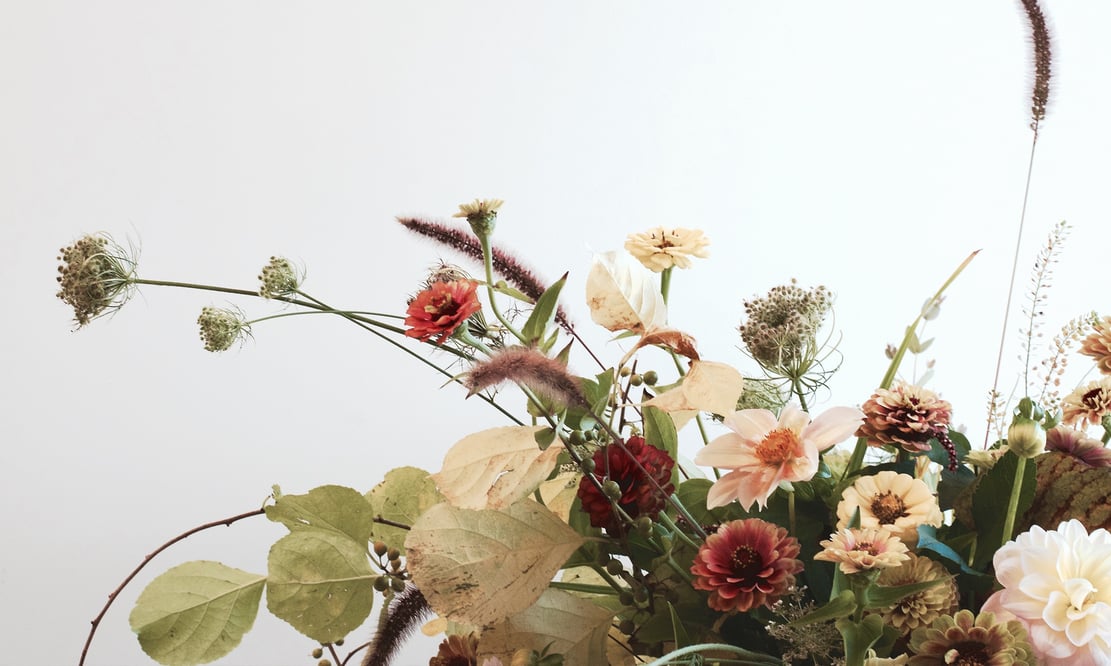 Since all your floral designs are so strongly inspired by the ever-changing rhythms of nature, is there a time of year that you love working with the most?
That's so tough! I will say the biggest source of inspiration for our work is nature and its colors, as well as the movement of flowers and foliage. It's a big reason why we grow as many of our own flowers as we can and support local farmers, because the locally grown blooms offer so much variety. There are always little abnormalities that make the difference to our designs that would never arise in your average warehouse flowers. Even just watching the color variation in those leaves on the chainlink fence outside—that's where we draw our inspiration from. And I think every season provides literally a whole new set of inspirations! That's why our work can remain ever-changing, fresh, and not stagnant.
I will say that there's something about spring, where the world and our earth is awakening. That, for me, just holds so much anticipation. I get so excited about the year when I start to see little green things popping up. It might be the most exciting time of year and most potential-filled. But I'd be lying if I said the changing colors on the leaves didn't also get me all excited too!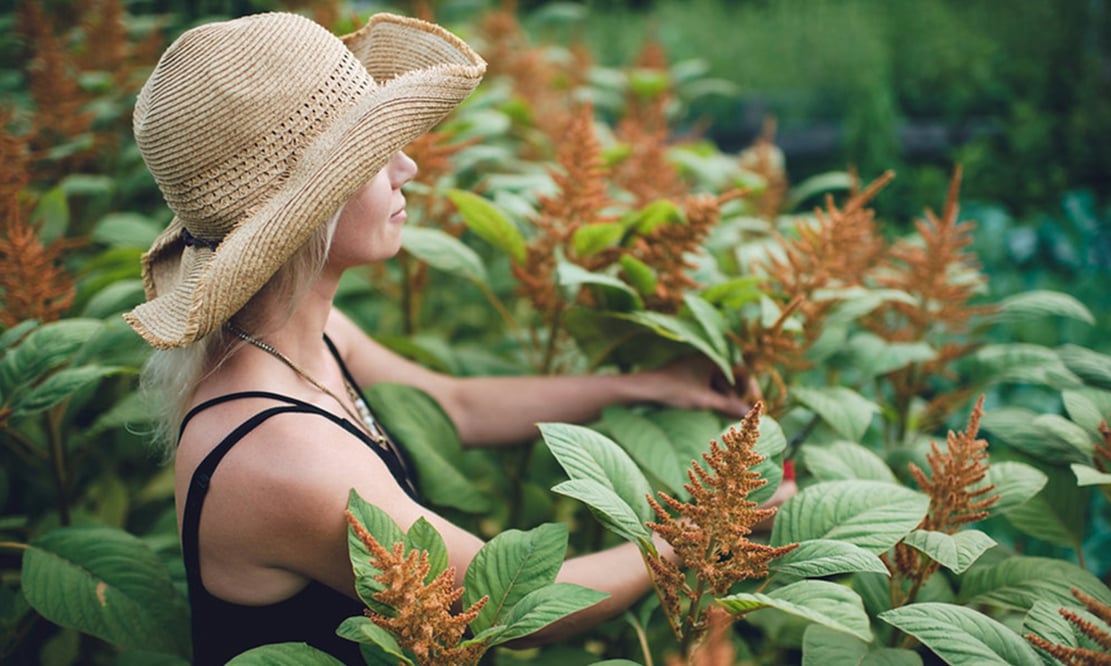 Photo by Tiffany Medrano
You have a young son who often makes an appearance on the company Instagram—does he enjoy helping you out in the fields? And when not in the fields, what are you favorite things to do together as a family?
He loves it. Luke takes so much enjoyment in being outside, and he knows the names of flowers. He does a lot of farming with us, and from a very early age could identify an herb by its appearance or a carrot from the leaves on the ground. We have a standing joke at this point that we always keep scissors in the car because we never know what Mom's going to see on the side of the road!
It was always important to me that he spend a lot of his childhood outside, and luckily enough he has been right beside my side through the whole process from a very young age. We do things like drive the John Deere Gator around, pick flowers, and plant together. I try and get him as involved as I can without making it feel overwhelming and allowing it to still be fun. This year he planted his own corn all by himself from start to finish. I think that's great, for a little person to value the earth.
Luke has really gotten into horseback riding lately, so personally I love to watch him at his horse shows. I love to see him learning and respecting an animal in that way, and I think it's been very good for him. Otherwise, my family loves to cook together, we love to walk in our woods, and we really enjoy spending time in Little Compton. We always do our apple picking up there and visit the farms. Every summer we rent a house for a week, and that's my time away from the studio where we focus on doing all the Little Compton things—like going to Briggs Beach—and it's just us.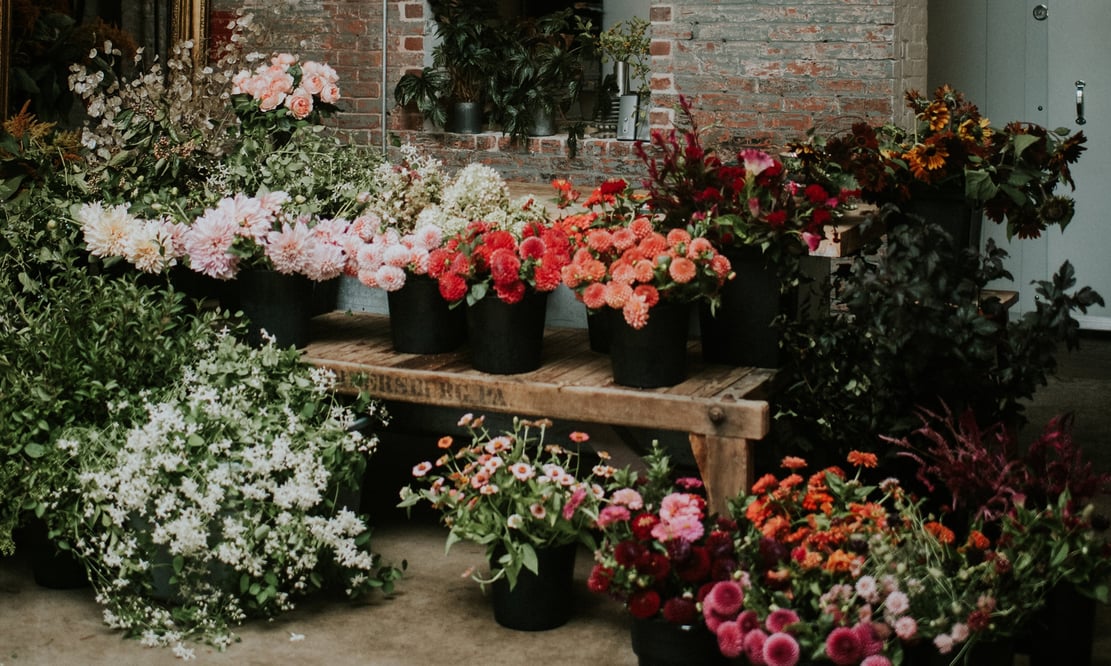 Photo by Allison Markova
Flowers aren't your only interest, so I've been told—what kinds of things outside your industry inspire you?
Right now I'm pretty obsessed with a lot of people in my industry. I'm also very interested in non-floral things that also somehow end up making their way into our industry a little bit, like beautiful hand-dyed, vegetable-dyed ribbons and fabrics, weavings, and macrame. I just look at other people's art and feel so inspired by it. I'm majorly influenced by the things I see at Calico wallpaper. They're so good! I'm even more inspired by other flower farmers around the country, like Floret Flowers out of Washington State. One of my biggest floral design muses is my friend Kate Holt at Flowerwild in LA. Her creative direction is outstanding and I'm constantly in awe of her originality and floral talent.
There isn't one artist I've found I have to follow, but I've always loved the Dutch Master movement and I love to see florals designed in that style. I can't get enough of those paintings! Stumbling upon them in the most random of places is the best. For example, I found these still life paintings [on the wall] at a Brimfield estate sale, and they define us so much.
I absolutely love the ways rocks and minerals pair with flowers, so I do have a slight obsession with collecting beautiful gems and creating floral designs with them. There's something so great about the raw minerals mixed with the super feminine, delicate flowers. I'm kind of obsessed with that lately. I think my work in general is getting more and more inspired by nature, which in turn is giving it more movement than it had, say, five years ago. Our designs have gotten less tight and contrived as time has gone by. We started out that way because it seemed as though that style was most accepted, but it's only served us well to get more natural and loose and have more creative movement in our pieces. Sometimes that comes with growing your own product and wanting to infuse that into your designs. I don't think we'd ever be able to go back to those fixed forms anymore!
In our line of work, we're known for our natural aesthetic but also for truly elegant events, so we always have to have a sense of balance for our client base: designs that are wild enough to be intriguing, but refined enough that we can place them in a beautiful Newport mansion. So with regard to inspiring spaces, I love Glen Manor. As beautiful as it is, it's strangely intimate. It's always been one of my favorite venues and continues to be to this day. We love having events there, but of course, we also love dinner parties and workshops in our studio space because the architecture allows us to go wild and crazy.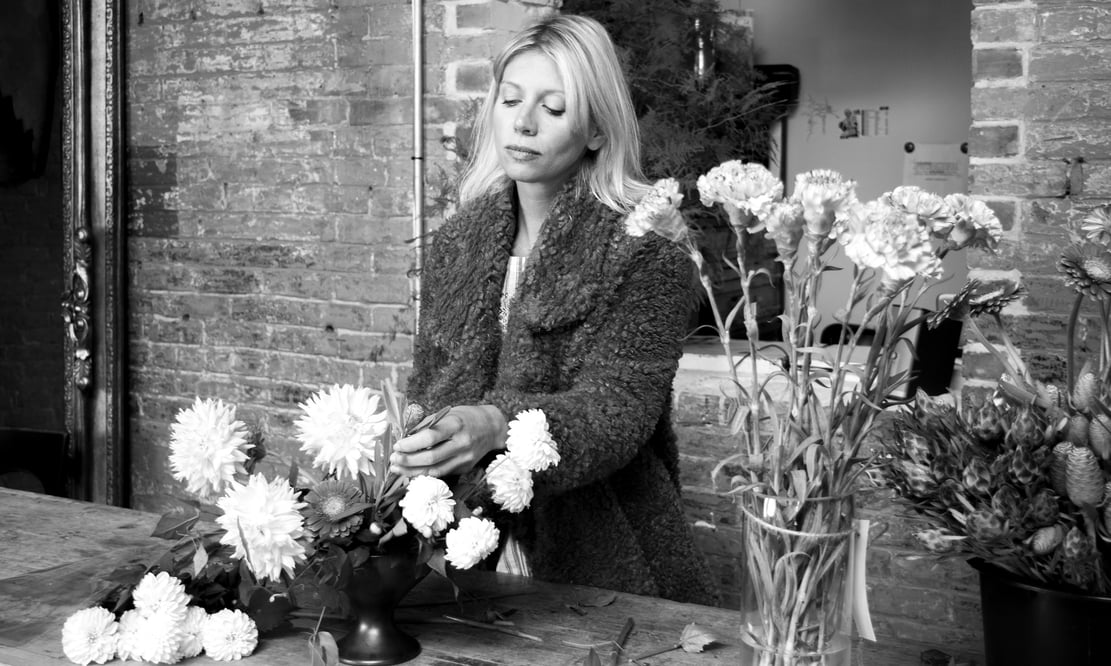 Of the Lotuff bags you own, which is your favorite?
Anything in electric blue! Personally, I've purchased many different Lotuff accessories for so many friends and family members; it makes the most beautiful gift. My electric blue fringe bag is, like, everything. It's hard to beat. It's my favorite color in the whole Lotuff line.
Where's your favorite place to carry it?
Because mine is fringe-y and kind of outrageous, I take it along when I'm feeling like I want to go out for an outrageous time! So it comes out with me to special dinners, or when I'm going out in Providence with some of my best friends. It's a special bag for special occasions. But I need to start embracing it with a big chunky sweater to go out shopping! It would work just as well.
Describe it in one word.
Sexy.