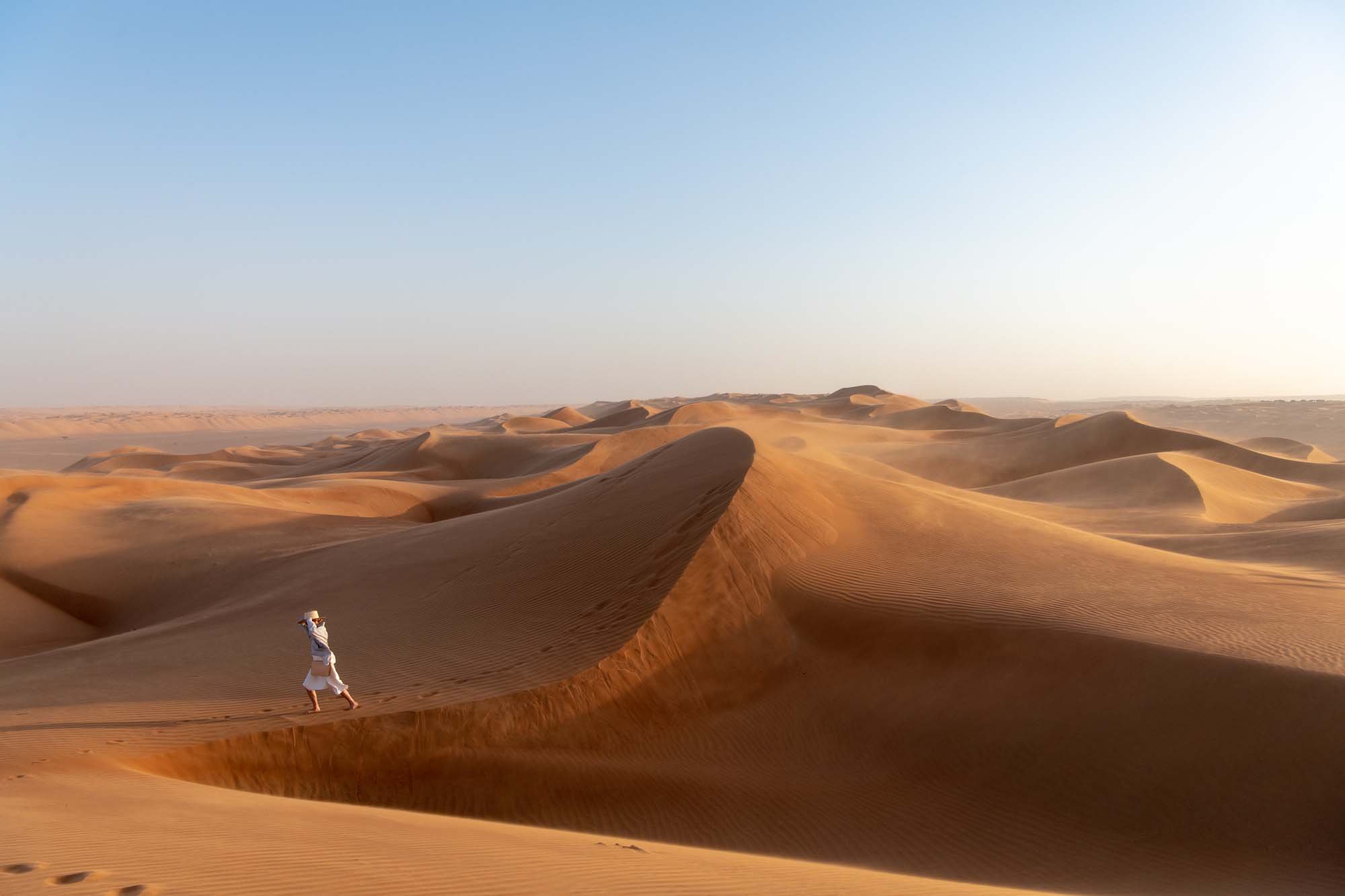 Our friends Sarah and Stefaan of Miles & Miles are back from their most ambitious adventure yet, having traversed 5 countries and 4 continents to collect amazing photography and stories that we are so pleased to share with you. Oman was the second stop on their itinerary and they've put together some highlights of their time spent there, places they recommend visiting, and why diving into the unknown can be the most rewarding way to travel.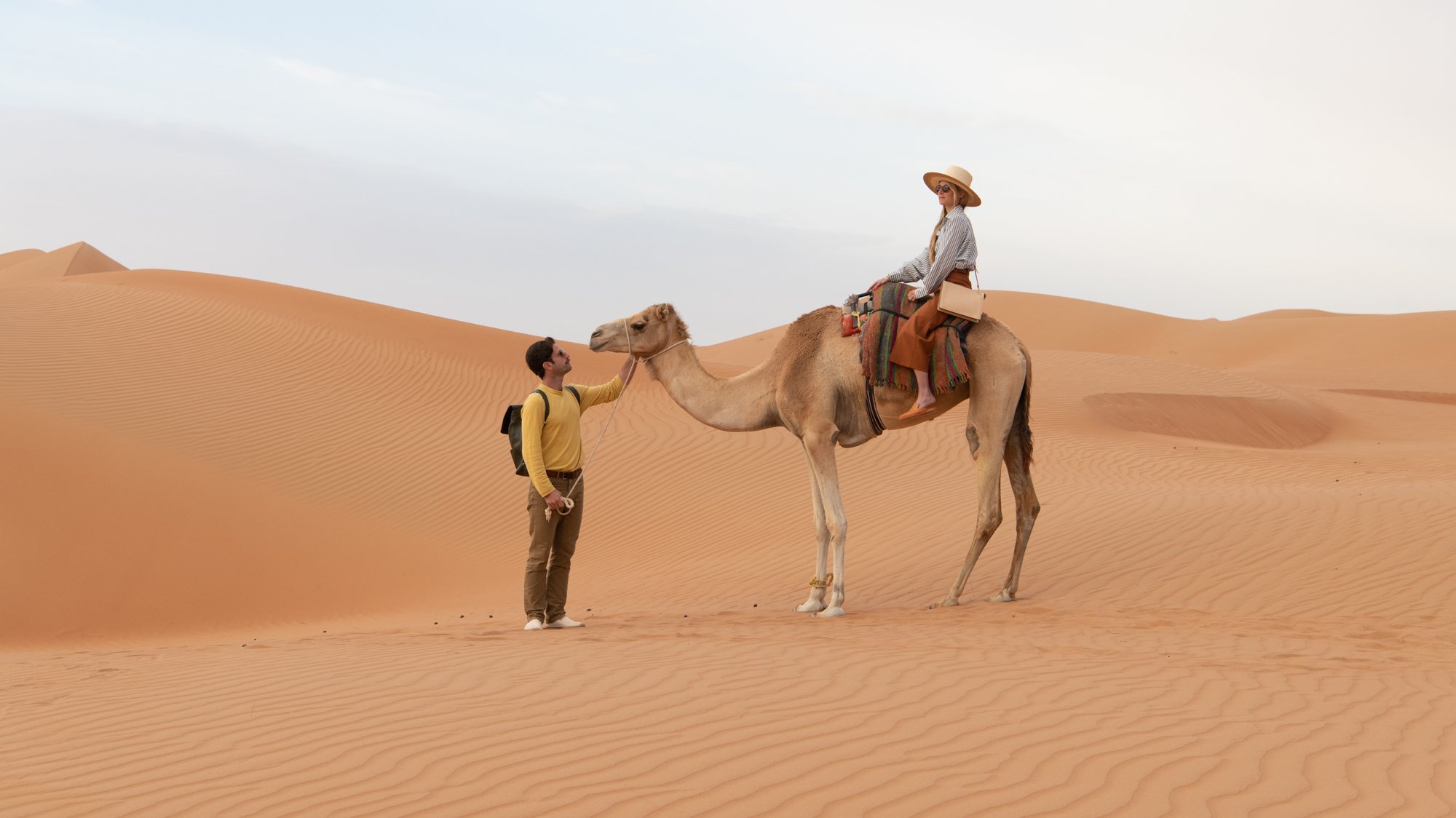 Oman is a country that's been on our radar for a while now. Once we noticed that we could easily connect through Muscat on the way to another one of our destinations, we did some quick research and made plans to spend 10 days on the southeastern coast of the Arabian Peninsula.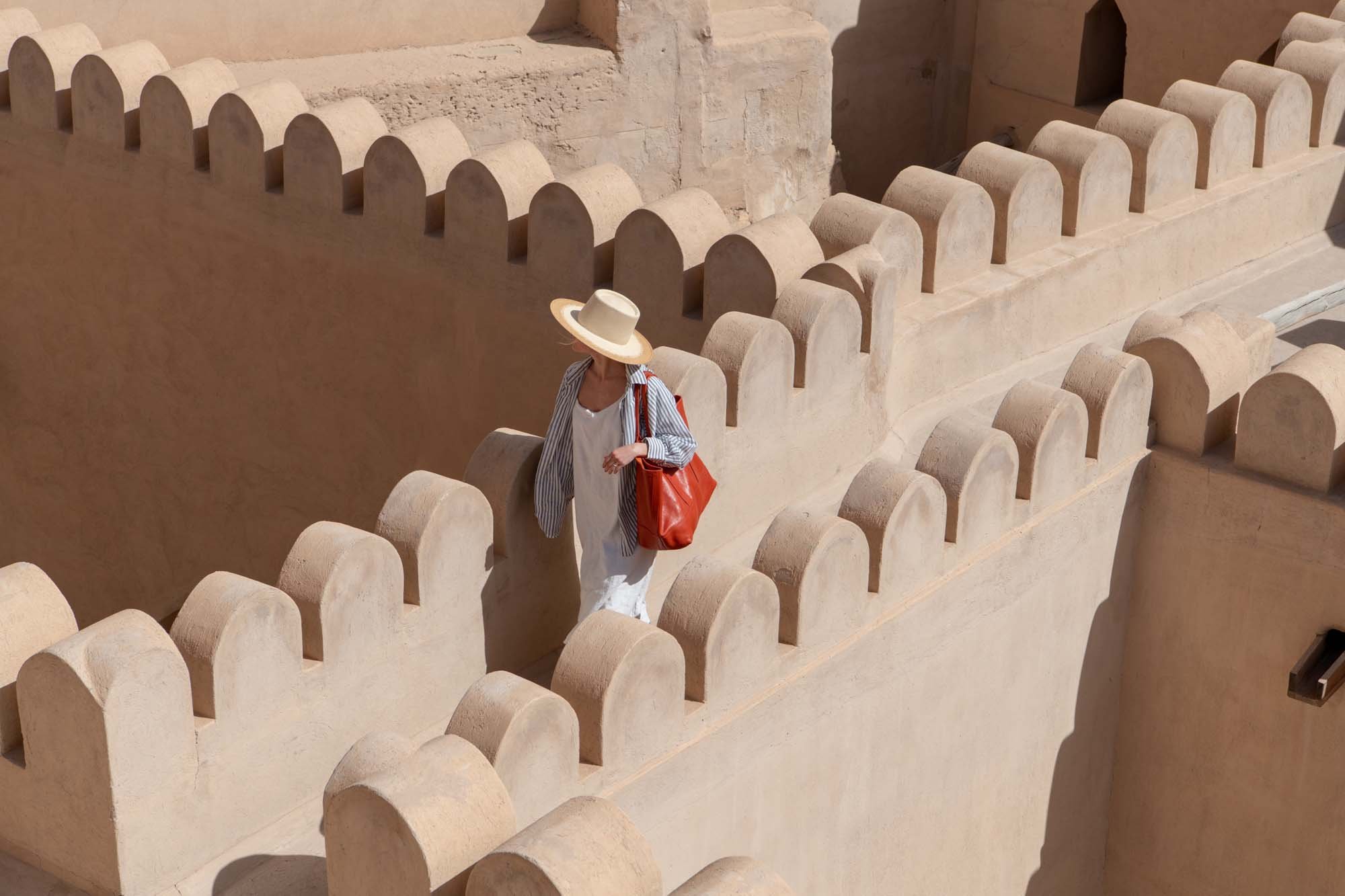 Having come from Japan, the meticulous aesthetic of Oman felt familiar to us. The architecture is light in color with clean lines and is impressively spacious. The country as a whole is quite large, but basing ourselves in Muscat made it easy to venture out on day trips. We chose to rent an apartment because it encouraged us to get out and experience the daily culture, adopting a routine of waking early to get groceries and heading out for the day to discover new things. We came across many traditional markets called souqs, which had everything from local crafted pottery, clothing, and jewelry, to Omani farmers trading livestock.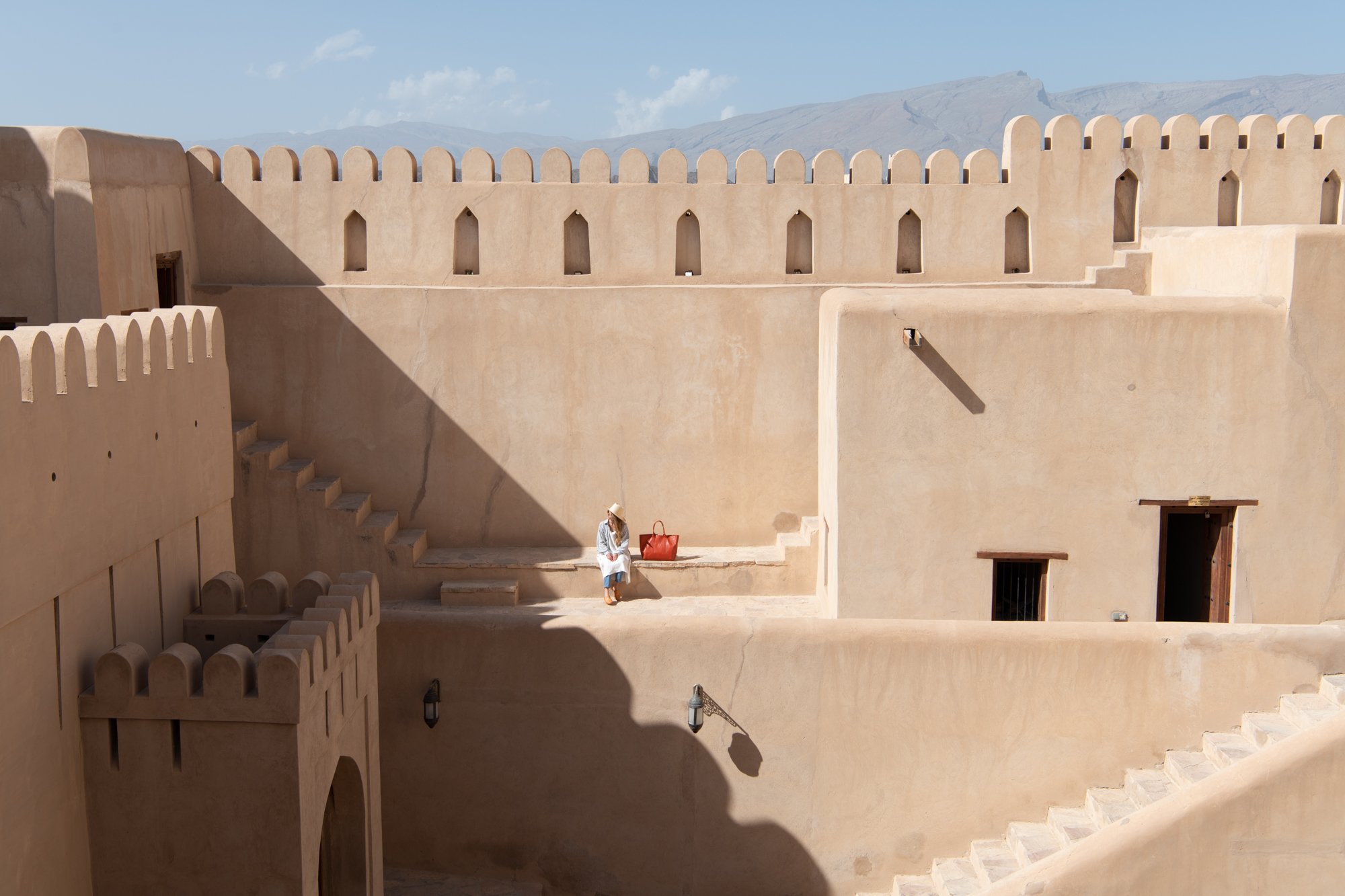 One of the most spectacular architectural structures in Muscat is the Sultan Qaboos Grand Mosque. Beautiful with its marble surfaces and vibrant mosaics, we were grateful to have the opportunity to experience this revered gathering place. Another architectural delight was visiting Nizwa Fort—part castle, tower, and museum. Partially built in the 9th century, Nizwa Fort houses Omani artifacts, and also boasts some of the most beautiful geometric shapes framed by original staircases. It was an unforgettable example of old Omani architecture.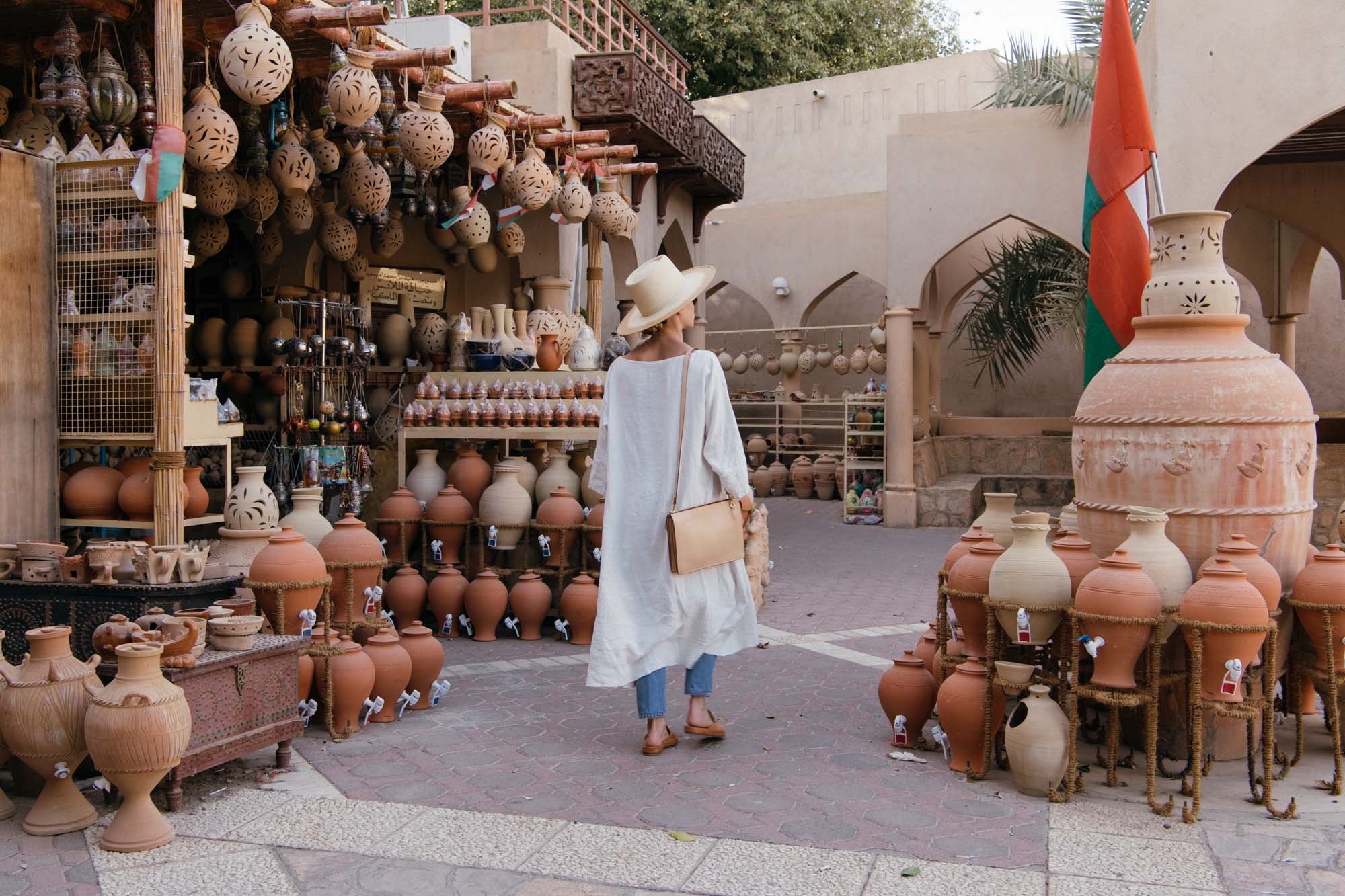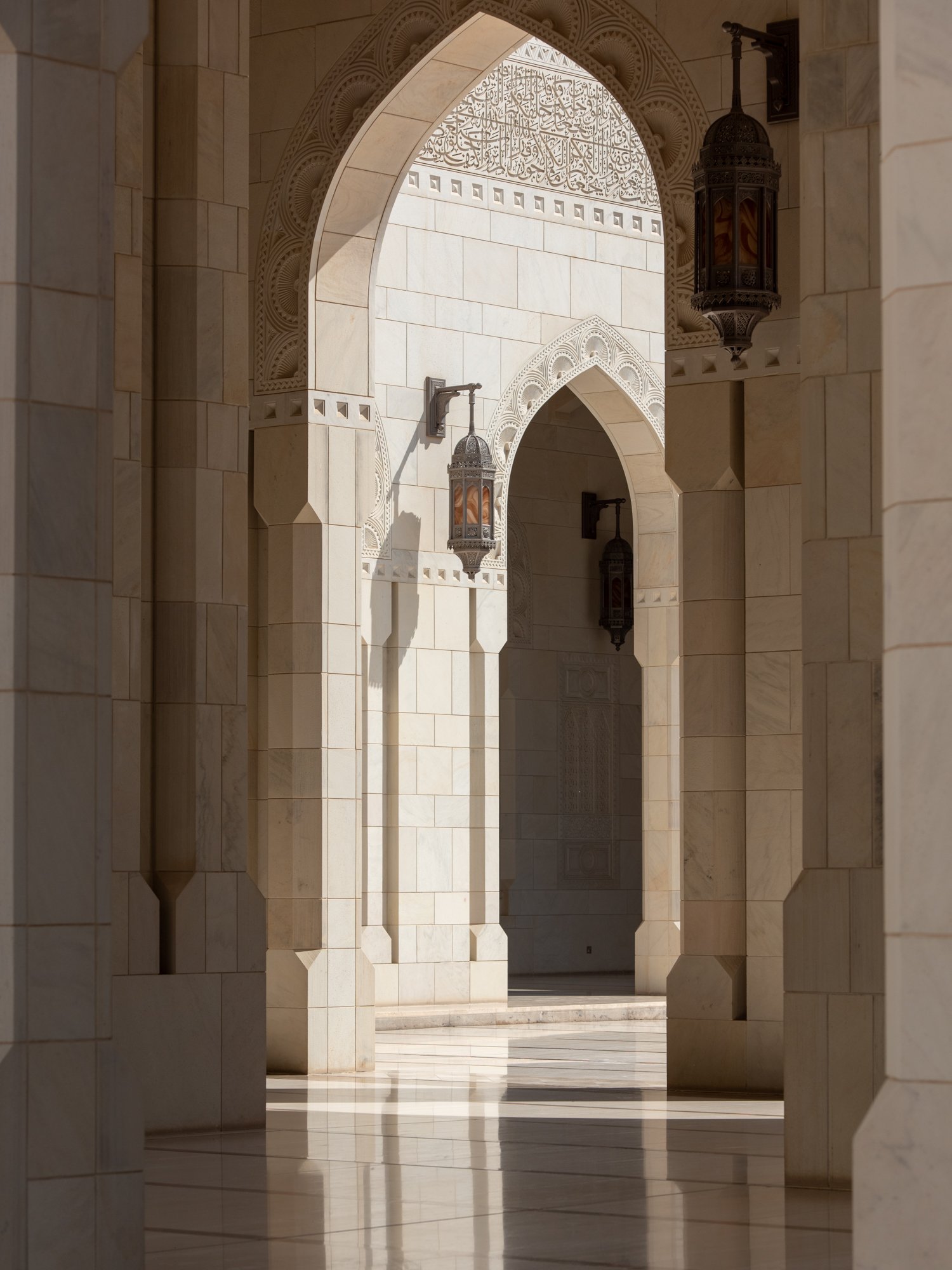 Outside of the cities, all the wonderful contrasts of Oman started to reveal themselves. Most of our day-trips took us south along the coast where newly paved roads divide dry, dusty camel farms from white sandy beaches and the turquoise Arabian Sea. We loved stopping to picnic along the secluded coves in-between destinations, and discovered our new road-trip snack of local dates—completely addicted now! It's not uncommon for Omani families to make these same types of trips. In fact, we saw some incredibly elaborate day-camp setups with multiple generations of family members fishing and grilling all along the coast.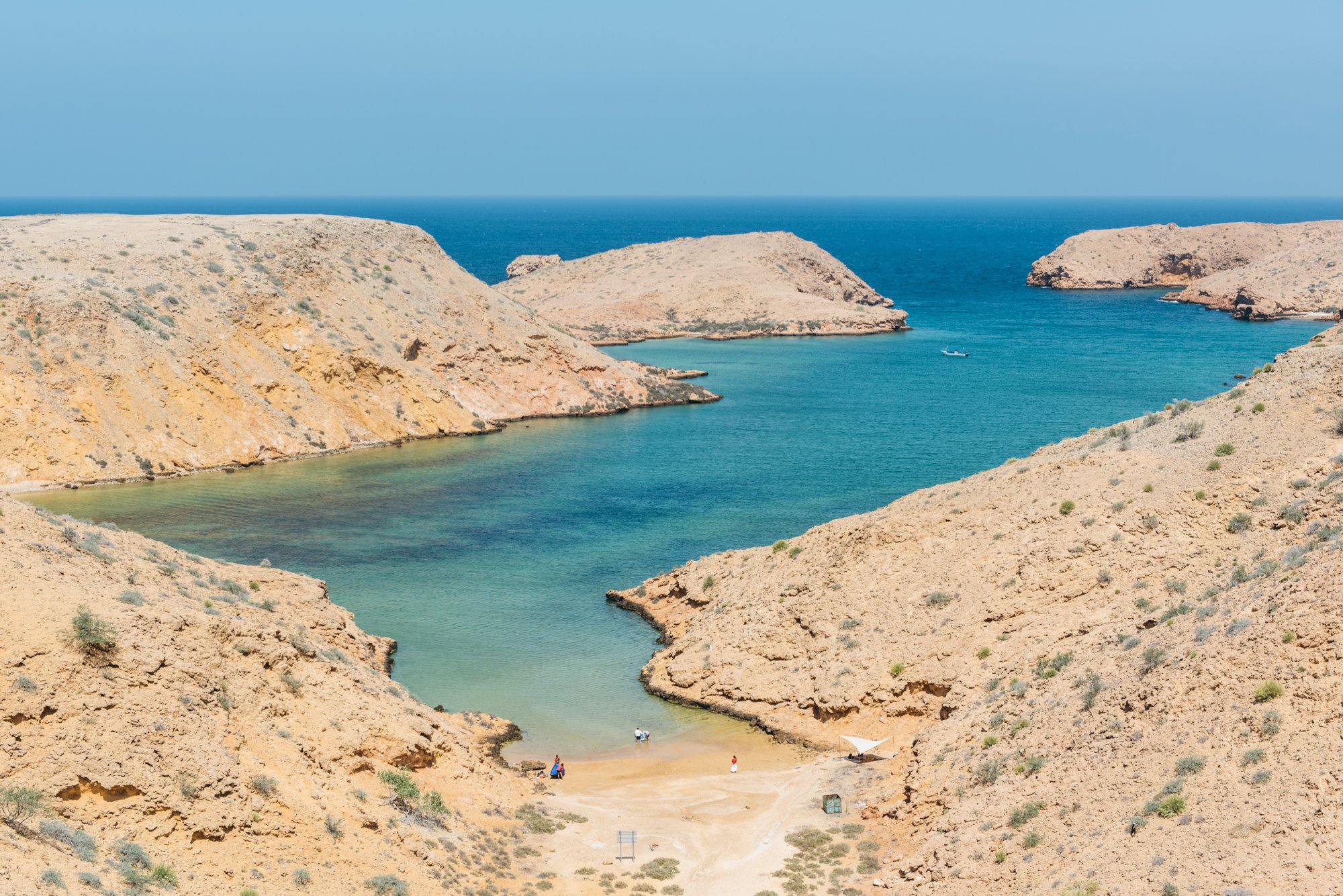 The Bimmah Sinkhole was one of our favorite destinations. The surface originally collapsed as a result of the underlying limestone dissolving, and the result is nothing less than magical. Until we were literally standing at the rim's railing, we thought maybe we were in the wrong place. And then once we saw the crystal clear blue water and dramatic rock walls below, we just wanted to jump over the railing and dive right off the 65ft cliff!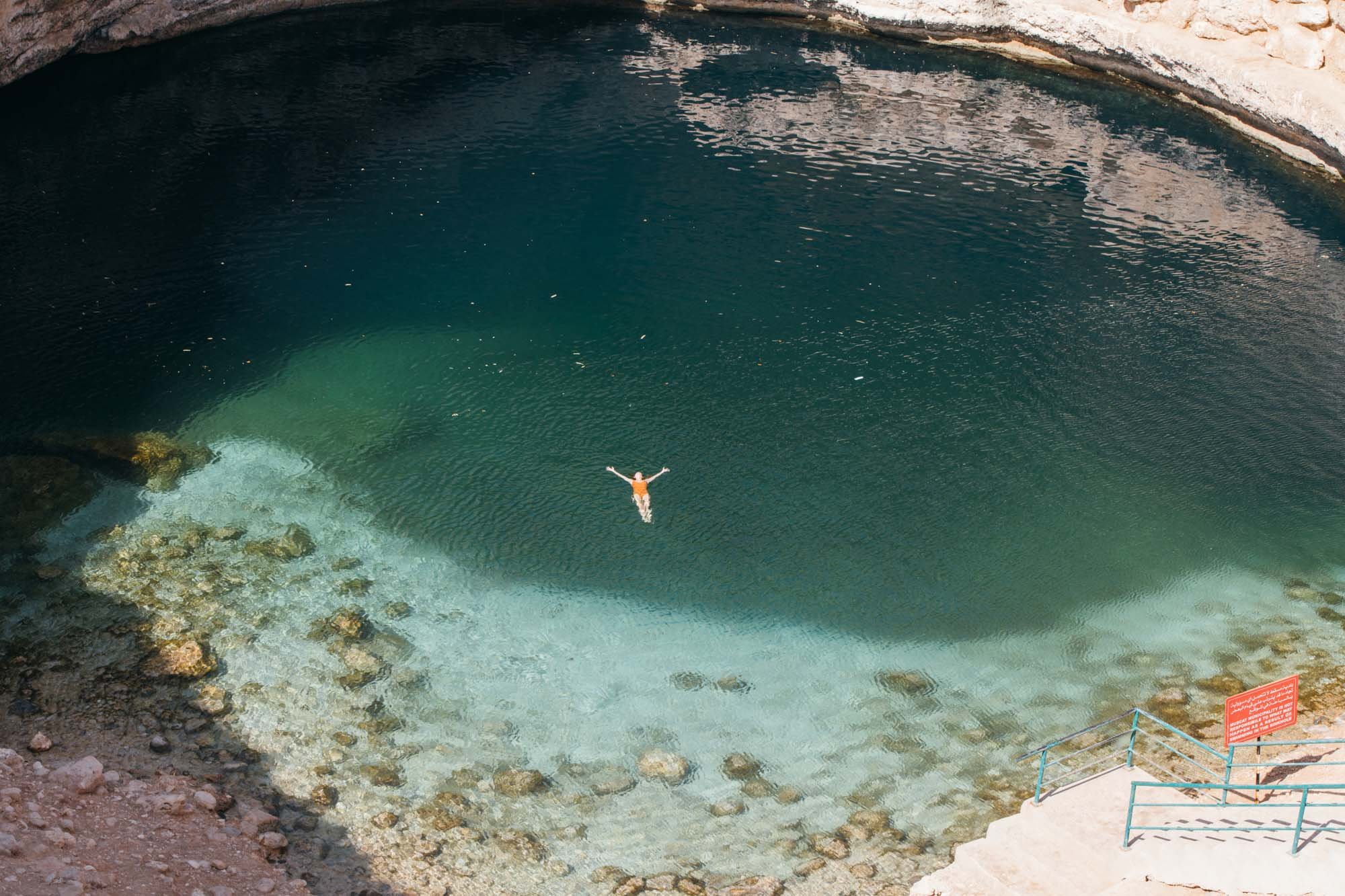 Another highlight was getting to experience Wadi al Shab's extraordinary beauty. After hiking for about an hour and a half along a meandering river and into a very dramatic canyon, Wadi al Shab appeared in the midst of the dry landscape as an otherworldly oasis. The sudden beauty of the turquoise lagoon giving life to trees and grasses along the towering walls of ragged rocks was unlike anything we had seen before.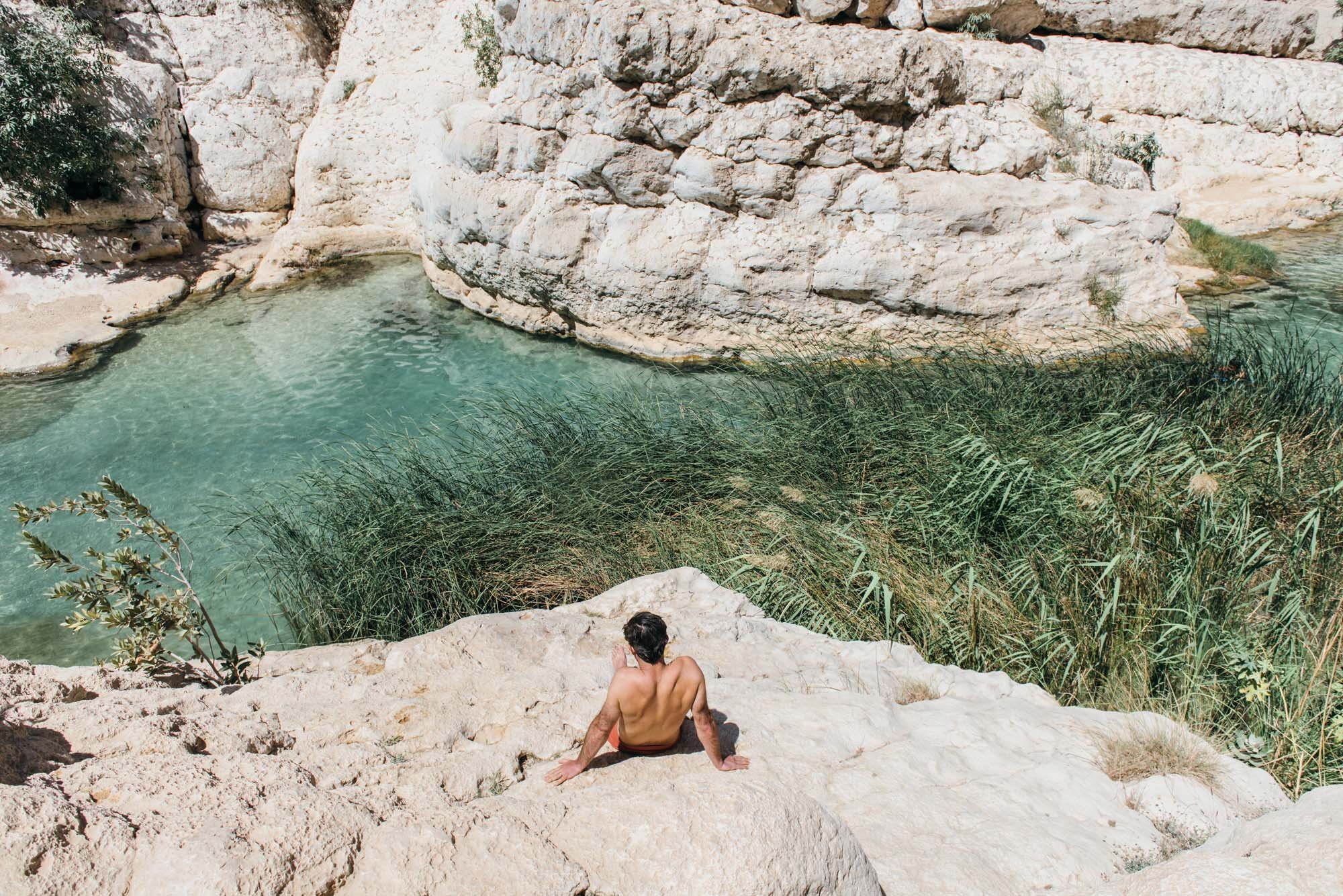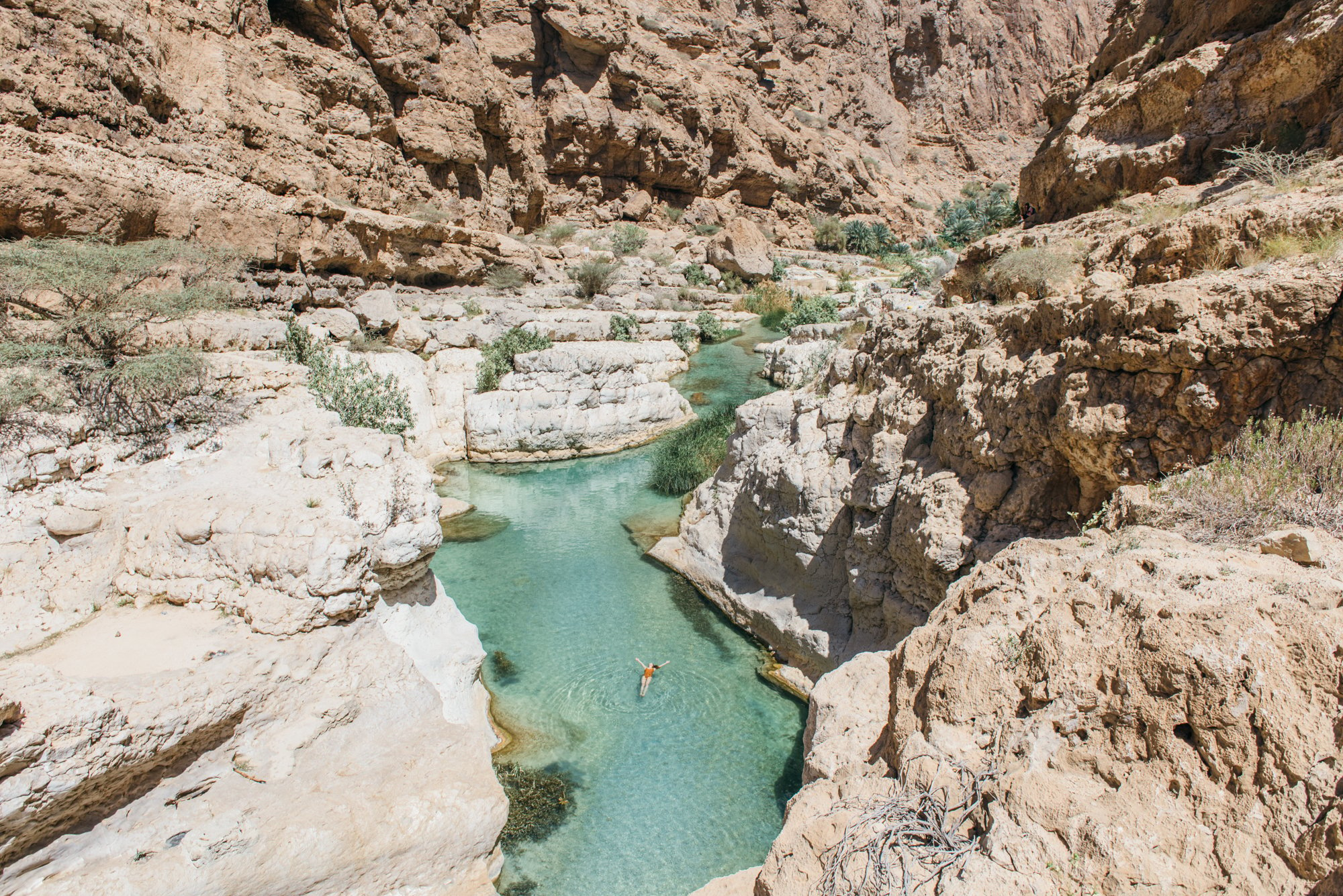 After a few days of staying in Muscat and day-tripping near and far, we drove ourselves out to spend the night at the very remote Desert Nights Camp in Wahiba Sands. We set our GPS but it could only get us to the beginning of the sand dunes. After that, we were on our own and for the next hour followed tire tracks on the sand through a valley of dunes and camels hoping we were headed for the right camp! Being in the middle of 4,800 sq miles of what the Omani call Sharqiya or Wahiba Sands, surrounded on all sides by wispy layers of sand dunes felt comparable to being out in the ocean with only the horizon all around. We will never forget the early morning sunrise we saw with our guide Mohammed and camel friends. Who, by the way, have the reputation of roaming rogue, a hilarious characteristic of theirs that made us fall in love with them!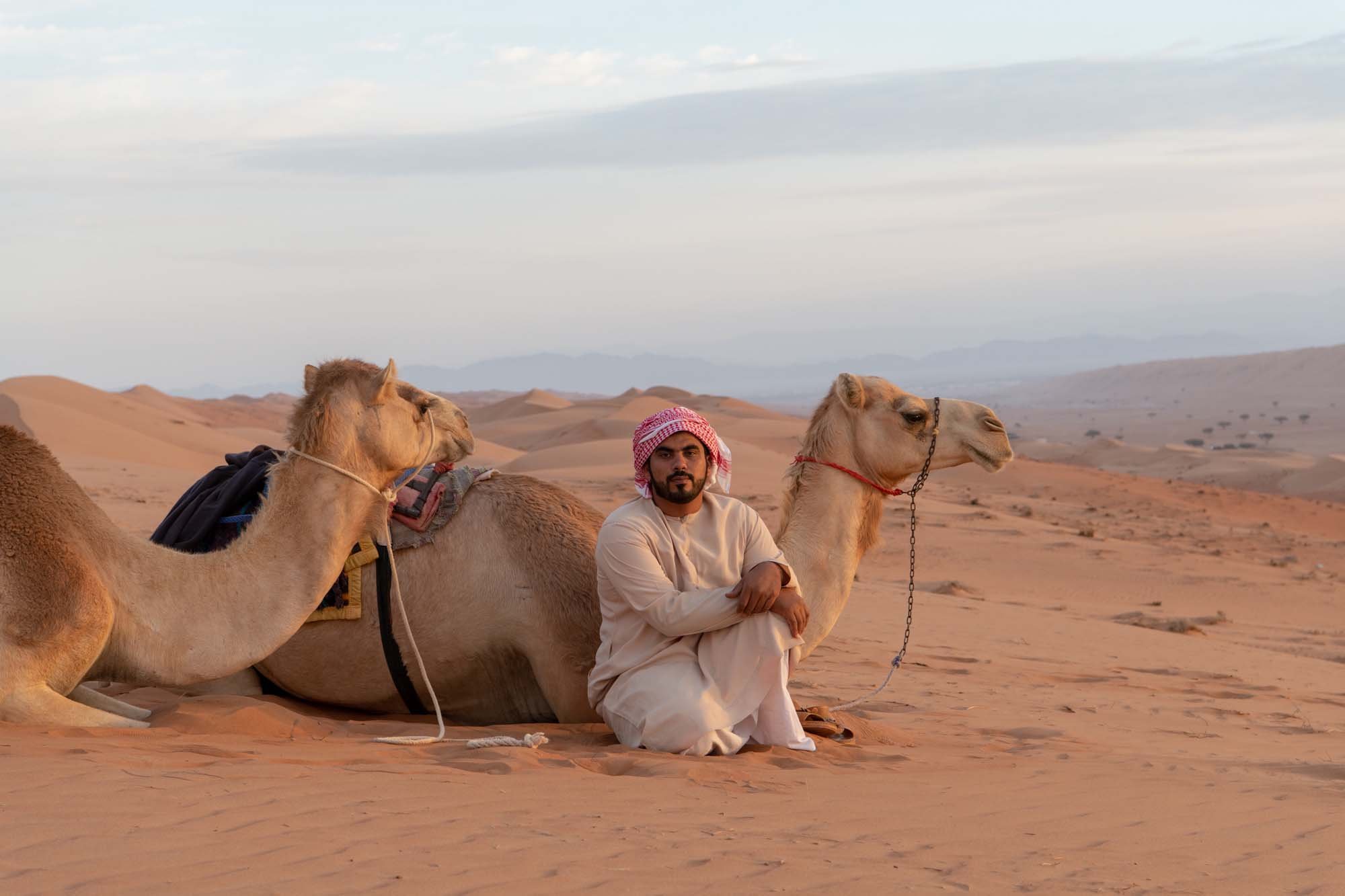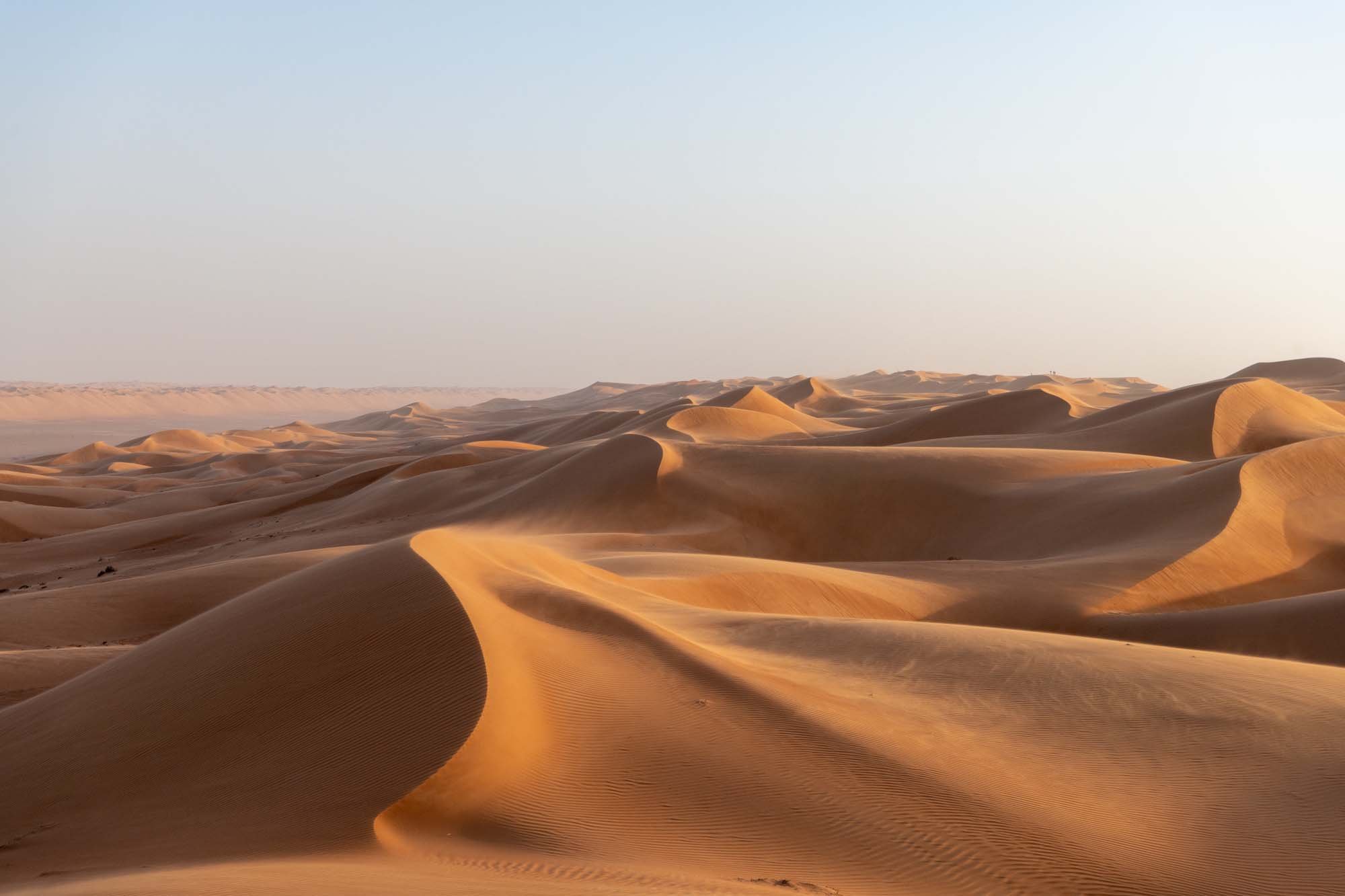 We're so grateful to have been introduced to the beauty of Oman, its people, and traditions. We fell in love with their architecture, stunning landscapes, and welcoming spirits, and cannot wait to return to explore some more.
Eat Here
Kargeen
Al Bashair St, Muscat, Oman
"A small hideout in the middle of the city for delicious local cuisine."

Go Here
Sultan Qaboos Grand Mosque
Sultan Qaboos St, ولاية بوشر، Oman
Muttrah Souq
Muscat, Oman
Nizwa Fort & Nizwa Souq Nizwa, Oma
Bimmah Sinkhole Wadi Shab
Al Sharqiyah Region,
Oman
Al Ayjah Lighthouse Sur, Oman
Ras Al Jinz Sur, Oman
Stay Here
Alila Jabal Akhdar
Al Roose, Jabal Al Akhdar, Al Jabal Al Akhdar 621, Oman
"A beautiful historic ryokan that has been tastefully renovated and is run by an incredible staff."
alilahotels.com/jabalakhdar