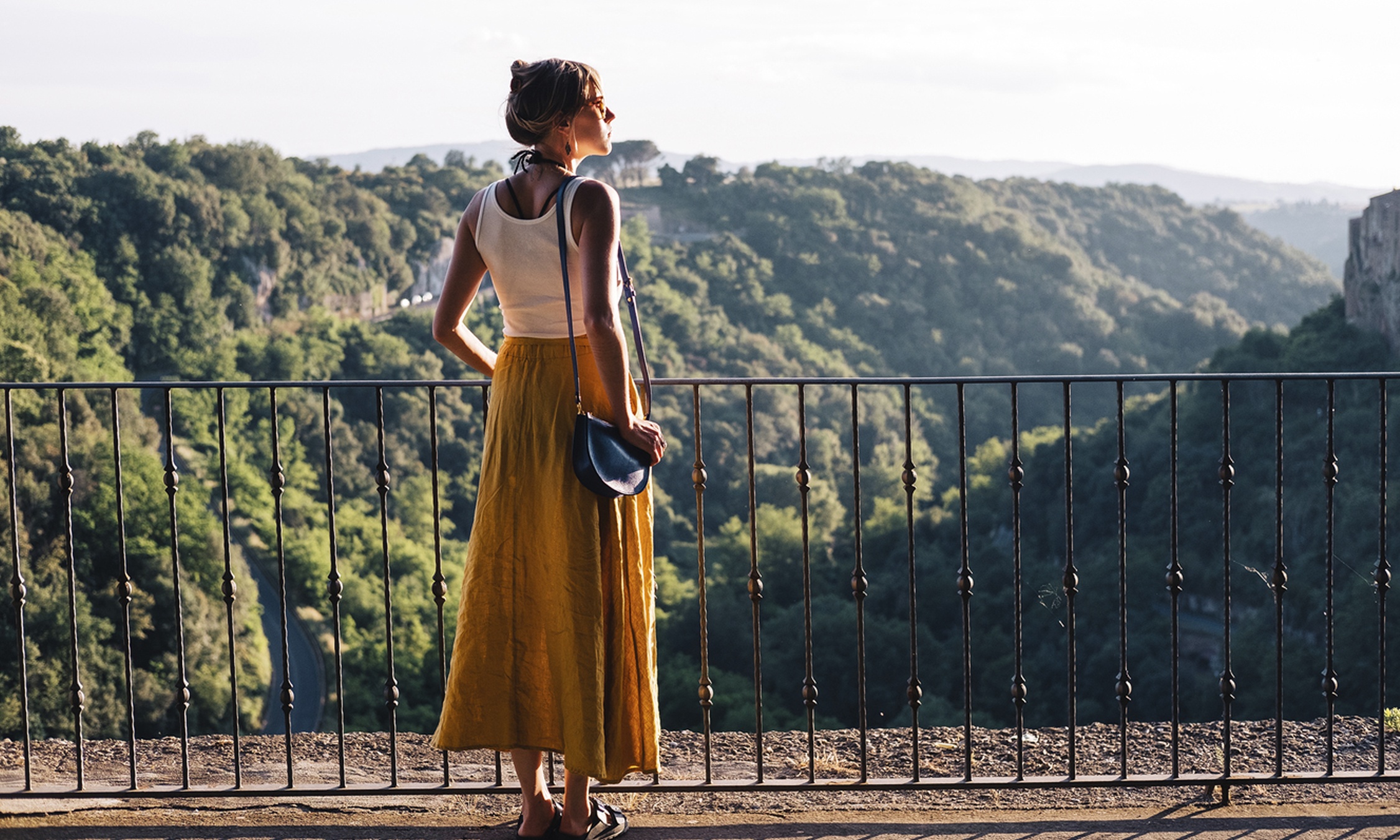 Kate Foster and John Hesselbarth are the lovely duo behind Providence photography and lifestyle company Apparition, as well as good friends of our creative director Lindy and Willa of Little Bitte. After spending ten days exploring Morocco, they took their Lotuff bags over to Italy as well to spend time with some friends. In their own words, here's their diaristic take on their trip through Tuscany and Emilia-Romagna.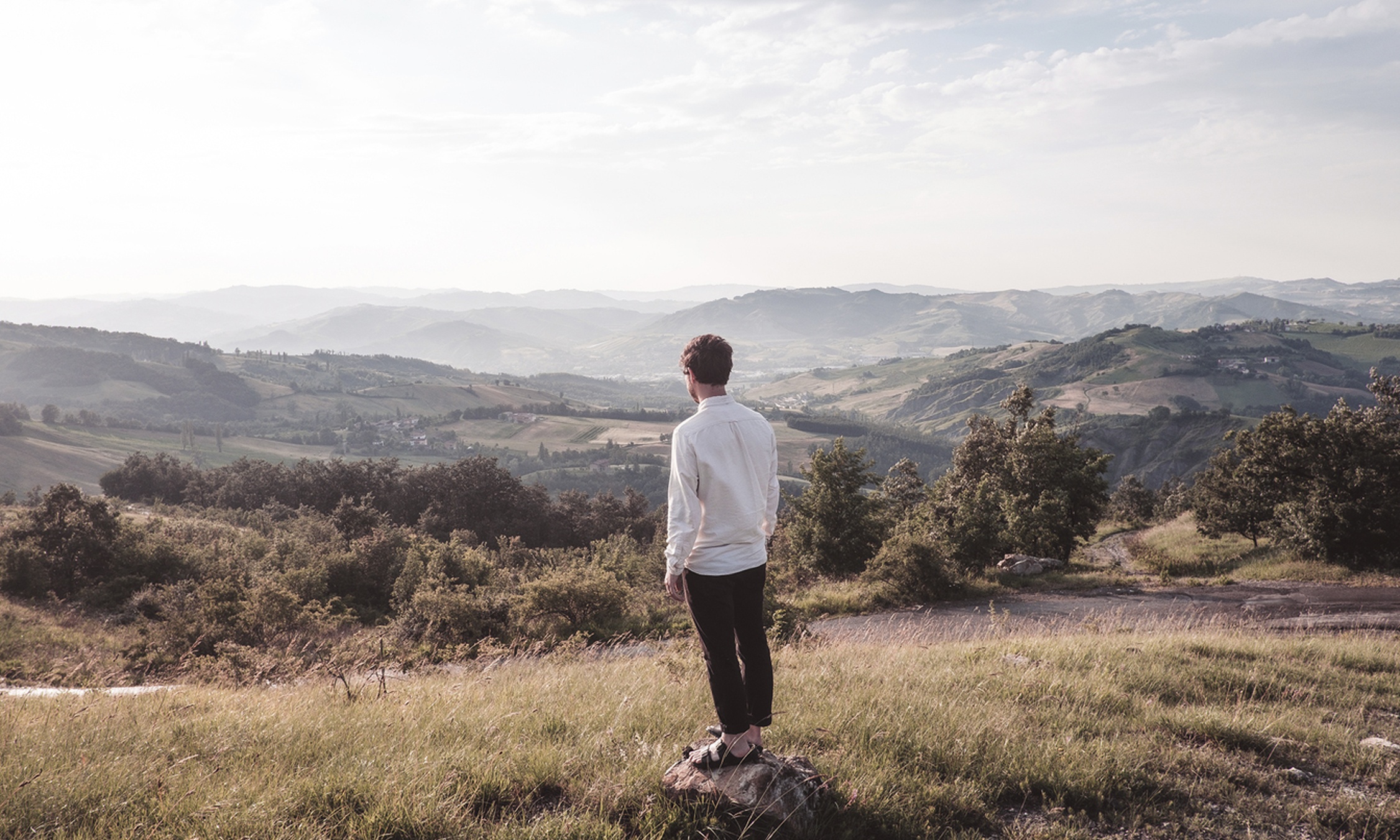 We arrive in Milan with our Moroccan hats strapped to our bags and the taste of freshly-picked oranges still on our tongues. Here, high heels, high fashion, and high rises replace the ancient traditions of the Sahara. We feel as though a stop for gelato is in order before boarding the bus that will take us to our first destination. Nocciolo y limonata. Grazie.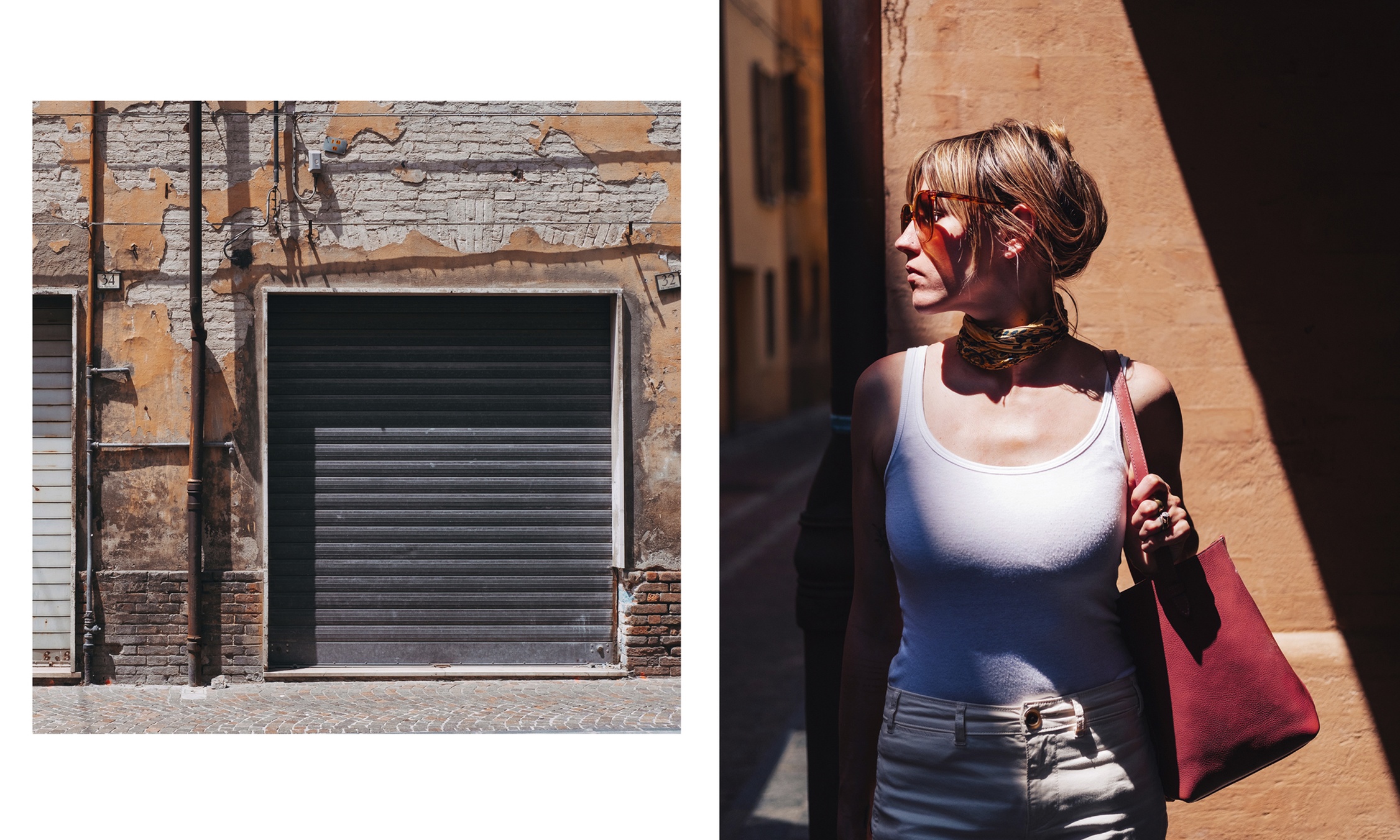 Elaborate window displays rush by alongside time-beaten architecture touched by history. We disembark and zigzag the city, trying to find a car to bring us to familiar places.
After some negotiating we're back on the open road. Behind the wheel, we watch as the Emilia-Romagna landscape rolls by. The destination is our friend Silvana's house, situated amongst the hills outside of Modena. The road narrows as it snakes through old villages where farmhouses left to be returned to the earth are adorned by vines and wild flowers. The smell of freshly tilled soil hangs in the air and the sound of chickens clucking begins to suggest we're close. Then, the old stone house peeks up from the valley it sits in, welcoming us with wild calendula salads and homemade wine. Some musician friends who are in town from the south play late into the night as we drink elderflower spirits.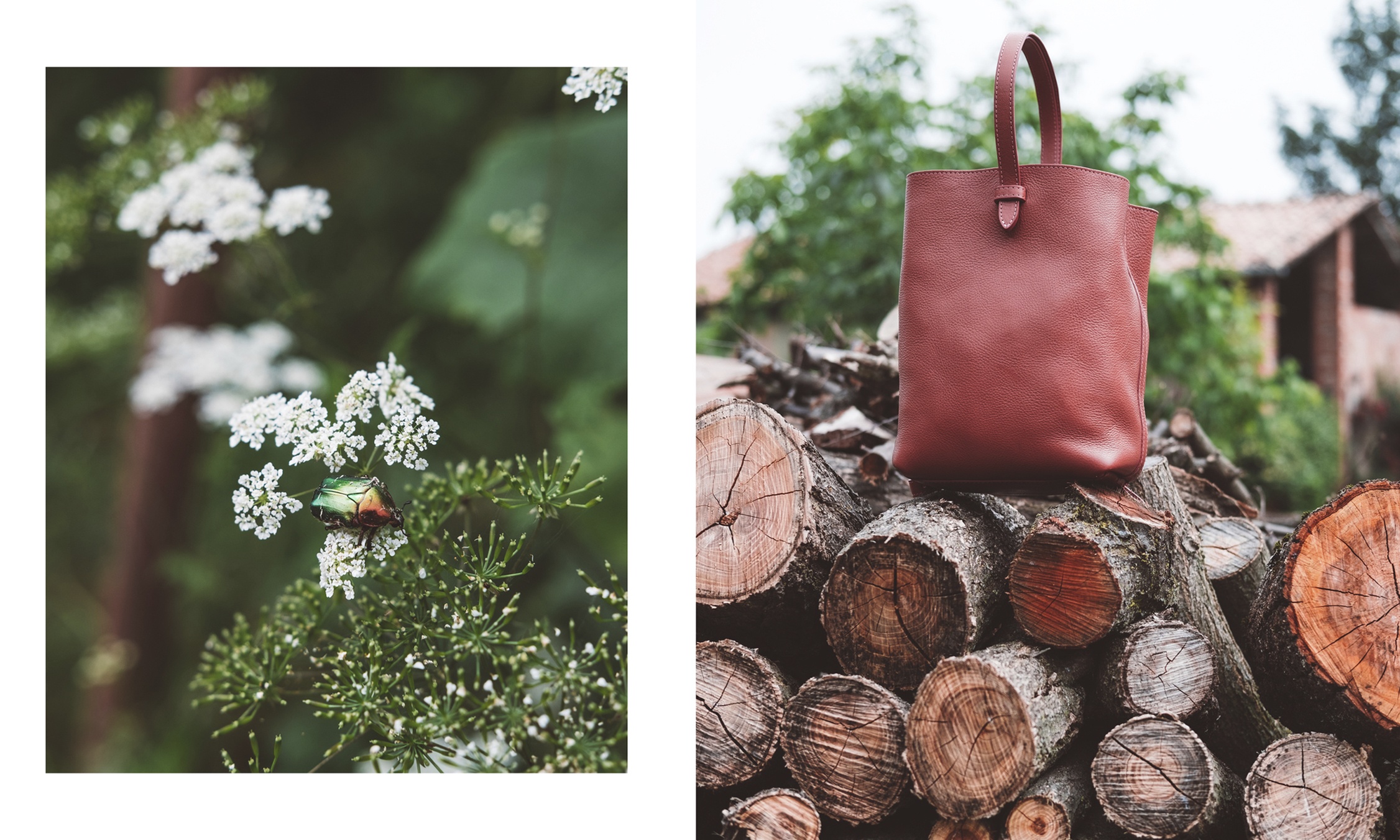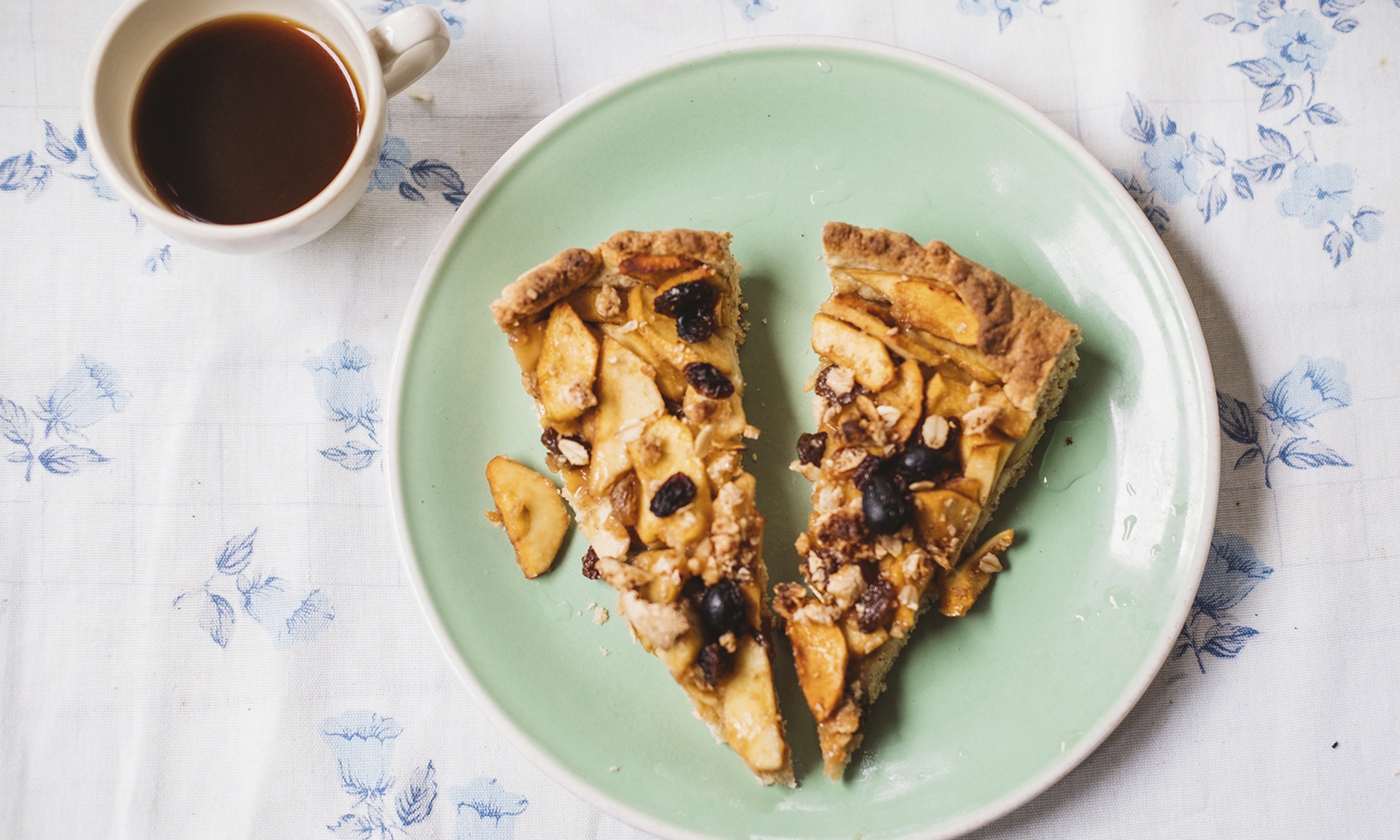 Kate and I wake to a quiet morning, light filtering through the wild cherry tree outside the window. We can see Silvana's friend Antonio wandering the property in search of his next project while Rocco enjoys a cup of espresso, rolling his first cigarette of the day. Tatai sits quietly, too, contemplating his newest song. We decide to join them, and Kate floats around the property collecting honeysuckle and jasmine with Neve the dog following closely behind. We're all feeling fortunate to have found this place that time has forgotten.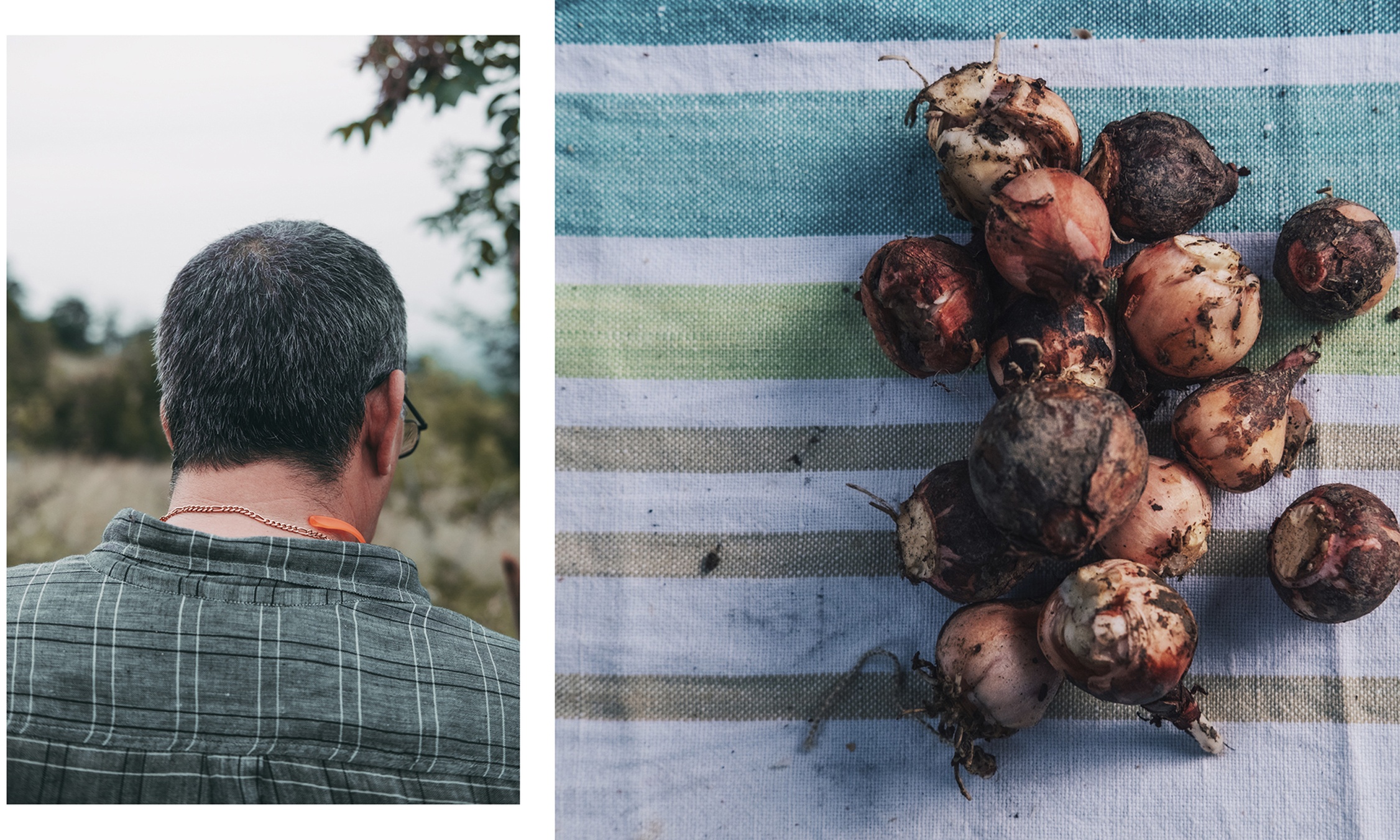 On an afternoon just before the Lambrusco is gone and the long lunch devoured, the inevitable is proposed: "What's for dinner?" Being in tune with the seasons, these Italians know what is growing wild in the fields and forests around them, and today lampascioni—wild onions—are to be harvested. Antonio, Rocco, and Kate set out into the hills to search for the telltale flower that marks the spot.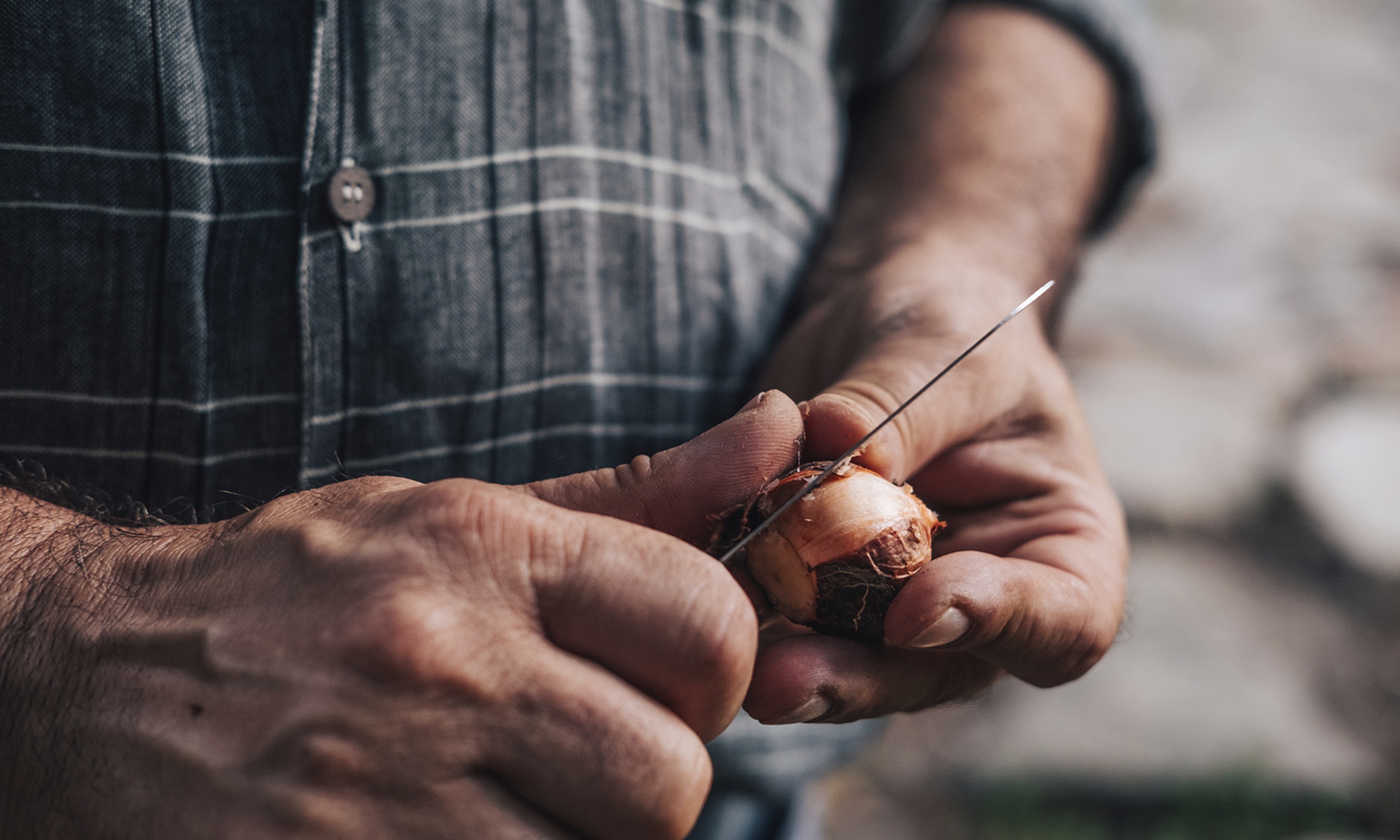 After two hours of trekking, digging, fixing the tool, and cleaning, the collected lampascioni are finally ready to be cooked over an open fire in a chestnut pan. This is our last night all together, so we build a fire in the kitchen and sing traditional southern Italian songs, communist ballads, and songs of Americana. "Johnny B. Goode" rings out into the darkness. As the embers begin to flicker we all stumble into various towers of the rambling property, and Kate and I soon fall asleep.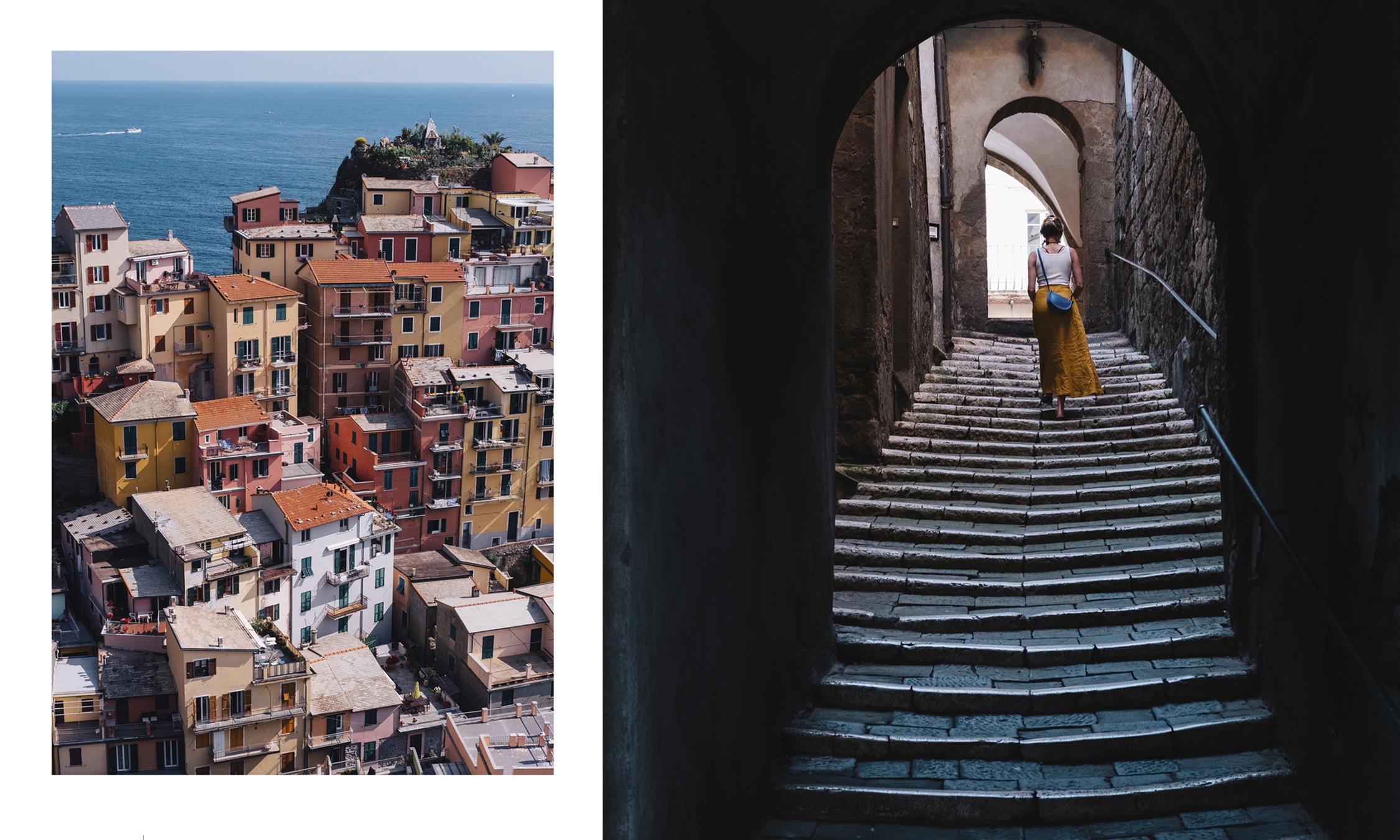 After saying our goodbyes the next day, we set our sights on Tuscany. We even have some time to explore Cinque Terre before our friend Maurizio will expect us for dinner. The coast appears and disappears as the road meanders from village to village. The vibrant salmons, mustards, and crimsons of the houses stacked on top of each other pop against the cerulean of the sea. Rooftop gardens, orchards, and clothing lines attached to these homes form the skyline.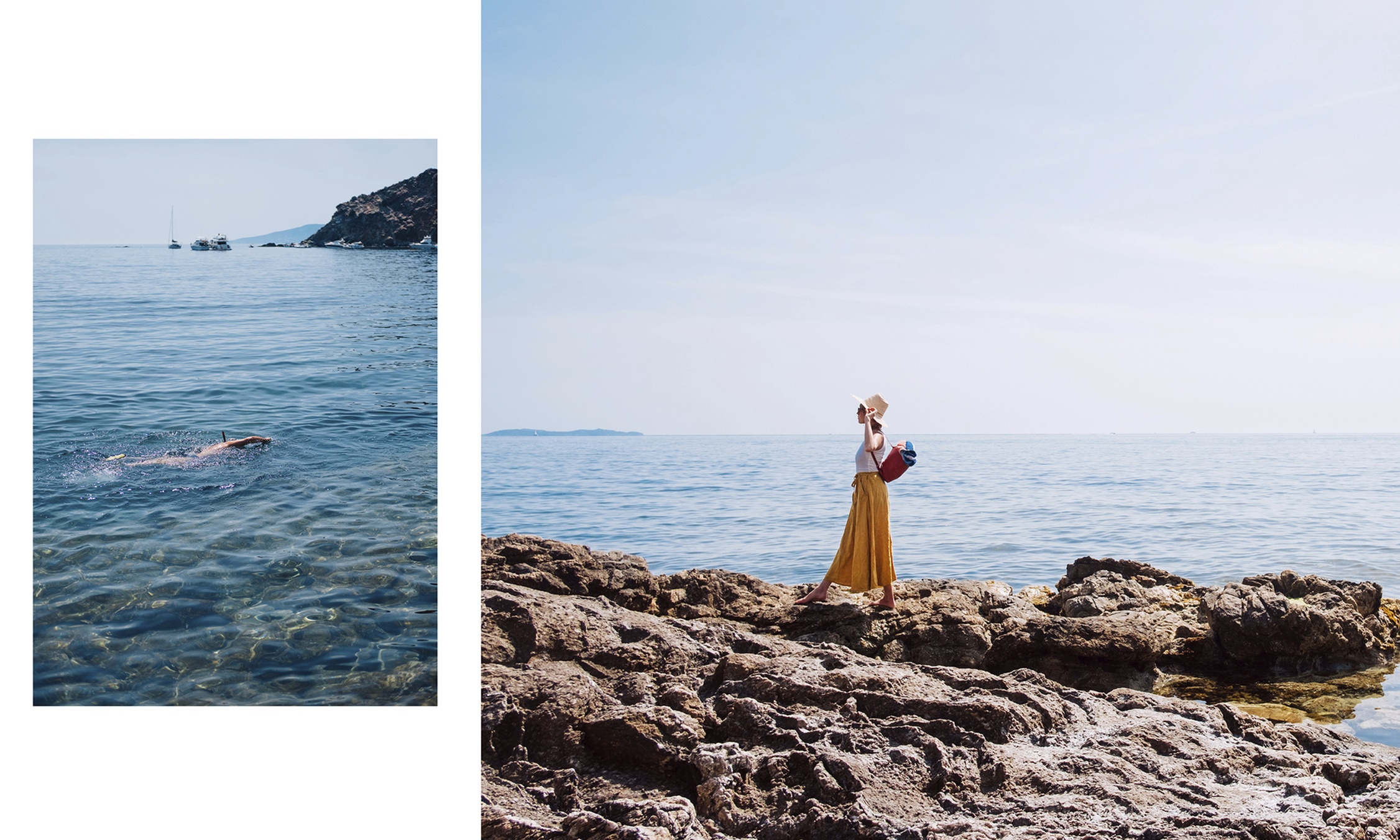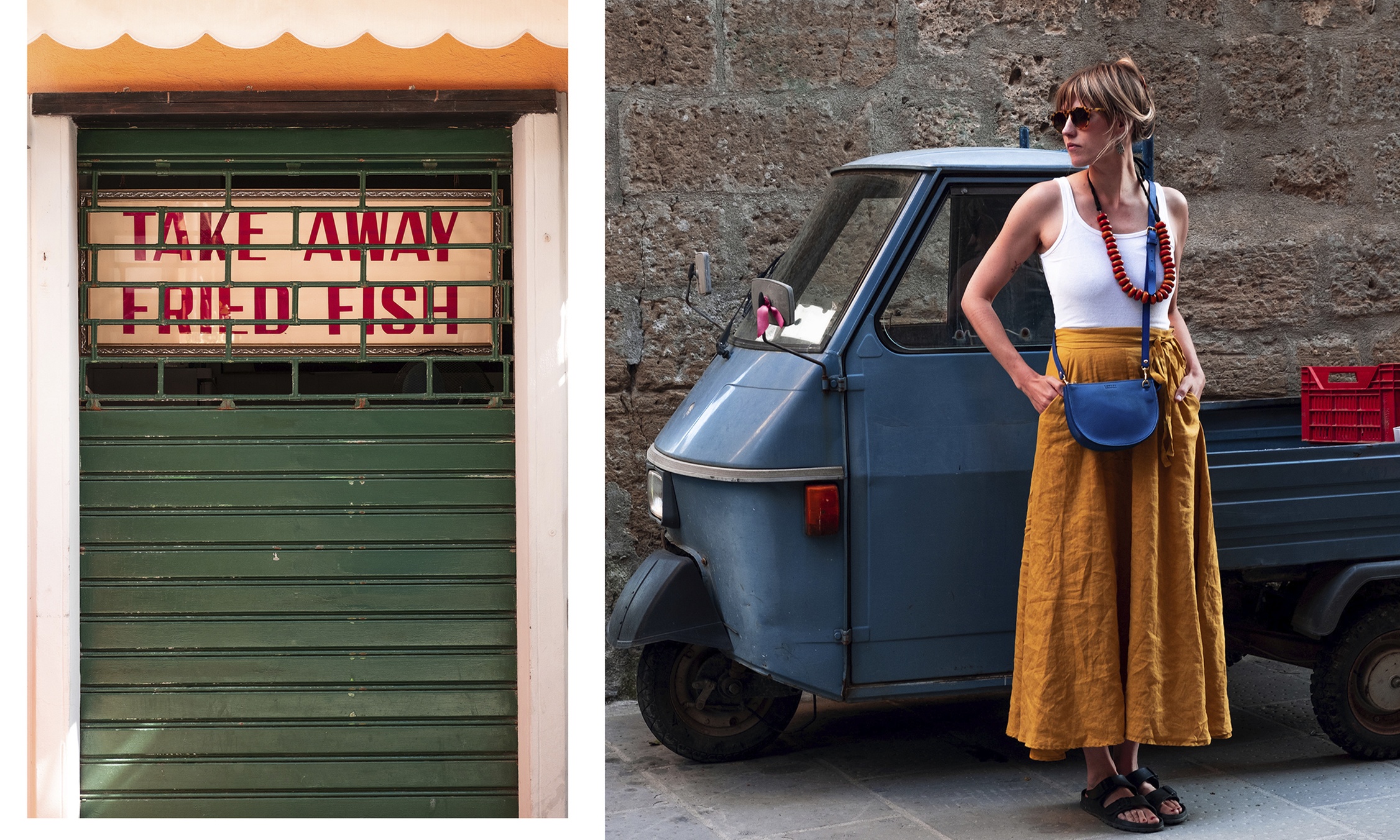 Here, fresh fish is advertised on every corner as tourists spill out of gelaterias. Toes cling to jagged rocks, waiting for their turn to jump into the Ligurian Sea.
When it's time to leave, we make our way out of town, dodging Piaggio Apes and tiny vans that occupy the roads of its small villages.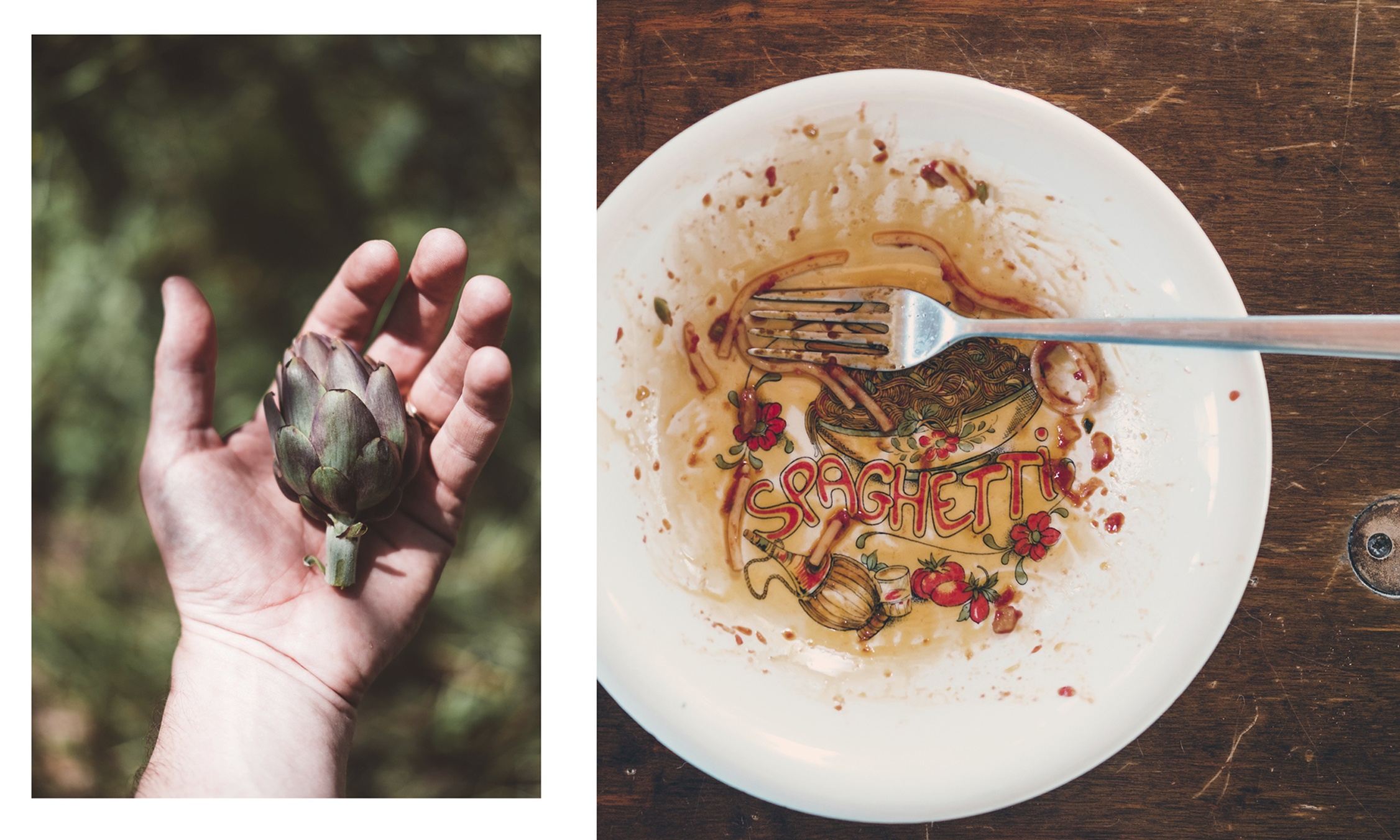 Maurizio's house sits on top of a hill just outside of Grosseto, overlooking the landscape that rolls towards the sea. The steep hills of the property are heavily forested with oak and laurel, making it heaven for mushroom hunting. We're greeted with a familiar smile, white stubble clinging to Maurizio's face like snow on the peaked mountains of the Alps. He utters a string of jokes before rushing us inside, where he is cooking us pasta shuta with sardines and olive oil from his orchards. Wild cats perch on windowsills and sit in doorways waiting for attention and food. Later, the sun sets behind the island of Elba as Maurizio flips the Neil Young cassette to side B.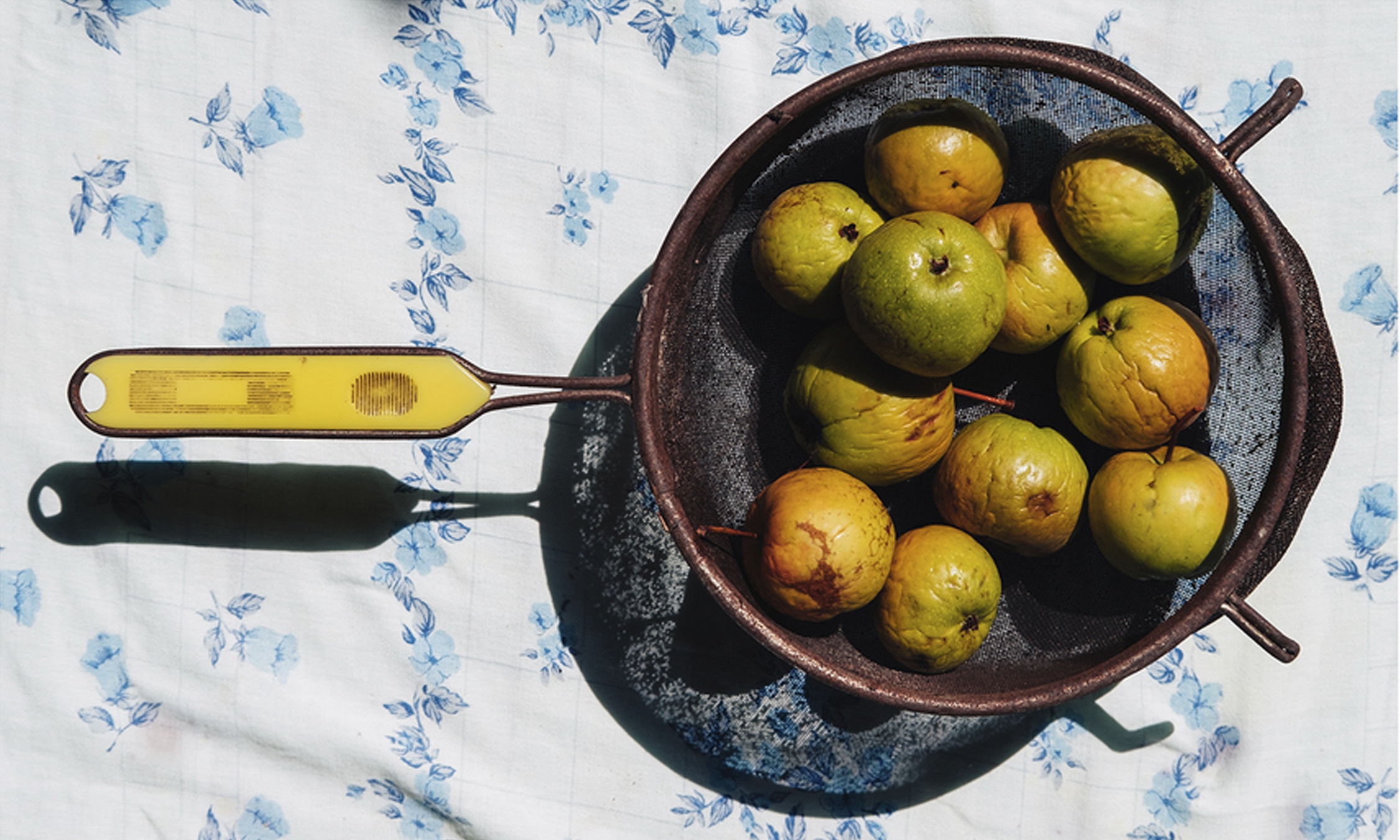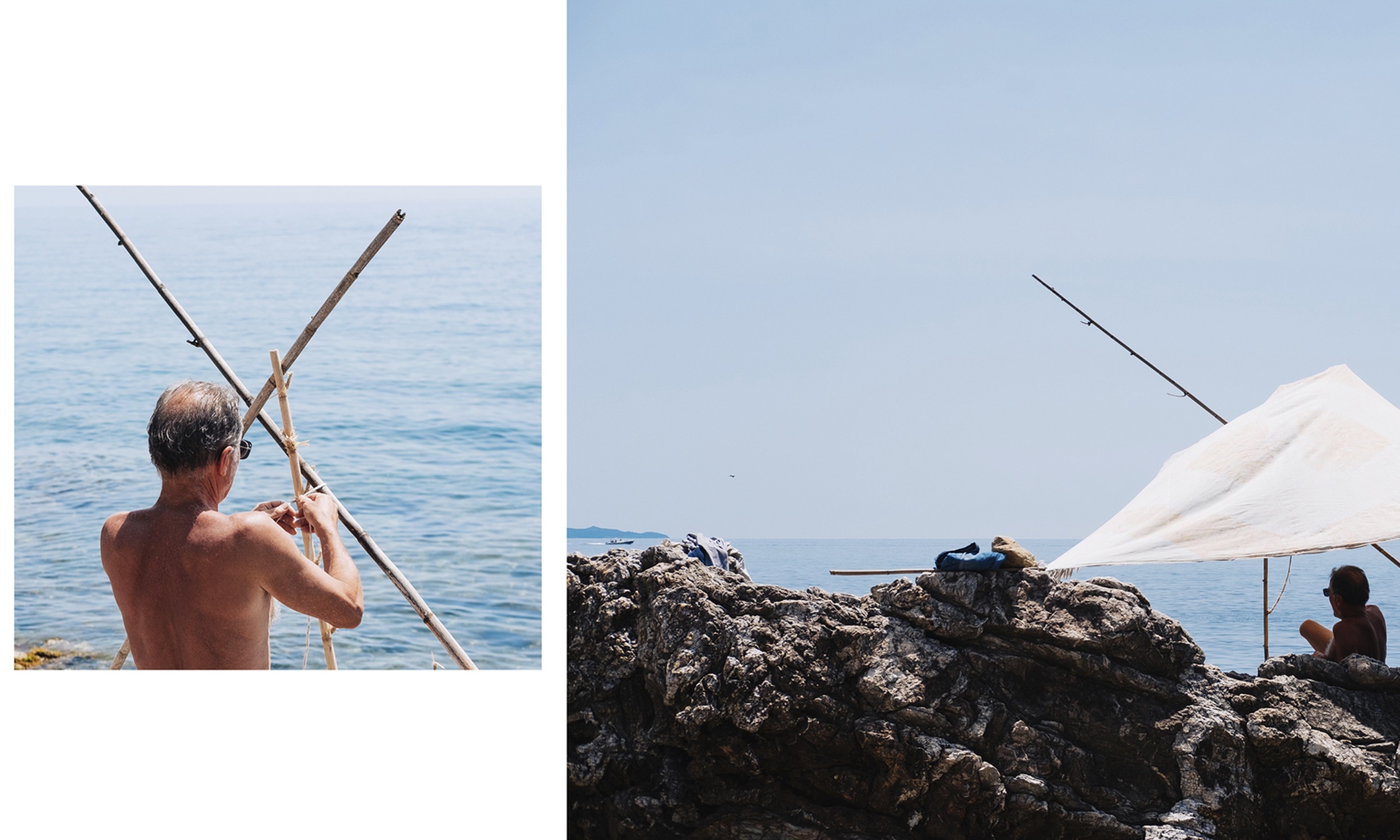 The three of us pack the car early in the morning and set out for Porto Ercole on the coast. Before we descend the hills to the sea, though, we first have to stop to get pizza and beer for a proper picnic.
Birra Morretti, wild mushroom pizza, carrots from the garden, and the promise of gelato fuel the day. The clear blue waters beckon us to jump from the rocks while the locals dive for sea urchins. With the sun at its highest point, Maurizio starts on a fort made from driftwood, shoelaces and blankets. Our time is prolonged enough to enjoy one more Morretti. We make our way back up the hill with the salt still on our skin and our bellies full.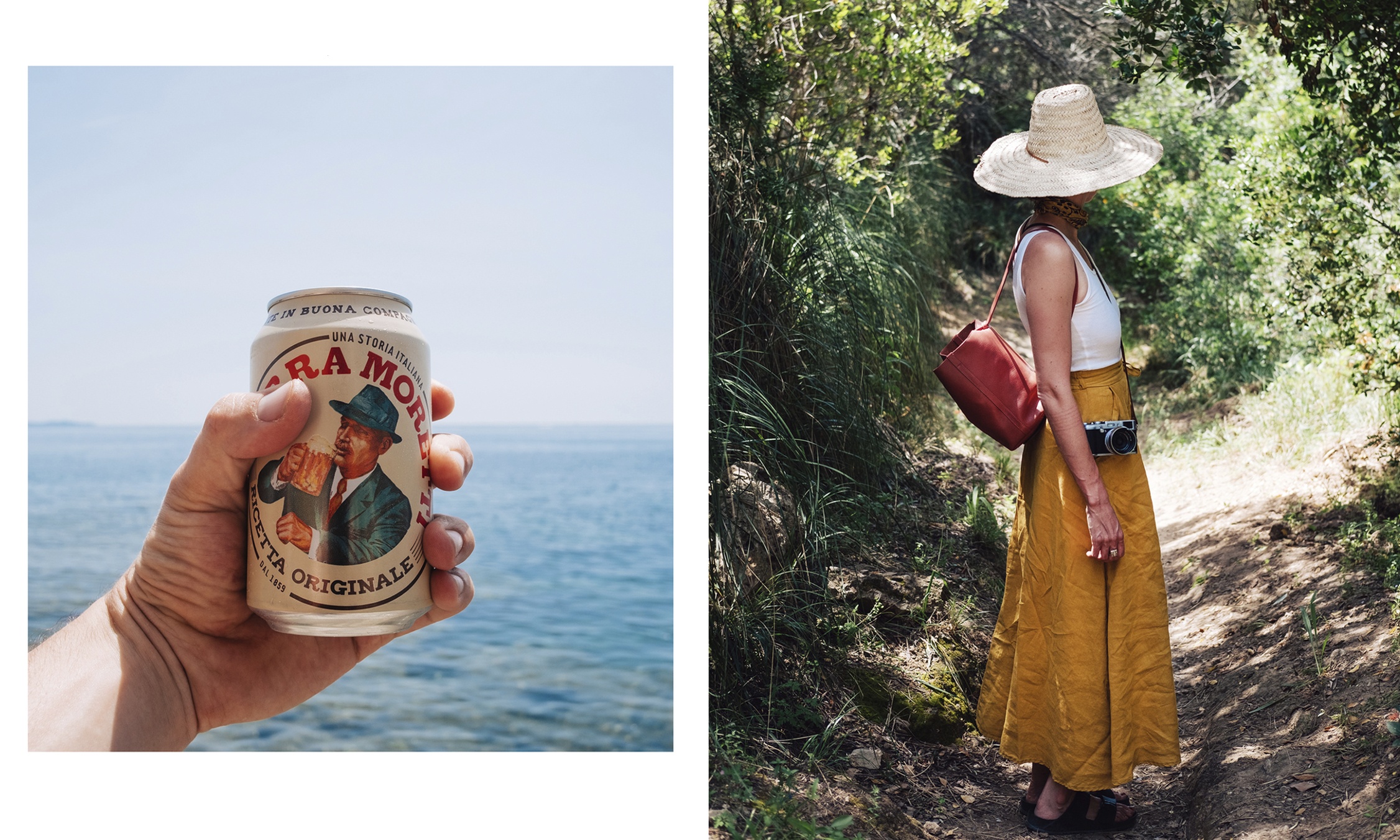 With our remaining days in Tuscany we visit a handful of hilltop villages and get lost in the labyrinthian streets. Old men gather to discuss the goings-on in town, children chase a thousand birds through the plaza, and young couples sip Prosecco at sidewalk cafés. Inside these walls modern life plays out in a medieval setting. Boutiques and salons occupy ancient architecture designed to defend against possible invaders. Bakers and butchers create amongst ruins, and gift shops sell relics of the past.
After getting lost both mentally and physically, Kate and I head back towards Maurizio's. Fields of poppies and margaritas pass by our window. Olive groves, vineyards, and orchards stand out amongst the burnt grasses. We are greeted with last season's porcini served with wild boar as Bob Dylan serenades us—the perfect soundtrack for our last night in Italy.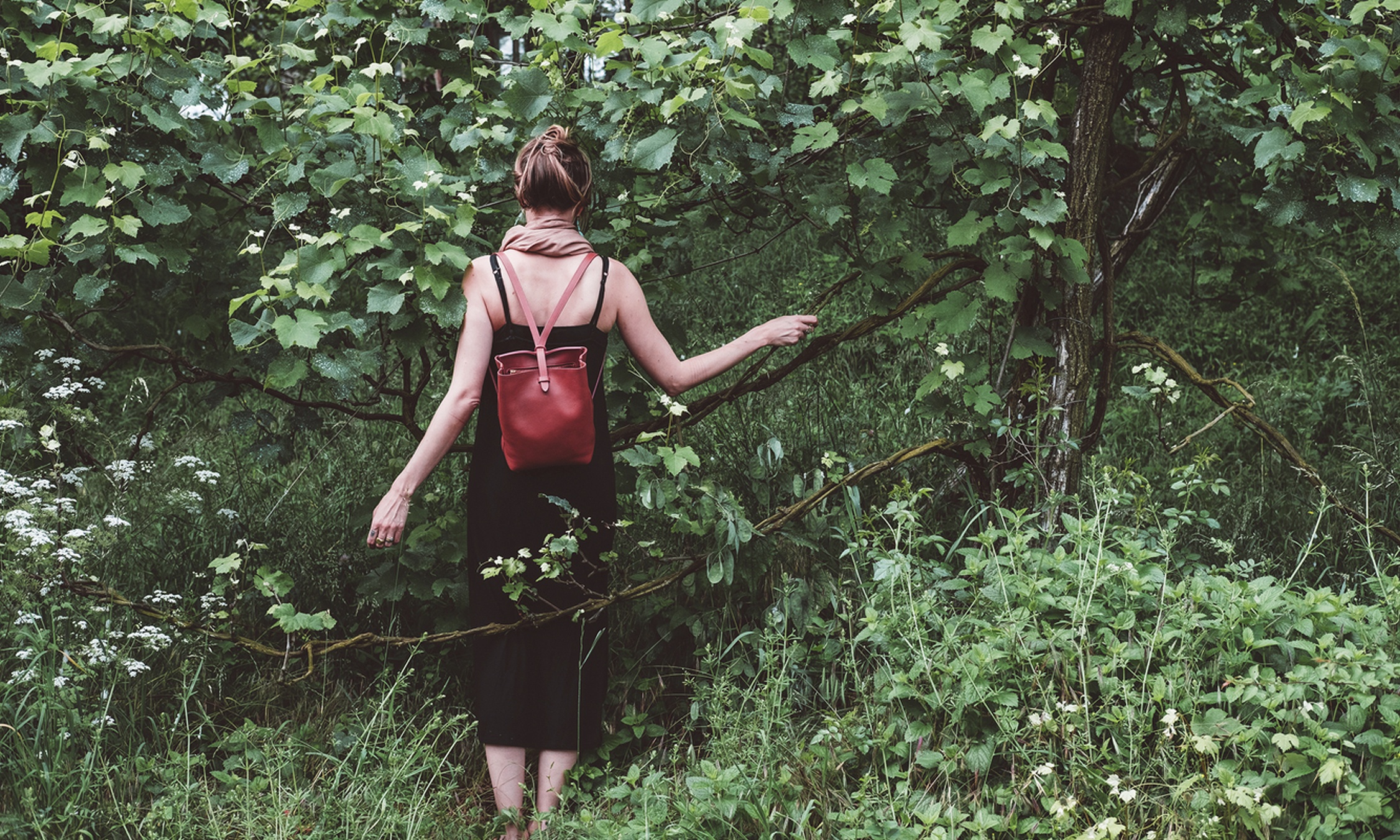 The sun sets behind the hills and now it's time for us to head home. We make our way through customs with grass stains still on our clothes. The gallons of olive oil made by Maurizio that are packed away in our bags will be a reminder of the time spent with our Italians.
Go Here
Vulci Castle
01014 Montalto di Castro, VT, Italy
A tiny Tuscan castle "complete with a moat, tiny museum, and arched bridge that spans over a gorge."
"A wild beach near Orbetello, a coastal town in Tuscany that's located in a lagoon. Orbetello is small but has fantastic clothes, cheap, delicious gelato, and an antiques market on weekends."
Pitigliano
"An old hilltop village in Tuscany" that's known as "little Jerusalem" and home to a series of walkable underground tunnels.
Manarola
A little Cinque Terre town with a gorgeous harbor and wonderfully colorful architecture.