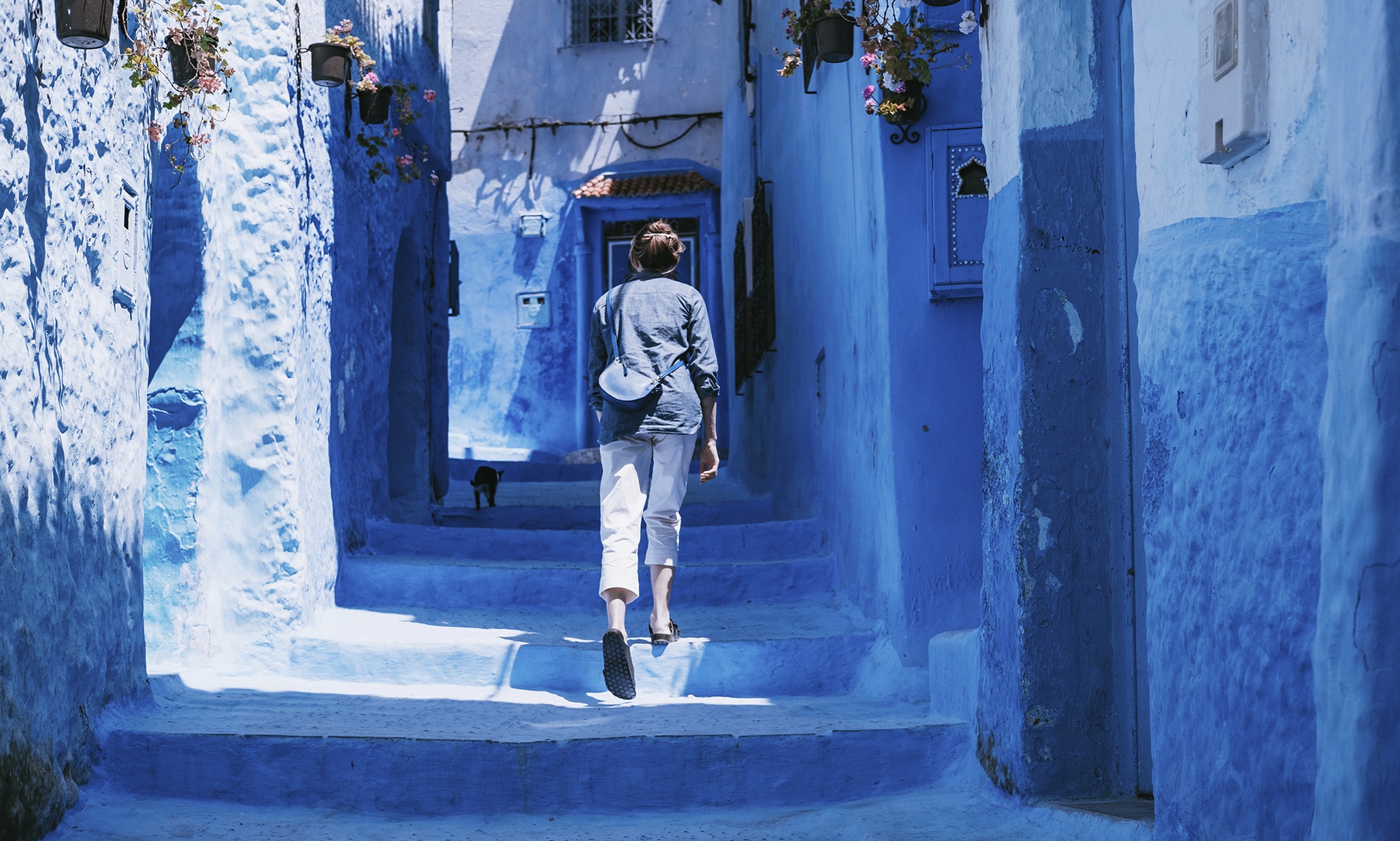 Kate Foster and John Hesselbarth are the lovely duo behind Providence photography and lifestyle company Apparition, as well as good friends of our creative director Lindy and Willa of Little Bitte. After spending ten days exploring Morocco with some Lotuff bags, they're back with many stories to tell—read on to hear Kate's account of their exciting, wonderfully unpredictable trip.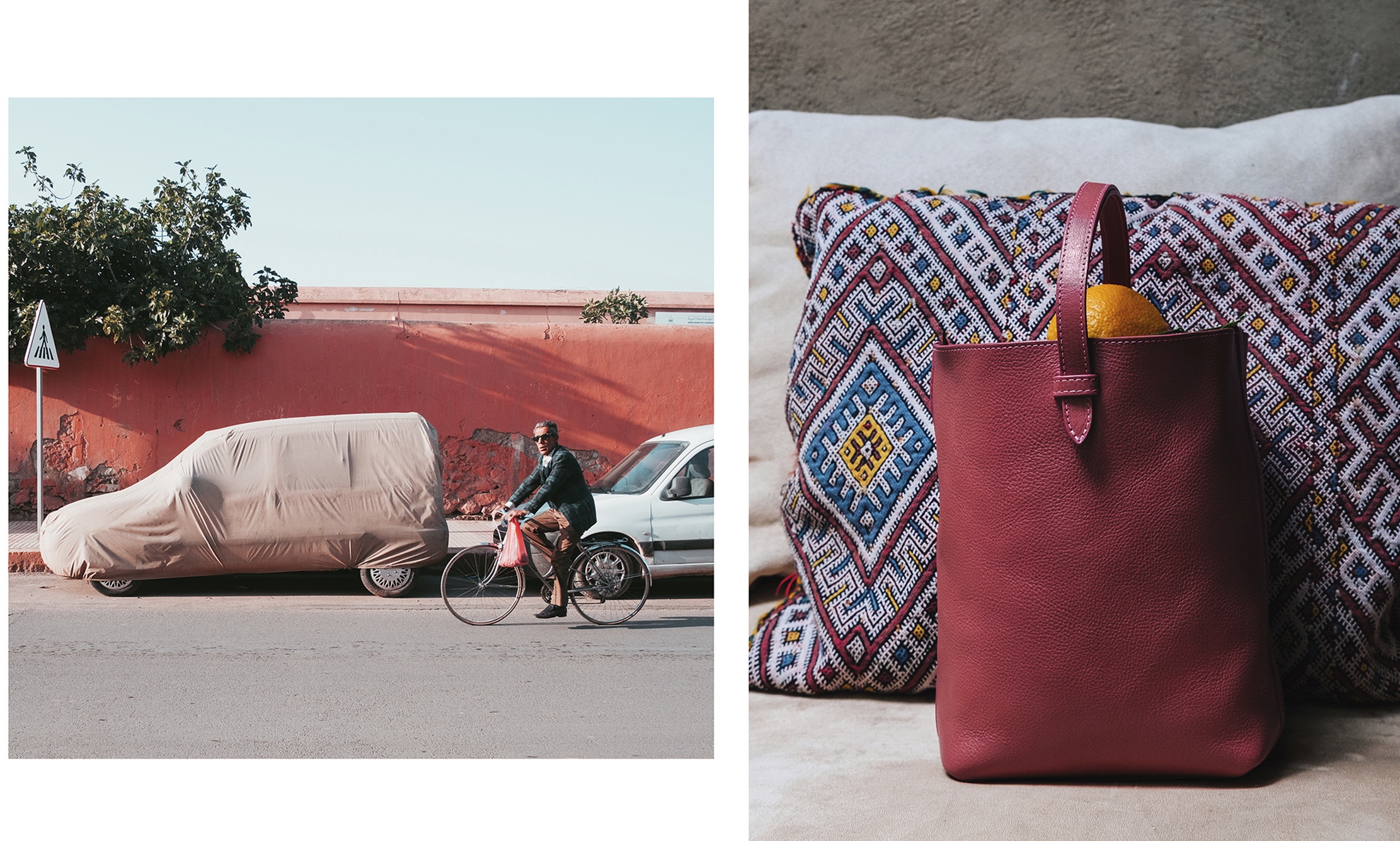 Our recent trip to Morocco was so memorable, both for the beautiful moments and those that did not go according to plan. I was at once elated and overwhelmed to be traveling through this part of the world, as neither John nor I had ever been to North Africa. Flashes of vintage postcards I had seen, blue pools at riads and piles of deeply saturated spices all danced before my eyes in the days leading up to our departure. Wanting to be prepared, I read every blog and article I could about cultural customs, helpful Arabic phrases, what to expect from Ramadan, the highlight reel of where to go, transportation options...you get the picture. The reality is that nothing can truly prepare you for a trip like this one! Hopefully my hindsight will help give you a leg up on your own journey.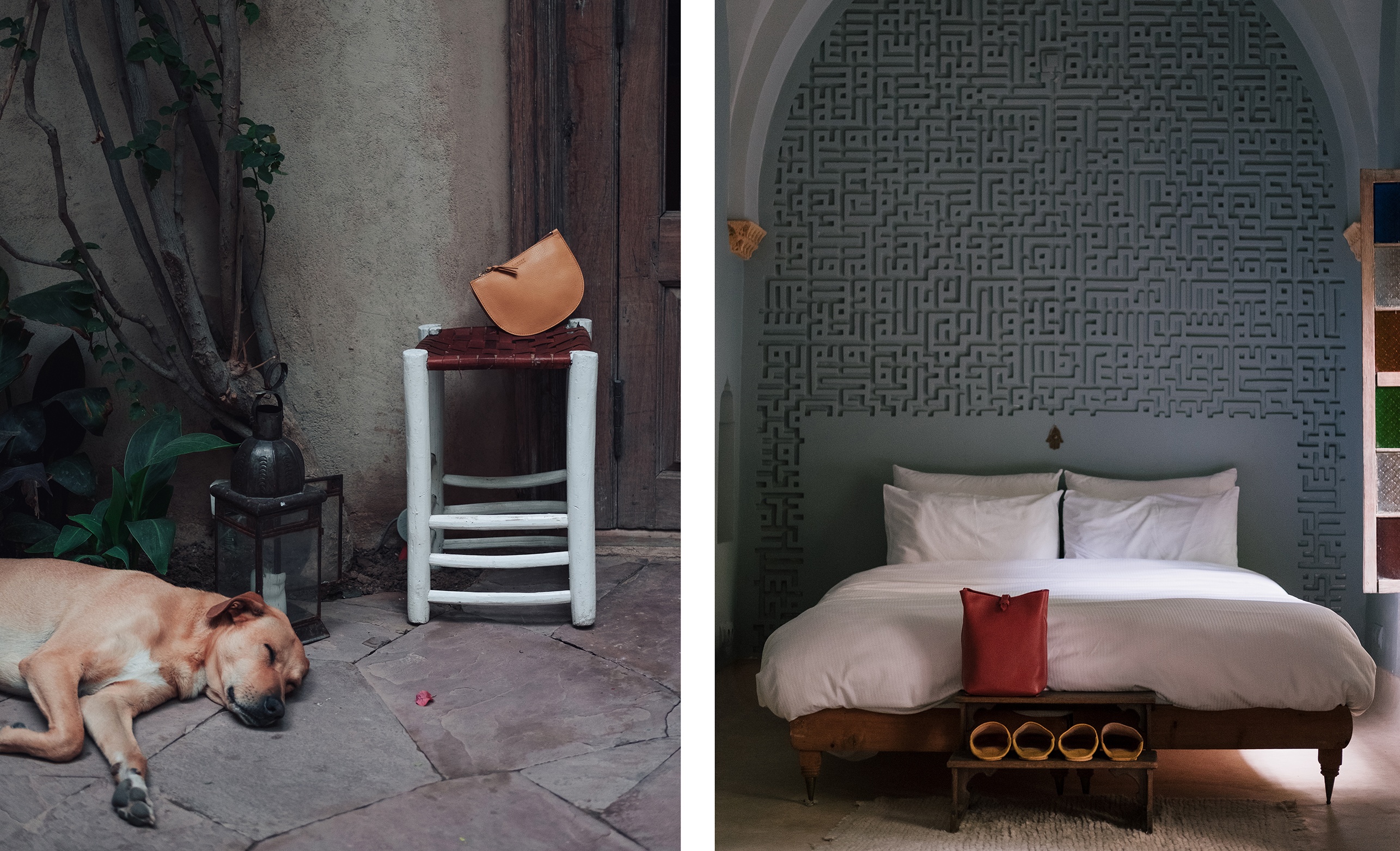 We started out in Marrakech where we'd decided beforehand to spend a little bit more on a riad, as we figured we would be exhausted from our travels. This ended up being the best choice: Riad K'bour & Chou was an incredible experience and helped ease us into a culture that was so beautiful yet so different from our own.
The riad itself is run by a Belgian couple, Nicholas and Jacques, who have called Morocco their home for the past 13 years. They were incredibly attentive to our emails before we arrived, answering all our questions and arranging for a pickup from the airport (Nicholas even took the time to meet us personally to direct us through the labyrinthian medina). Over the course of the next four days we relaxed in Oasis—a clean, modern, beautifully resorted B&B built around an open garden courtyard. A family of tortoises, a cat, and two dogs (Bobby and Lubos) kept us company and made us feel right at home.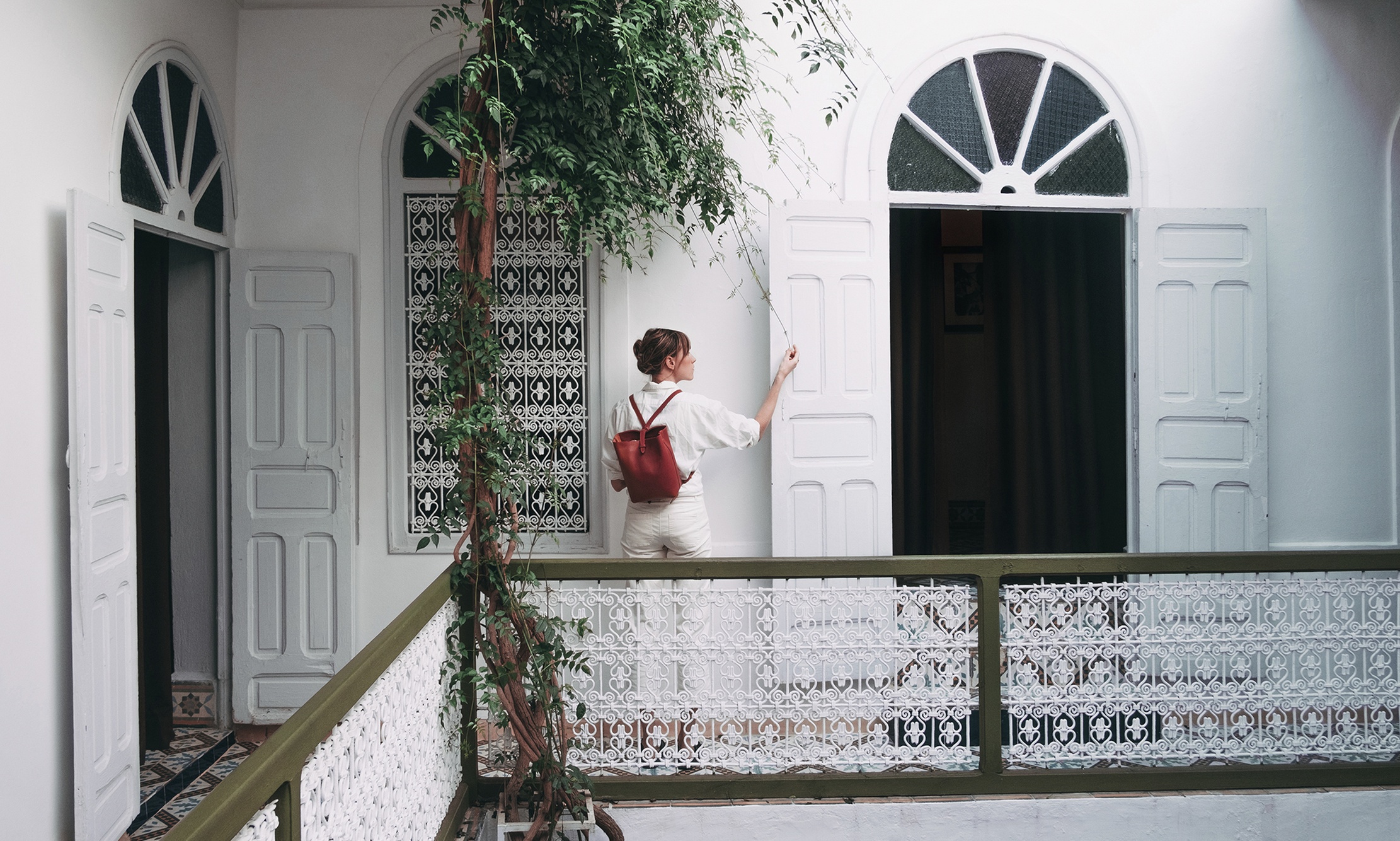 Going back to our very first day there... armed with Google Maps and feeling sure we would remember our way back, we ventured out on our own. Many twists, turns and failed map loadings later we found ourselves hopelessly lost. Not wanting to stick out as typical tourists (although it was hard not to), we ducked into a cemetery to get our bearings and a half hour later we were safely back inside our riad walls. The next day, thanks to a tip from a friend, we got the app maps.me—it allows you to download maps for when you are offline or have no service, which usually happens at least convenient of times—and confidently navigated the maze of the old medina, patroning the souks before visiting the Museum of Photography. This place is a gem, as passes to the museum are only a few dollars and last several days, making it a great bathroom pit stop or place to grab a rooftop bite.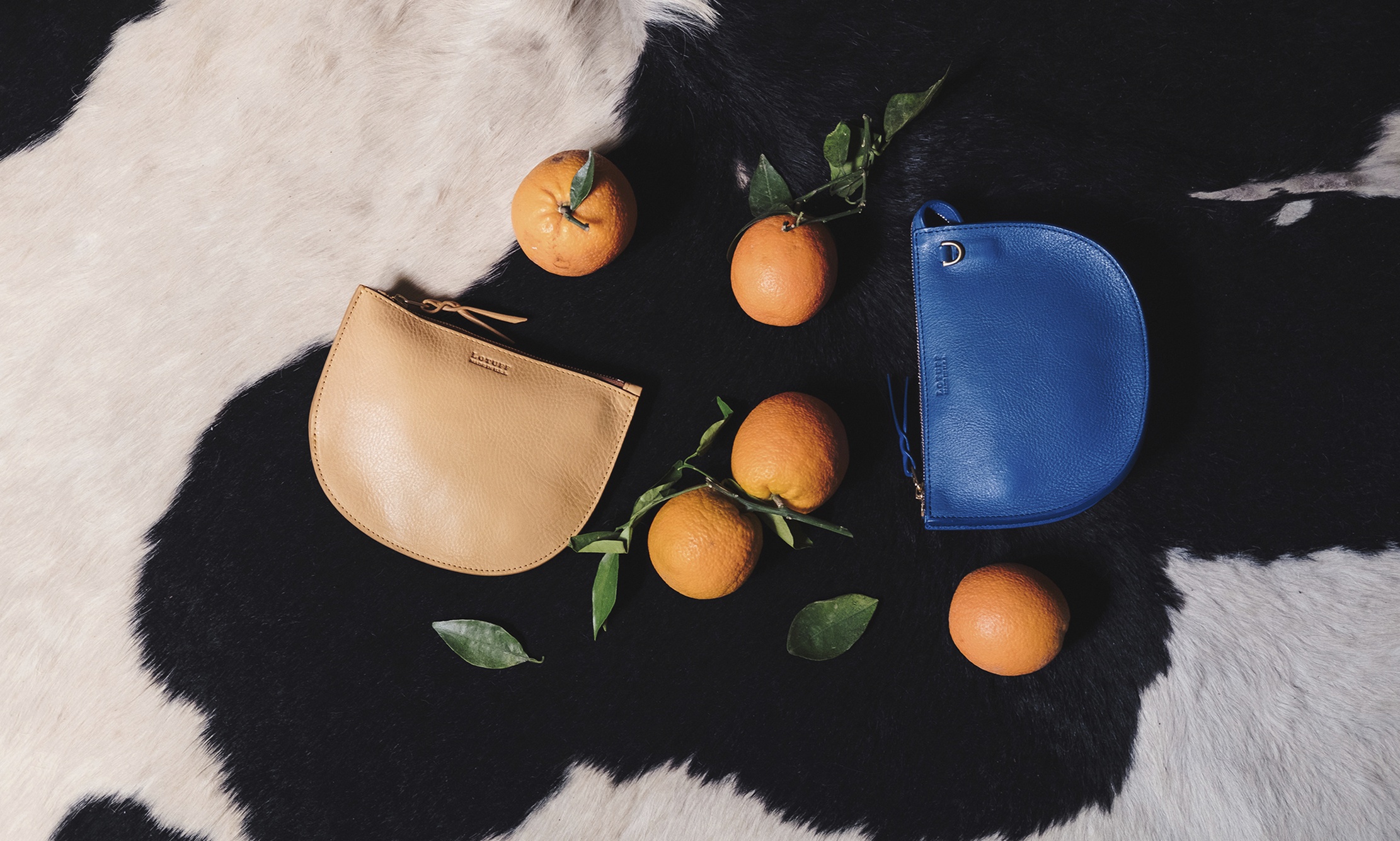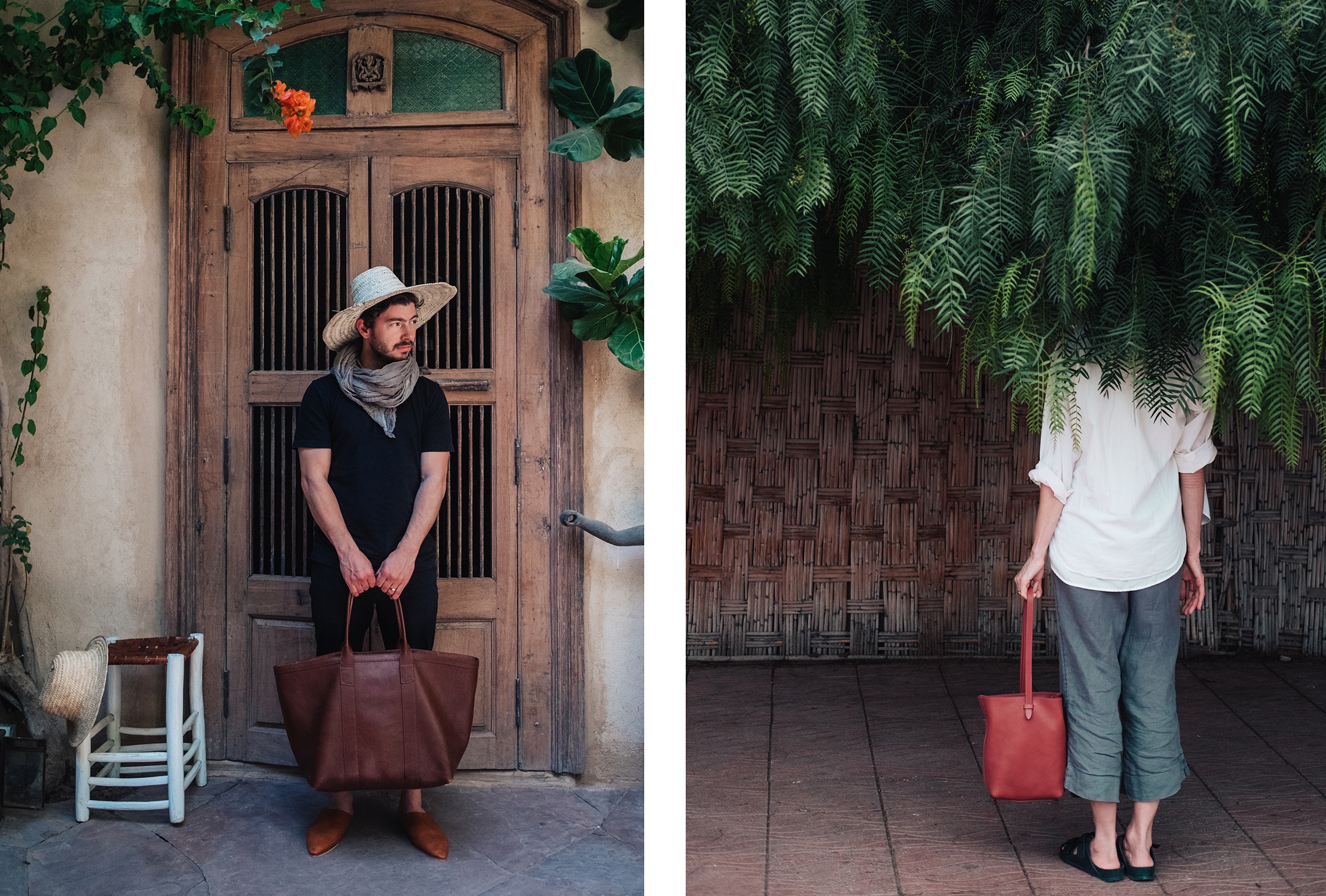 In regards to food, the best advice I could give would be to eat wherever you are staying; this will be an authentic and delicious introduction to traditional fare. Riad Kbour & Chou set the bar high, starting off the meal with courses of cold salads (my favorite being the beet salad), leading into a tagine (a meat or vegetable dish served over couscous) and ending in a dessert (bananas with hazelnuts or pudding with oranges). Everywhere we went, breakfast was a smorgasbord of jams, yogurt and bread, always accompanied by the most incredible fresh-squeezed orange juice.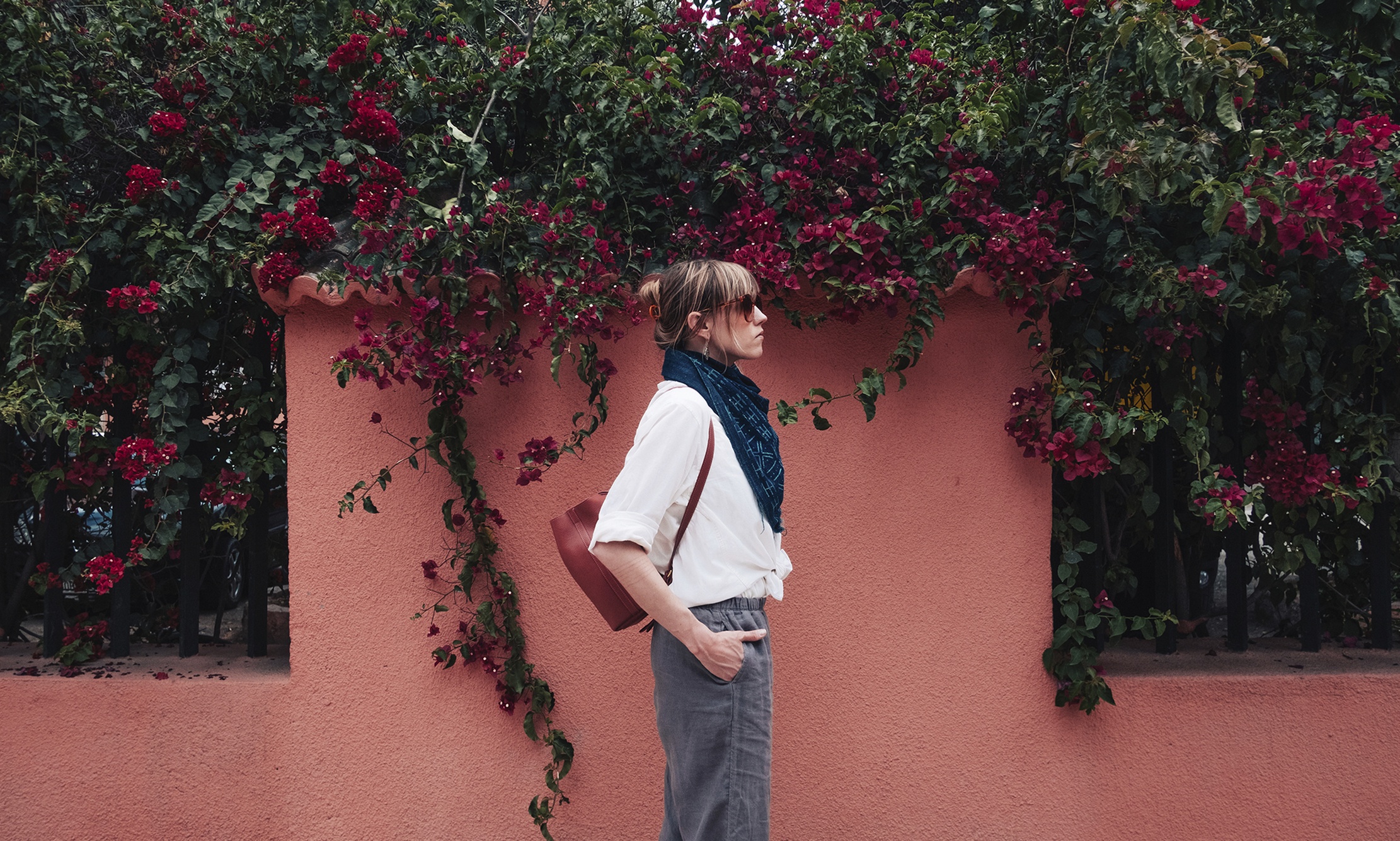 Our time in Marrakech also marked the somewhat unexpected start of Ramadan, the beginning of which is determined not by a "traditional" calendar but by the sighting of the first crescent moon. This would completely shift our journey in many ways. Calls to prayer started at 4AM and happened five more times throughout the course of each day, the sound creating a cacophonous echo that reverberated across the city as each mosque joined in, dogs barked and people made their way to places of worship. During Ramadan there is no alcohol allowed and adherents forgo food and water until 7:30PM. At that time they eagerly break their fast, eating and celebrating all night! It was a beautiful thing to witness but did add extra planning to our schedule, as businesses sometimes shut down so people could go to pray and all evening meals were served later after the fast was broken.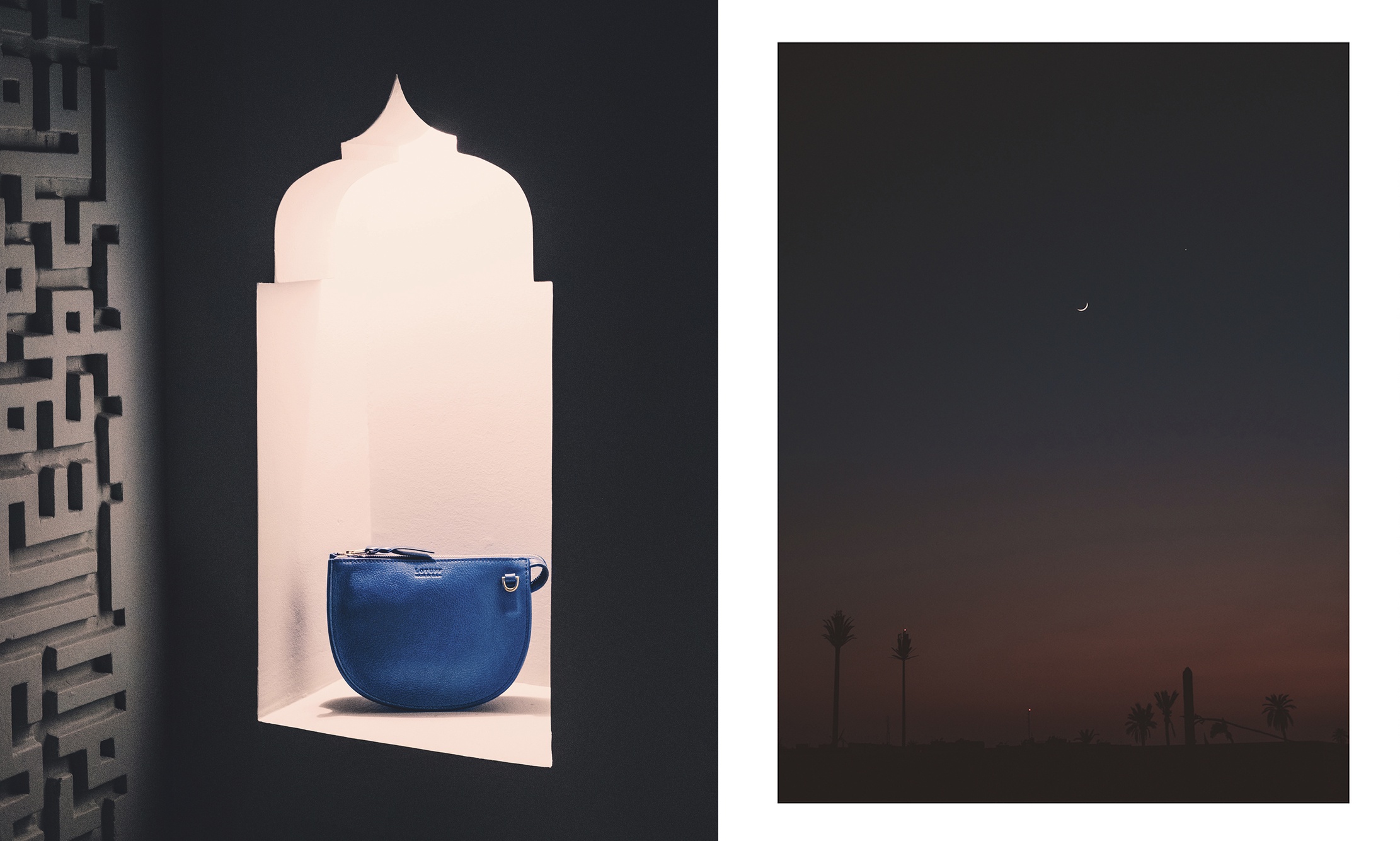 The whole journey really took a turn on our last day in the city. We had initially toyed with the idea of renting a car prior to our arrival but wrote it off as too potentially stressful. However, once John started talking with our host Nicholas about his experiences, he quickly became enamored with the idea of taking the scenic route "through the country." After an all-day haggling expedition we somehow ended up with a Prius hybrid, which we both found hilarious.
Once we had our car, getting out of the city proved quite difficult. I thought the cumulative experience of driving in Providence, Boston and New York would help, but it turns out nothing is quite like driving in Africa. All the roads were incredibly narrow and packed with cars driving in no particular lane, as well as full of donkeys, children, and dogs. These occurrences make walking around quite interesting, but when driving, it's all on you. My advice to you is this: if you are going to rent a car in Morocco, you have to be prepared and very brave!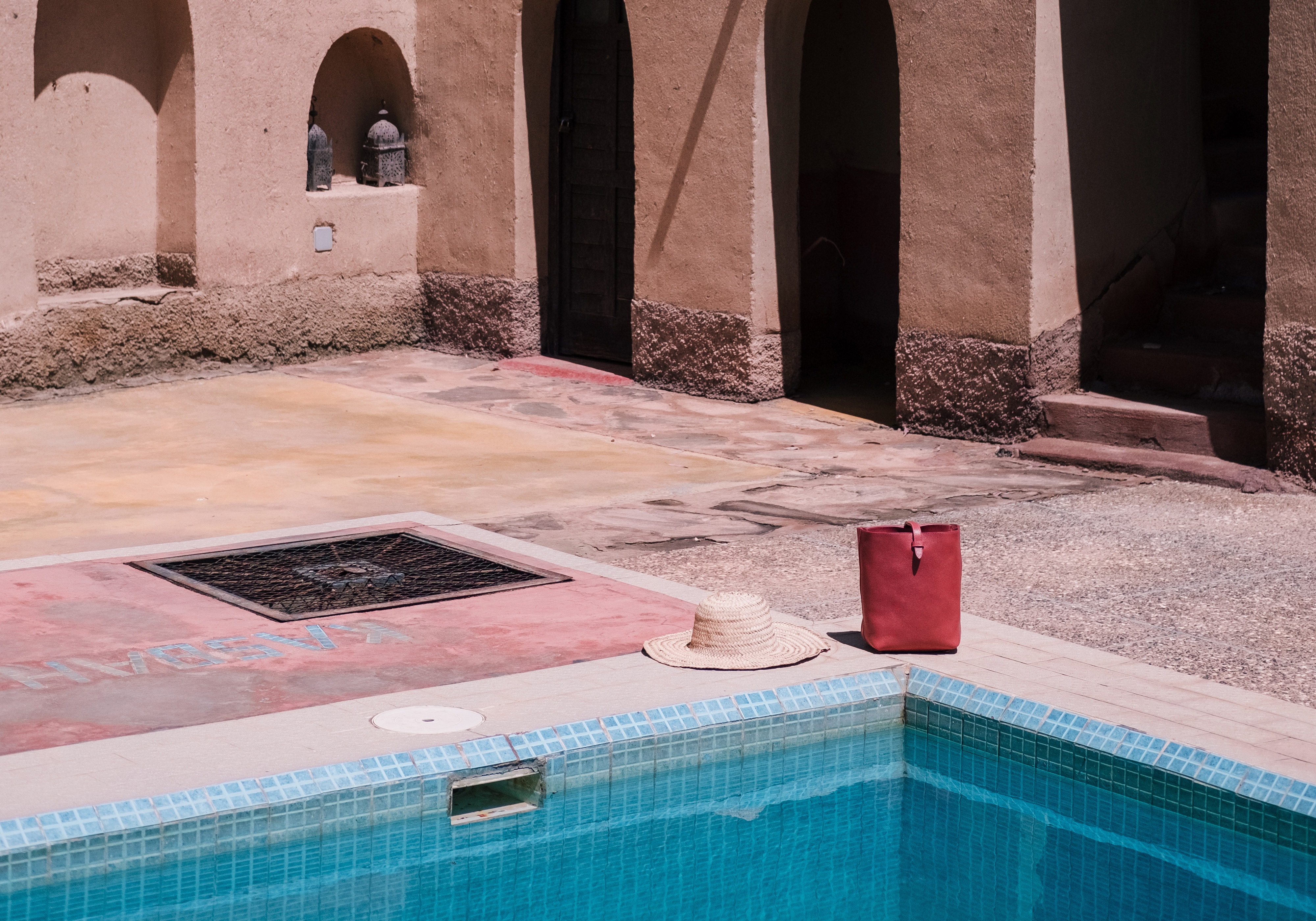 After driving out of Marrakech, an error in our GPS route quickly got us lost in the Atlas Mountains. This turned into four or five hours of us wondering, "Will we make it out of here?" We traversed narrow roads, blind turns, and washed-out spots, making me think that if all else failed, we might have to live with the shepherds we saw on the side of the road. Luckily it didn't come to that and we arrived in Skoura an hour after nightfall.
Our place that evening was a kasbah found on Airbnb. It was a great location for shooting Lotuff photos, but also a little strange! It turned out that we were the only people staying there....and I think the first to stay there in years. Since we arrived late at night, we saw nobody until the next morning when a kind woman came out of nowhere and set the table for our breakfast. Taking advantage of the fact that we had the whole place to ourselves, we spent the majority of the day taking photos before moving on to another location. As luck would have it there was a charming and family-friendly Airbnb not far away, run by a French woman and her husband Mustafa, a Berber tribesman.
We quickly booked it and along the way made a quick detour to the Dadès Gorge, a multicolored cavernous wonder with little hotels built into the mountainside. (In some way it reminded me a little bit of Kancamagus Highway in New Hampshire.) The Airbnb was incredibly hard to find, as the photos we had saved on our phone did not look anything like the ancient adobe structures and ruins we were standing in front of! To make matters worse, we had run out of phone minutes. Where were we? Our hostess, Fanny, had told us that if we had any trouble finding the place, everyone knew Mustafa, so we eventually asked a local woman who took us straight to his door. The home itself was basic but clean and very clearly decorated in his wife's Parisian style. After some mint tea, incredible conversation about the Berber culture and overall wonderful hospitality we went to bed content but thinking, " We're so far from home!"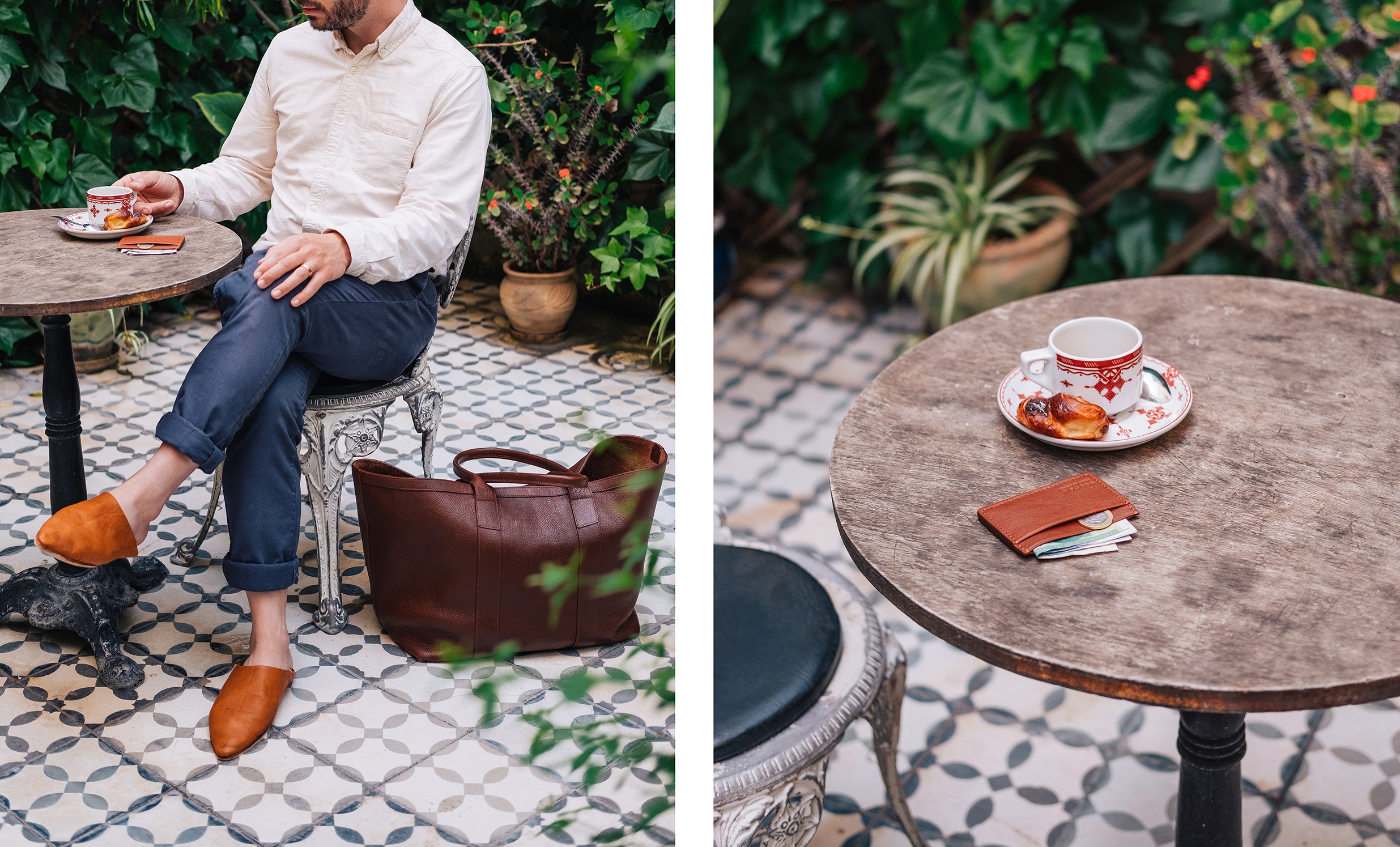 From there we went to Fes, where we stayed at a comfortable colonial guest house run by a French woman named Cecile. Fes is a lot less chaotic than Marrakech in terms of pushiness and size, but we noticed the people themselves moved around at a fast pace as though they were on New York time! The souks here are known for their amazing leather slippers and are a lot more relaxed when it comes to haggling. Much like Marrakech, the marketplace is located inside the medina, with the stalls themselves being built literally into the sides of the walls. Sometimes the traffic got so bad we'd have to press ourselves into a doorway to let people through, which admittedly was pretty funny. One minute you're shopping for slippers and the next, you're ducking into a corner to let a donkey cart go by! Fes also boasted a delicious new restaurant called Palais de Fes that we tried per recommendation from our French host before we continued on to Chefchaouen, the "blue city."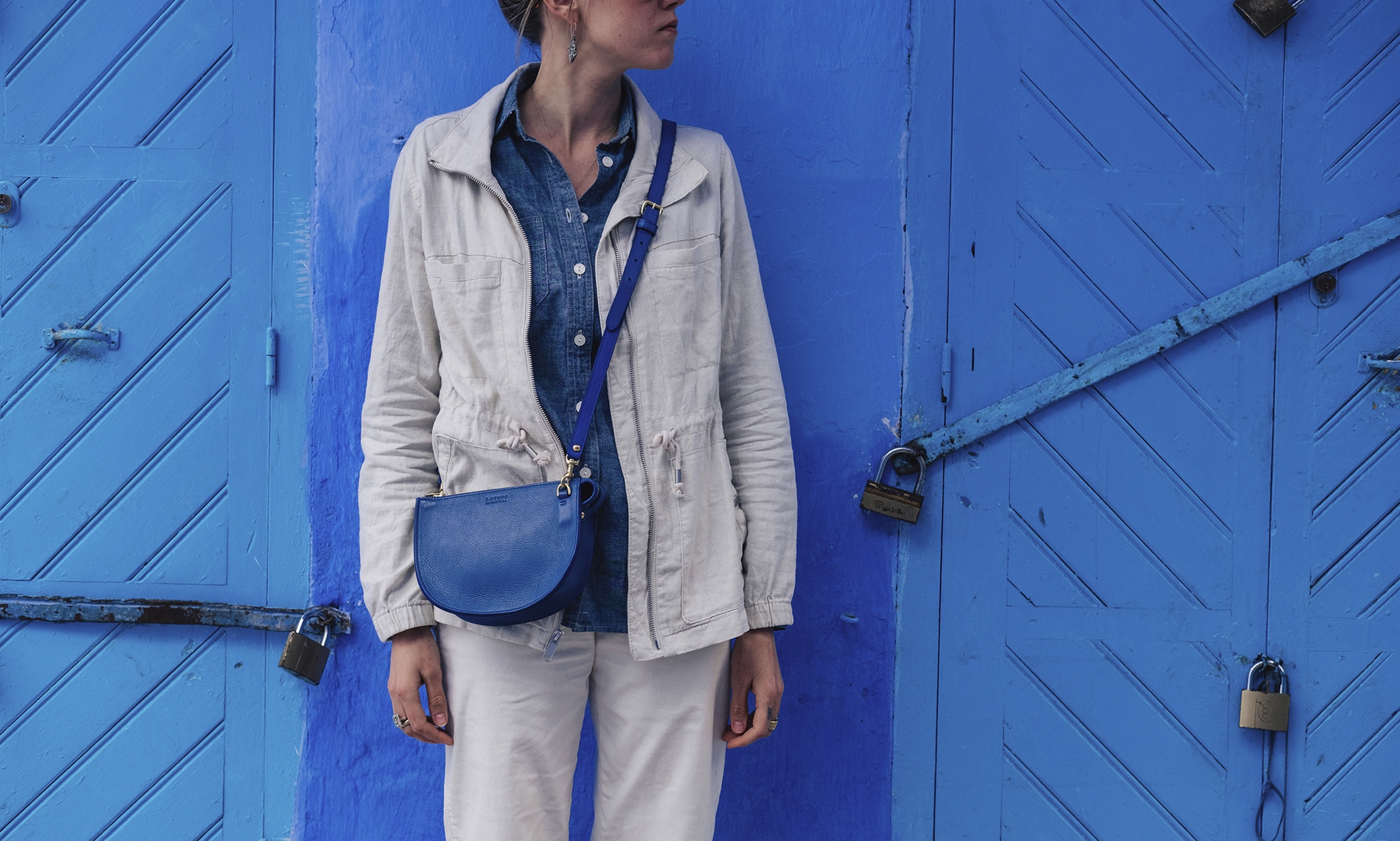 Now a national heritage site, Chefchaouen has many theories surrounding the origin of its blue motif. A predominantly Jewish city historically occupied by the Spanish, it was rumored that in celebration of their liberation in the 1950s the locals painted the city blue, the closest color to God. It provided the perfect backdrop to take all kinds of photos! Chefchaouen was by far the most aesthetically stunning city, and reminded me a bit of Newport in the sense that the locals seemed to be tolerant of the constant influx of tourists. They also produce incredible textiles, so we ended up purchasing several rugs at the markets here.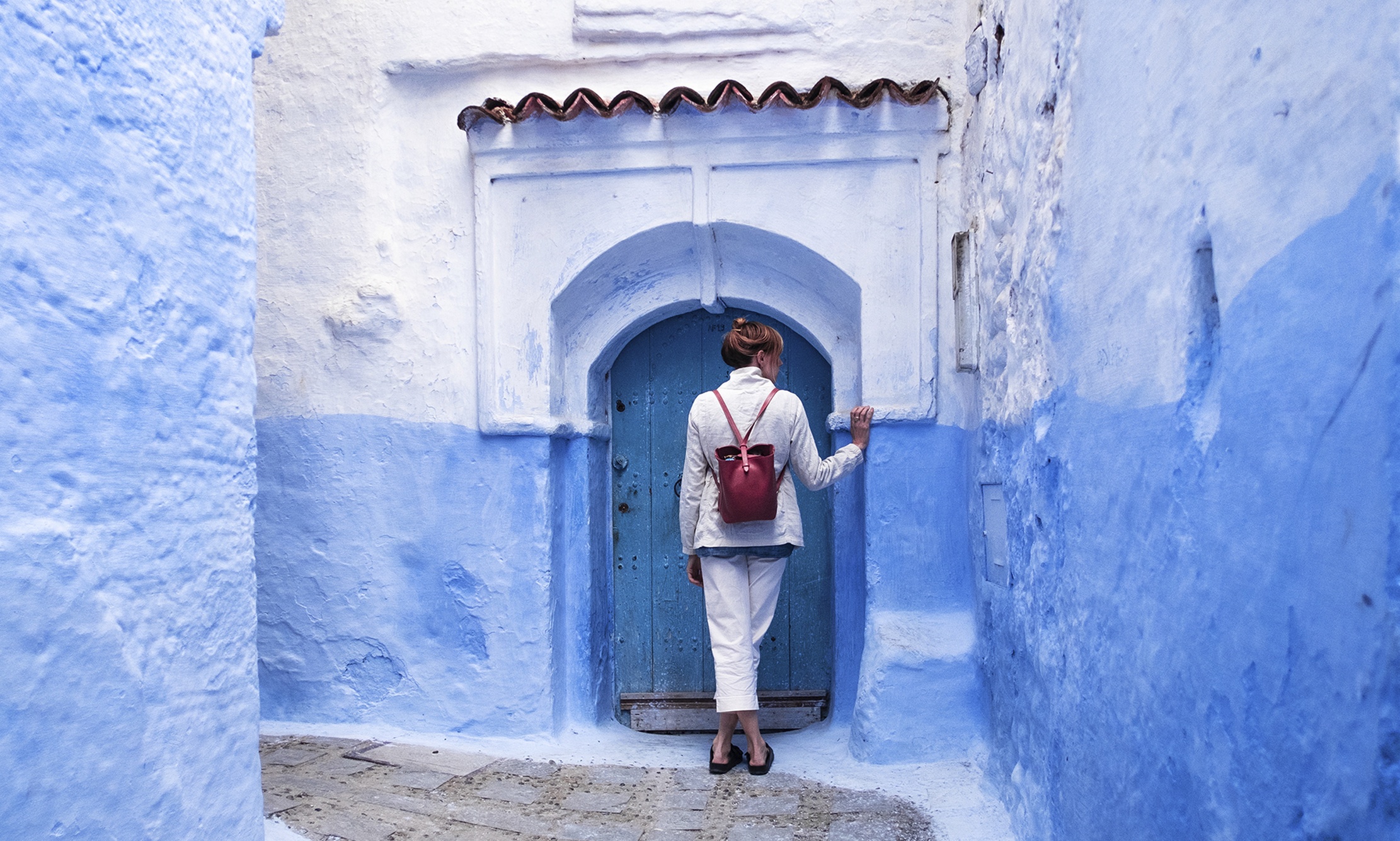 After settling into our hotel with the help of our desk manager Redwan, we caught wind of a rumor that you could purchase beer—which seemed like a luxurious treat—at the main tourist hotel in the square. We walked into its lobby and instantly felt as though we'd transported onto the set of a Wes Anderson movie! The hotel had become quite dated and shabby but was clearly opulent at one time, and men in bellhop uniforms were running back and forth across the room frantically trying to serve everyone: the Asian tourists in the left-hand corner, the stoic Russians in the right and the jovial Brits in the middle!
The place we stayed was a really lovely little boutique hotel called La Petite Chefchaouen. We found that alternating between more authentic Airbnb spots and treating ourselves to a hotel at some destinations provided us with the most well-rounded experience. Staying in hotels also gave us the opportunity to talk to other guests and share stories. It was here in Chefchaouen that we met a retired couple from New Zealand who happened to be doing the same kind of trip as us, traveling all around the country and having unexpected but similarly wonderful moments. We thrive on the genuine human experience, so every time we met new people (such as that couple), we would exchange email addresses. We still keep in touch with several of them!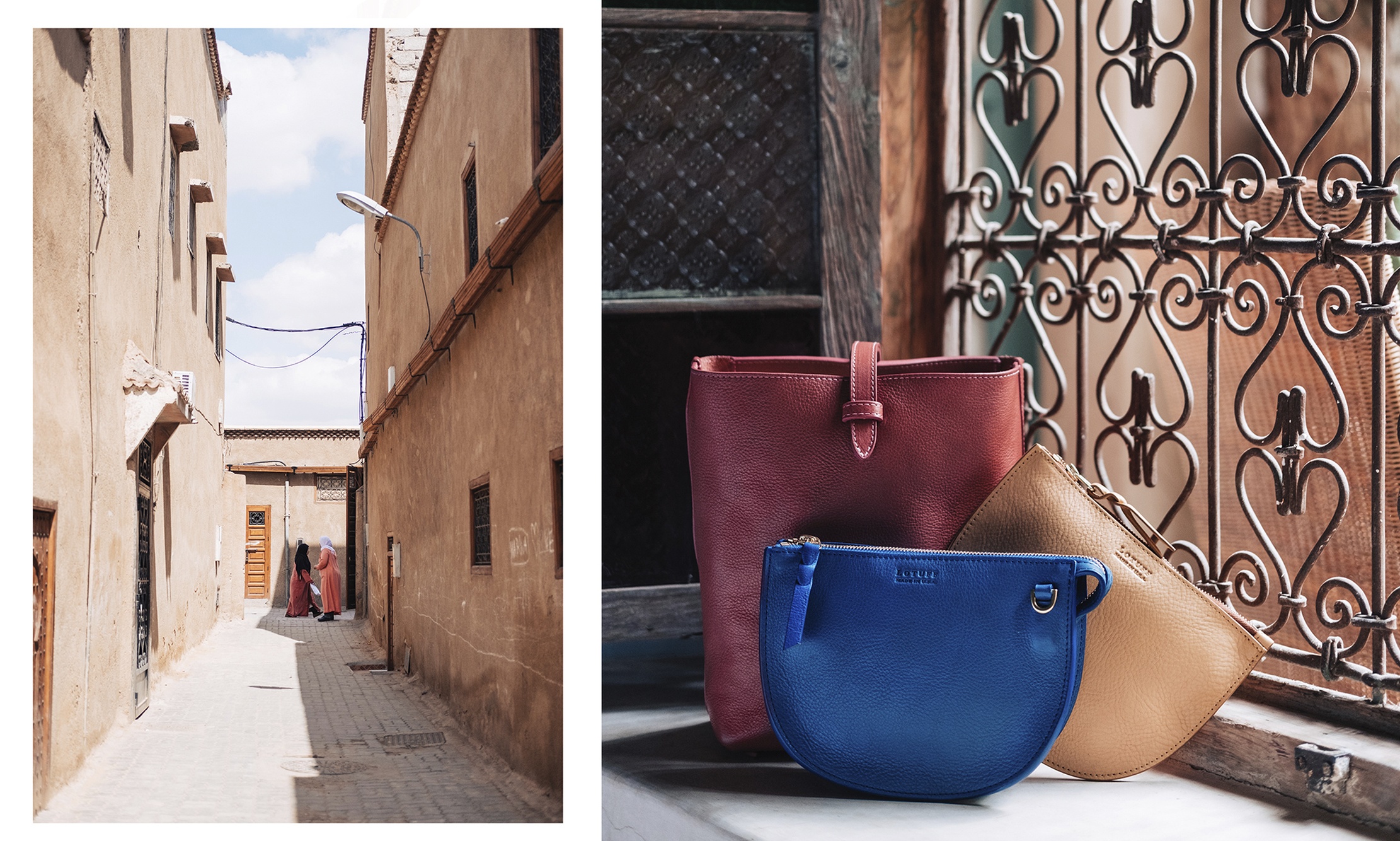 We finally made our way to our last stop, Tangiers, where we would stay overnight before flying out to Italy in the morning. This is a huge, bustling city on the coast, which made the difficulty of driving in Marrakech pale in comparison. It was madness, but we arrived at the airport in time for our flight, where knowing a few phrases in Arabic helped us drop off our car without a hitch.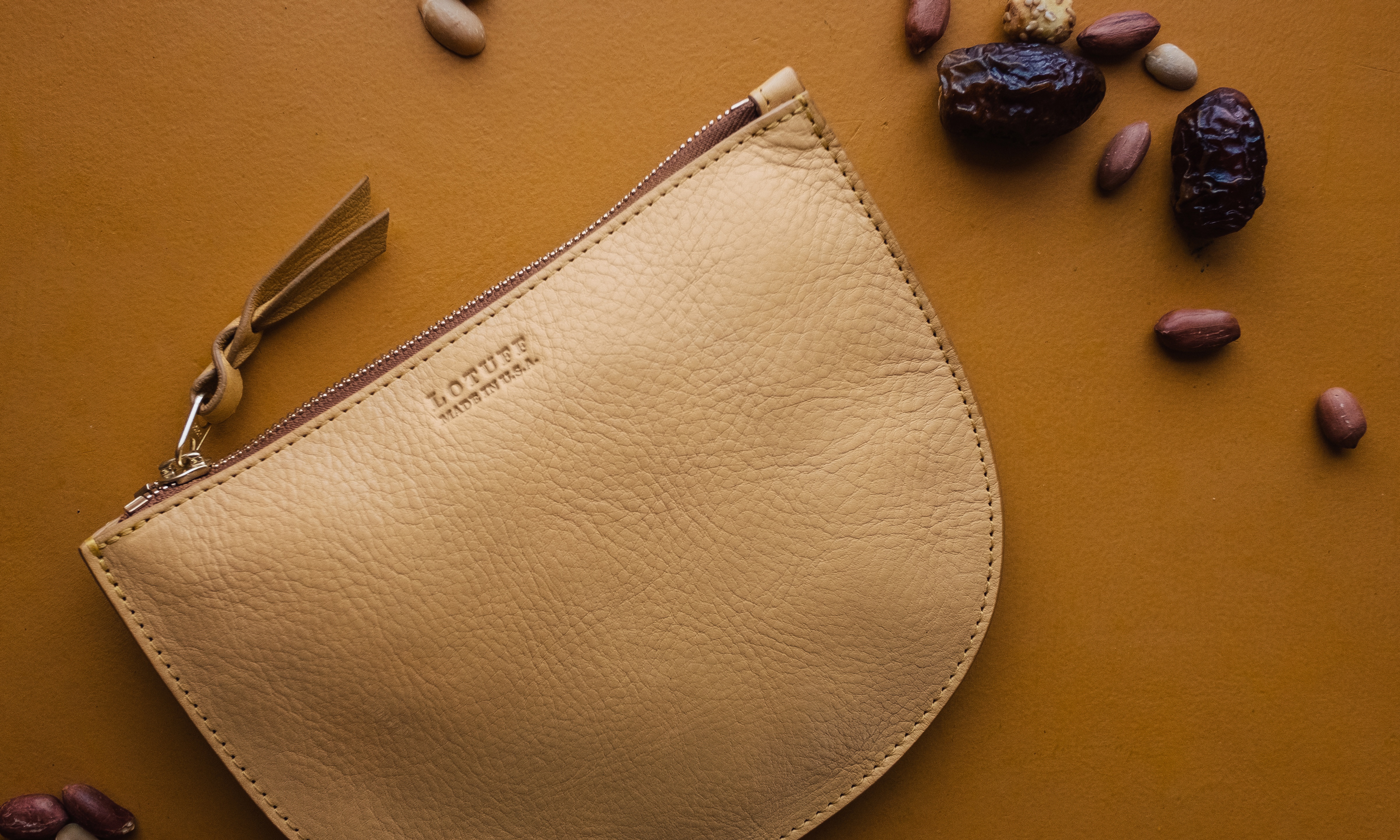 Overall, I would never trade any of the experiences John and I had. I feel that we had an incredible wealth of authentic moments and saw more of Morocco's far-out reaches than if we had only stayed in its main cities. By rolling with the punches, saying yes to (mostly) everything and trusting in the kindness of strangers, we had one heck of a memorable journey!
Some final thoughts:
-Choose places to stay where you can use your hosts as guides for places to visit and eat.
-Read travel blogs to get the perspectives of others, advice for gear to bring, and tips on where to stay or eat. I would also recommend purchasing Lonely Planet's guide to Morocco.
-Learn a little Arabic! It was so helpful. Even just knowing a few basic phrases went such a long way, not only in the marketplace but also when asking for directions. It was surprising how much people lit up when we did that. One souk we met was was so impressed with John's use of the dialect he invited us to come back and talk with him. We did so later on, and he spent two hours telling us about his life, the Muslim faith, and different Arabic dialects.
-Bring the right clothing. As a predominantly Muslim country, wearing conservative dress (looser, more flowy styles of clothing with sleeves, and pants that cover most of your legs) shows respect to the locals and also helps protect your skin from the sun. This is not to say that you can't wear stylish outfits! The city streets are also very rustic, so be prepared to get dusty and wear darker-colored clothing or pieces that are less precious to you.
-Take out money at the airport! There are a few ATMs in Marrakech and the main cities, but it'll make your life easier to start out with some cash.
Stay Here
Riad K'bour & Chou
13 Derb Enajem, Zaouia Abassia Marrakesh 40000, Morocco
Cecile's Guest House Fes, Morocco
La Petite Chefchaouen Fes, Morocco
Eat Here
Palais de Fes
15 Makhfia Er'cif, next to cinéma Amal Fes El Bali 30200 Fez Morocco
Go Here
Museum of Photography Rue Ahl Fes, Medina, Marrakech، 46 Rue Bin Lafnadek, Marrakesh 400030, Morocco